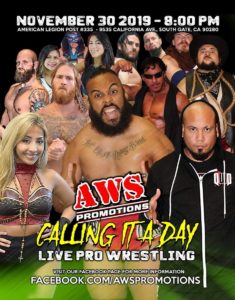 I had only just made it to my first AWS show with the Wrestling Examiner crew back in September so it was an honor to be at their potential final show ever with the Examiner as well. Hopefully this is just a "see you later" as opposed to a "farewell." This show was on fire from start to finish so let's get right into the action! The results are below along with some miscellaneous notes along the way.
PRE-SHOW NOTES:
I did my best to keep up but the energy was so high on the show that for all the cool spots I made note of there's tons more I just wasn't able to. Hats off to all the competitors on the card!
Thank you AWS! Thank you Bart!
Match One: Viva Van Vs Simone Sherie
WINNER: Viva Van won with a Canadian Destroyer.
NOTES:
I'm dubbing this match "the battle of alliteration."
Simone Sherie = Princess Aussie from WOW.
The two were very evenly matched from the get go.
Dual armdrag spot where both tried an armdrag at the exact same time and got stuck in the middle.
A slap by Van got her in control early in the contest.
The action spilled to the outside, and Van sat Sherie on 2 different fan's laps and chest slapped her.
Sherie would then return the favor to Van with 3 of her own fan assisted chest slaps.
The two were so evenly match no one could consistently stay ahead.
Great opening bout, especially considering the two weren't originally scheduled to face each other.
Match Two: Johnny Paradise Vs Hunter Freeman Vs Dicky Mayer Vs Mike Camden
WINNER: Johnny Paradise won with a Flatliner.
@MikeCamden82 @free_man65 @RefJeremyMarcus #dickeymayer #johnnyparadise #wrestling #match #ring #wrestlers #moves #awesome #action #athletes @bartaws pic.twitter.com/HzDZvGhu0f

— Veronica (@veronicaruben5) December 2, 2019
NOTES:
Camden and Freeman fought on the outside to start, and Paradise and Mayer fought in the ring.
Mayer dove to the outside to take out Camden and Freeman.
Early candidate for heel move of the night was Paradise stealing the hat Freeman wore throughout the match.
Camden would also get in on the hat stealing action.
"Hat" chant from the crowd when Freeman got his hat back.
Freeman hit a double DDT off the top to the outside.
Paradise and Freeman fought the most in the ring.
Paradise stole the hat again after it fell into the crowd and got handed back in by a fan.
Mayer entered the ring with purpose with a nice double dropkick.
Mayer threw his elbow pads at Camden.
Cool stunner from a full nelson by Freeman.
The hat added a fun "Indiana Jones" element to the match.
Nice roll-up exchange between Camden and Freeman.
Paradise wore Camden's hat after the match, then gave it back to Camden and they shook hands.
Before the next match referee Justin Borden came out to MASSIVE heat from the crowd. He may have had the most heat on the entire card. With Rick Knox no longer in California Borden was named the SoCal senior official to a huge chorus of boos.
Match Three: Watts and Yuma Vs 8 Bit Lit (Michael Hopkins and Juan Mattioli)
WINNERS: 8 Bit Lit won with a flying European uppercut/leg sweep combo.
Debut @bartaws was lit 🔥 @qwtel @lvlupwrestling #prowrestling pic.twitter.com/swup7Z33kR

— J2 Mattioli (@juanmattioli02) December 1, 2019
NOTES:
This was my first time seeing 8 Bit Lit. It appears they go by Player 1 (Hopkins) and Player 2 (Mattioli).
Yuma tried to eject Borden from the arena and Watts tried to 5 count him out of the ring.
Nice grounded chest kick by Player 1.
Watts said "what's up Double Dragon?" to the video game themed team.
Watts tried a double powerbomb but it got countered.
8 Bit Lit threw Watts out of the ring.
Yuma tried to take out 8 Bit Lit with a suicide dive but missed and hit Watts.
Watts choked Player 2 with his own headband.
Watts and later Yuma would self tag into the match (the old "pretend tag" heel move while the ref was distracted).
Nice spinning powerslam by Player 2 to Yuma.
Nice bulldog dropkick combo by Player 1.
Match Four: Ray Rosas/Frankie Frank/Diego Valens vs Daniel Moon/Danny Divine/Brendan Divine (The Millenials)
WINNERS: The Millenials won with a double flatliner.
TONIGHT! MPW boys are coming to show what we got! @bartaws pic.twitter.com/CzAQGTjjKb

— Danny Divine (@DannyDivine1) November 30, 2019
NOTES:
The fans chanted "sexy Jesus" for Rosas (as they do), The Millennials were in turned offended by the term "sexy Jesus."
Super spinning headscisscors by Valens.
Royal had all three Millennials slap themselves.
When Rosas tagged in he climbed to the top, teased a top rope elbow, wound up for it for forever, then jumped down and did a kick.
Danny Divine got into a funny exchange with a fan about his and Moon's shared first name.
Nice mid rope backbreaker by Brendan Divine.
Ray pulled down his cheststraps and challenged Brendan Divine to chop him.
Valens came in with a nice flying uppercut from the top rope.
Valens jumped off of Rosa's back to hit all three Millennials on the outside.
After the match Rosas put over his MPW students.
Match Five: Vipress and Ruby Raze Vs Team Sea Stars (Ashley Vox and Delmi Expo)
WINNERS: Vipress and Raze won – Raze made the cover after Vipress did a splash off of Raze's shoulders.
. @RefJeremyMarcus why you gotta be such a hater though? You should've allowed my boo @Razerpops to choke the Sea Hoes with my weave 😡. Smh – @bartaws pic.twitter.com/Ffjf9xCd7m

— Vipress (@_vipress) December 1, 2019
NOTES:
My second time seeing Team Sea Stars and they were just as great as the first time.
After the show I interviewed Vipress and Ruby Raze! Stay tuned for the interview and check out my interview with WOW's Samantha Smart in the meantime.
Raze and Vipress attacked Team Sea Stars from behind mid entrance.
Raze was knocked onto a "fan's" lap. Vox went for a splash onto Raze but Raze dodged it and Vox ended up hitting the "fan."
Vipress complained about a broken nail to the referee while Raze illegally attacked Exo.
Exo rallied and made the hot tag to Vox, who came in and hit her patented fish hook on Vipress.
Vox hurrincanrana-d Raze out of the ring.
Raze powerbombed Vipress onto Vox.
Vipress lost a weave during the match and Raze choked Vox with it.
To set up their match winning splash, Vipress caused a distraction, taking a drink of a fan's beverage and then spitting it into Exo's face.
Match Six: The Lucha Homies (Cholo and El Mariachi Loco) Vs Team High Risk (Simon Lotto and Steven Andrews)
WINNERS: The Lucha Homies won with either a cutter or a Tope Leg Drop.
NOTES:
The Lucha Homies issued an open challenge that was answered by Team High Risk.
Mariachi took a shot from a fan, he came in and tried to hit everyone (even Cholo) but wildly missed and had to sit outside for a minute.
Mariachi didn't want to tag in after a fast exchange but did when the fans chanted for him.
Lotto dropkicked Mariachi mid dance.
Mariachi hip swiveled out of a waistlock.
Mariachi hit a spinning F5 on Lotto.
While on the top rope, Cholo asked Mariachi to pull Lotto across the ring, confident in his ability to fly across the ring. Then he got cold feet and him and Mariachi argued. Lotto got up and pushed Mariachi into Cholo.
Andrews nice mid rope springboard to the outside.
Mariachi double rope bounce to hit both guys outside.
Cholo put over Team High Risk after the match.
Match Seven: AWS Lightweight Championship Match – "Uptown" Andy Brown Vs B-Boy
WINNER: Andy Brown won after two package piledrivers.
NOTES:
Andy Brown has a gazillion nicknames.
During Brown's nickname rundown, B-Boy got pissed when the announcer said Brown was cuter than Baby Yoda. The crowd also booed this.
Brown asked B-Boy not to chop him – and he didn't! He did later on though.
B-Boy cleared a section, ran all the way around the ring to hit a seated Brown, but Brown got up and superkicked B-Boy.
Brown headbutted B-Boy so hard he had hurt himself with it.
Very evenly matched and also very hard hitting the whole contest.
B-Boy and Brown hugged post match.
Match Eight: Lucha Libre Scramble Elimination Match – Piloto Suicida vs. Shamu Jr. vs. Acero Dorado Jr. vs. The Human Tornado vs. Hector Canales
WINNER: Under Lucha Libre rules, the match was initially ruled a double disqualification after a low blow and a mask was taken off. The match was restarted and Hector Canales ended up making the pin.
NOTES:
During an early skirmish the referee accidentally got beatdown by everyone.
Tornado told the referee to "look over there" so he could do a seated low blow kick.
Tornado hid from the action in the crowd.
Dorado was going to pin Tornado but Tanales asked if he could instead.
Canales got crotch dropkicked into a post then was eliminated.
Shamu Jr started to count out Dorado and Suicida before he did a dive to the outside.
After the double DQ, Canales came out and said the winner of the restart gets him.
Match restarted as a 4 way.
Suicida and Shamu Jr pinned Dorado.
Canales pinned Dorado again for the win.
Post match Tanales danced for a fan.
Dorado brought a chair into the ring, Andy Brown enthusiastically wanted a dance, so he came in the ring, sat in the chair and Tanales gave him a lap dance.
More crowd dancing by Tanales.
Tanales was piggybacked to the back by Dorado.
Match Nine: AWS Tag Team Championship – Falls Count Anywhere – True Gritt (champions – Big Dick Hoss & Jesse James) vs The Wolf Zaddies (Bad Dude Tito & Che Cabrera)
WINNERS AND NEW CHAMPIONS: The Wolf Zaddies won with a small package from Bad Dude Tito and a fast count from referee Justin Borden.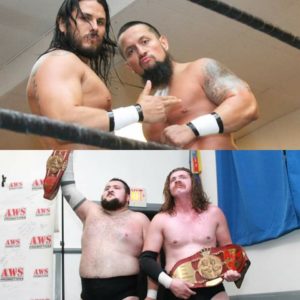 NOTES:
Tito got on the mic to confirm he did clap Momma Hoss's cheeks.
Tito said he didn't want ref Jeremy Marcus to do the match since he missed their foot on the rope in their previous encounter, so Justin Borden came out to huge boos.
Tito did a top rope dive to the outside to True Gritt plus his partner (who got caught in the crossfire).
Jesse James tried to pick up a heavy ringside hammer but wasn't able to.
Big Dick Hoss did pick up the hammer and used it against the Zaddies.
Tito and Hoss fought into the bar immediately next door, they were followed by Cabrera and James.
I did not follow the action to the bar, but everyone eventually came back to the ring.
Mama Hoss accidentally hit her son following Tito ducking a punch.
Tito kissed Mama Hoss right after.
Outside moonsault to True Gritt by Cabrera.
Hoss kicked out of a double pin after a double punch.
Justin Borden said that what clearly looked like a 3 count was just a 2, got booed hard for this.
In a small package spot, Borden rolled Tito on top and fast counted 3 to give the Zaddies the win.
Borden taken out by True Gritt's cowbell post match.
The Wolf Zaddies teased coming back in for a match restart but then left, carrying Borden with them.
After the match AWS Promoter Bart Kapitzke came into the ring and the crowd chanted "thank you Bart." He said "thank you all for coming, hopefully it won't be much longer."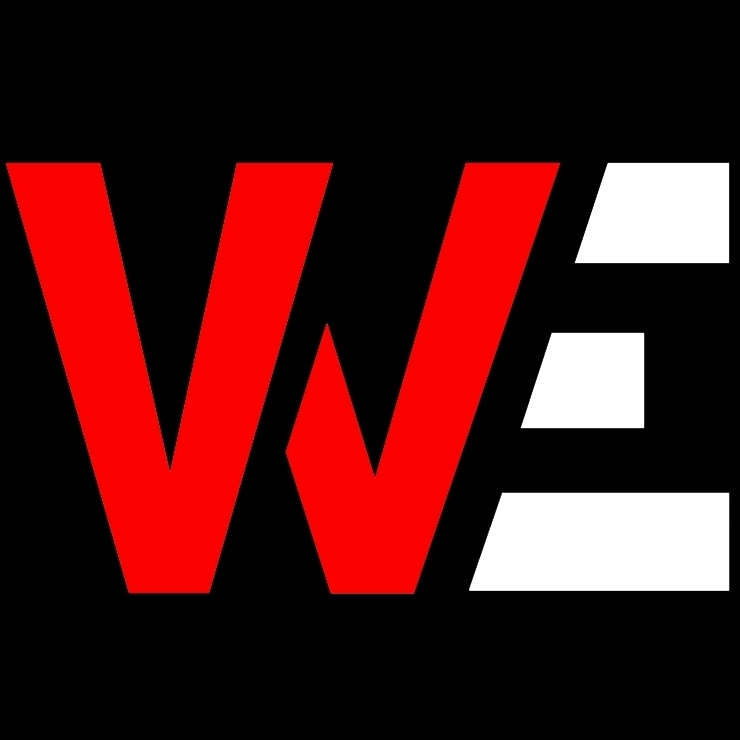 I write comedy & comics! Currently writing for CBR.com. Also, check out Comicprov, where I co-create live improvised comics, & The Episode One Podcast, the TV podcast I co-host! Find me on Twitter and Instagram – @stevewaldinger