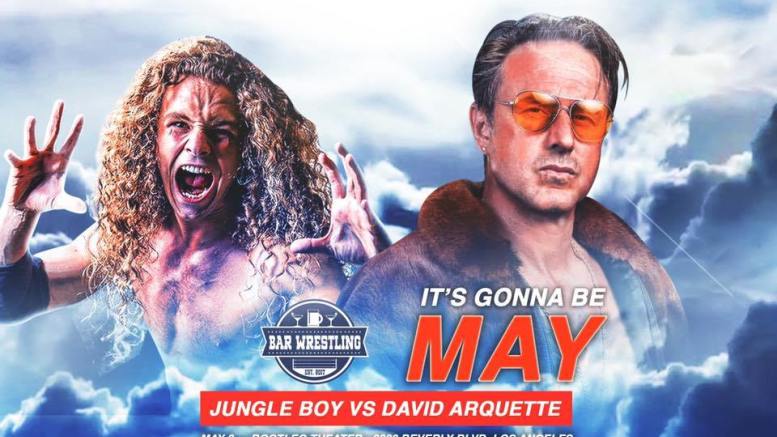 Greetings, I'm Steve Waldinger here with a recap of Bar Wrestling 35: It's Gonna Be May!  If you're new to Bar Wrestling and want a bit of the backstory go back and read my recap of Bar Wrestling 33 here, otherwise let's jump into the show.
PRE-SHOW NOTES:
With the show being called It's Gonna Be May, I'm really hoping someone from NSYNC is going to be here.

At last month's show I stayed mostly to the sides, but this month I was in what I'm dubbing "the danger zone", IE where the majority of action outside of the ring takes place. Read on to see if I'm writing this from a hospital bed!

If you've never been to Bar Wrestling at the Bootleg Theater and are looking to go but want to avoid being in the action, either grab one of the seats (NOT the front row) or stand off to the left of the ring. Everywhere else is fair game.
Melissa Santos was back!
Match One: DoomFly (Delilah Doom and Eli Everfly) Vs Brandon Cutler and Bateman
-WINNER(S): DoomFly won via top turnbuckle roll-up.
NOTES:

A recurring theme of the night was the referees allowing multiple people in the tag matches without enforcing a five count. This match opened with Doom sitting on Everfly's shoulders to do a test of strength as the shorter Everfly couldn't reach Cutler's raised hand to do it on his own.

This was a great match of the resilient babyfaces (DoomFly) vs the hard hitting heels (Cutler and Bateman).
Brandon Cutler did a brutal powerbomb on Everfly ONTO the back of a crouched Doom when Cutler caught Everfly after he jumped off of Doom's back in an attempted Hardy Boyz spot.
Bateman gets my "great seller of the night" award, highlighted by him staying in a tripod headstand-esque pose for several moments following a great Deliah Doom double DDT.
Eli Everfly has some very wicked looking strikes. 

Very cool opening match.
Match Two: Luchasaurus Vs "Uptown" Andy Brown
-WINNER: Andy Brown won with a two handed chokeslam off the top turnbuckle.
NOTES:
Luchasaurus uses the Jurassic Park music better than Jurassic Park.
Luchasaurus hails from Chokeslam Town, a great reminder of how awesome wrestling geography is.
Andy Brown puts Uptown Funk to great use during his intro as well.
Pre-match, Brown hid from Luchasaurus behind Melissa Santos.
There was dueling chants of "Luchasaurus"/"Andy Brown" during the match. While this was a face vs face match, Brown was kind of the defacto heel with all the hiding he did.
Luchasaurus is very mobile for a big man-dinosaur, most likely from his luchador side.
Andy Brown had a funny fake rally during the match.

Luchasaurus did a great front face slam on Brown that started from the tombstone piledriver position.

Great storytelling during the match, as Brown attempted several unsuccessful chokeslams during the contest only to finally win with the two handed top turnbuckle chokeslam he pulled off.
Match Three: PPRay (Peter Avalon and Ray Rosas) vs Jake Atlas and Heather Monroe.
-WINNER: PPRay won after Rosas faked turning on Avalon.
NOTES:
PPRay are from the Isle of Misfit Boys. I was already sold on hiking through Wrestling Country before this show but now that this place and Chokeslam Town exist I really want to go!


Great chain wrestling from Avalon and Atlas to open the match.

Avalon's offense bordered on heel-ish, which led to dissension between Avalon and Rosas.

A very conflicted Ray Rosas expressed himself the only way one does during a wrestling match – by song! Rosas had been a part of "Heart Eyes Emoji" with Atlas and Monroe for a spell, pointing out to Avalon that they were there for him when he wasn't. Not wanting to fight Atlas and Monroe, but also not wanting to abandon Avalon, Rosas sang Careless Whisper to the three of them in an attempt to make peace.

Naturally, this led to Avalon superkicking Monroe. Monroe would then later accuse Rosas of using the song to set them up.

Great anguish on the face of Rosas throughout the match.

Monroe and Atlas pulled off a very cool tilt-a-whirl into DDT combo.

PPRay had several miscommunications during the match, which made me wonder if those would come back to haunt them.

Despite the turmoil Rosas was in, he still managed to get a "Sexy Jesus" chant from the crowd.

As briefly mentioned above, Rosas momentarily reunited with Atlas and Monroe to make the heart eyes emoji sign, but then faked an attack on Avalon and they hit dual superkicks for the win.

Very great, very fun match. I'm glad the hints of dissension between PPRay didn't lead to a breakup because I don't want to live in a world without PPRay.
Match Four: Joey Ryan VS KC Spinelli
-WINNER: KC Spinelli won after countering Joey Ryan's blowpop attack.
NOTES:

Pre-match, Joey Ryan gave out chest hairs to the crowd.
This was KC "Two Scoops" Spinelli's Bar Wrestling debut as well as my first time seeing her wrestle, she is awesome!
The crowd chant of the night might have been "Please get tested" after someone in the crowd got one of Joey Ryan's blowpops.
Joey Ryan pointed out to referee Rick Knox "That was six!" re: three consecutive two counts and that he won the match twice.

Spinelli survived a boobplex, a penis flip and a blow pop attack to get the win.

Spoiler alert – no one from NSYNC was on the show but we did get a surprise appearance from The Young Bucks!
Matt Jackson and Nick Jackson announced they were there to sign someone to AEW. Ryan assumed it was him and rejected the offer, but the Bucks said they weren't there for Ryan, they were there to offer Rick Knox an AEW contract. Knox accepted and the crowd popped for the hard working, well respected ref.
Match Five: Taya, Daga and Los Luchas VS The RockNES Monsters, Watts and Ryan Taylor
-WINNER: Taya won the match for her team with her finisher.
NOTES:
My notes are very minimal for this match as this was full of bedlam and outside of the ring action. They fought numerous times in the section I was in and we the crowd were constantly on the move.

The RockNES Monsters did a very unique, very cool corner partner-battering ram move.
My first time seeing Los Luchas and I want to see more, particularly in a two on two tag match to really get a feel for their offense. Seeing it in small doses here I could definitely tell they're amazing.
Watts and Taya had a few brief encounters and an extended program between the two would be fantastic.
Ryan Taylor has a great looking ankle lock.

After the match Taya brought her dog into the ring to celebrate.
Match Six: Jungle Boy Vs David Arquette
-WINNER: Jungle Boy won via roll-up.
NOTES:
David Arquette's gimmick is "The Candy Man" as he threw candy to the crowd. I caught some Pop Rocks and Laffy Taffy!
Arquette was accompanied to the ring by Cassandra Cass.

Following his "death match" injury last November, David Arquette is also CRAZY! More on that in a minute.
In his opening match promo, Arquette said he's not wrestling because he needs money, saying "I got Friends money bitch!"
My first time seeing Jungle Boy, he impressed a lot. He has tremendous "man out of place" facial reactions.
If you traveled back to the late 90's and told people David Arquette is going to be a great wrestler you'd have been instantly committed, but David Arquette is a great wrestler!
 Because he's crazy, Arquette ate Pop Rocks then chugged a Coke! This upset his stomach and took him down to the mat. A concerned Jungle Boy checked on him, only for Arquette to roll-up Jungle Boy for a near fall.
Arquette dove off the top turnbuckle onto Jungle Boy on the outside of the ring (in my section). There were extra people there to break Arquette's fall but still an impressive spot.

Somewhere along the way Arquette got a "holy shit" chant.

Spot of the night may have been Jungle Boy giving Arquette a stunner right after Arquette chugged two beers on the turnbuckle. #StoneColdSteveAustin
Sell of the night was Jungle Boy's sell of being fed Pop Rocks and forced to drink Coke. He sold it so well Arquette was concerned for Jungle Boy, which led to Jungle Boy rolling up Arquette for the win.
After the match, Arquette gave a touching tribute to Jungle Boy's father, the late Luke Perry, and by giving the tribute allowed the "primitive" Jungle Boy to keep kayfabe alive (they hugged after).
Were you at the show? If so let me know your thoughts in the comments, and if not let me know how you liked the recap. Thanks for reading!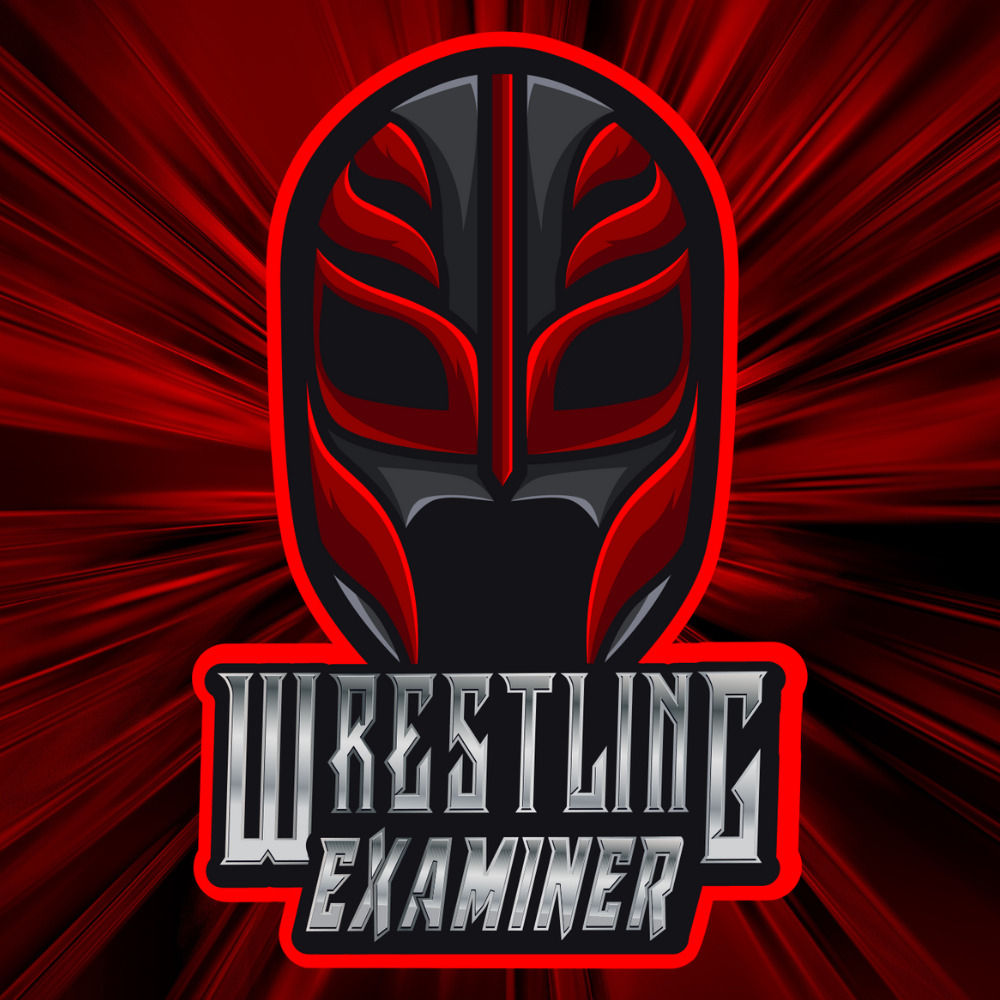 I write comedy & comics! Currently writing for CBR.com. Also, check out Comicprov, where I co-create live improvised comics, & The Episode One Podcast, the TV podcast I co-host! Find me on Twitter and Instagram – @stevewaldinger