WOW took Saturday night off (it returns this weekend, get caught up here and here), so I met my boys from the Wrestling Examiner at the AWS show out in South Gate, CA! I got there just in time, this may have been their second to last show, with the potential final show coming on Saturday November 30. Below is a recap of the action along with some miscellaneous notes along the way.
Match One: Mike Camden Vs Dicky Mayer
WINNER: Mike Camden won via DDT.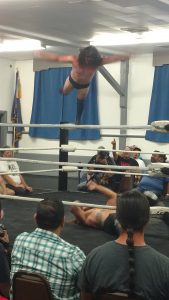 NOTES:
Who actually remembered to take pictures at a wrestling show he went to? I did! I didn't write quite as many notes as usual so I could take more pictures. Pictured above is Dicky Mayer either trying to fly or doing a diving headbutt, I forget cause I didn't write it down.
Dickie Mayer is a great screamer.
Both guys were great and the crowd was behind both of them as there were dueling "Let's go Camden/Let's go Mayer" chants for a good portion of the match.
After the match Mayer applauded and shook hands with Camden.
Excellent match to kick off the card.
Match Two: Danny Limelight Vs Fidel Bravo
WINNER: Danny Limelight won with a springboard DDT.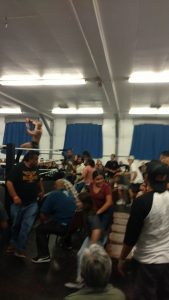 NOTES:
The above picture was a recurring theme of the night, as that section was the main section for outside action to take place (though not the only section by far). The crowd were pros at getting out of the way and then reassembling their chairs as if nothing had happened.
Limelight's athleticism gave him the early advantage, though Bravo claimed at the start that Limelight used an illegal kidney punch.
Bravo took control when he caught Limelight with a dropkick off of a top rope springboard attempt.
Limelight halted Bravo's momentum with a nice Spanish fly.
Bravo showed excellent ring awareness escaping a rear choke from Limelight, though he ultimately wasn't able to escape with the W.
This was a nice fun match that built off of the momentum of the first match.
Match Three: Ryan Taylor Vs Royce Isaacs
WINNER: Royce Isaacs won with a full nelson German suplex.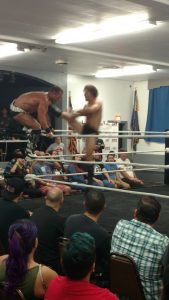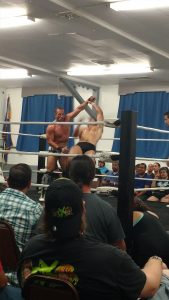 NOTES:
Isaacs let the referee wear his coat at the start of the match.
Taylor was in control in the early portion of the contest, bouncing from submission to submission.
It just occurred to me that if they'd have added someone named Zac in the match this could have been a Hanson rules triple threat match. #MMMBop
Nice spinning airplane armbreaker by Taylor.
Outside of the ring is where Isaacs got control of the match.
There was a head to head slapfest midway through the bout.
Great looking cloverleaf by Isaacs, though Taylor managed to fight out of it.
Excellent match featuring the first heel win of the night, though both guys were over with the crowd, Isaacs was just "less face."
Match Four: AWS Tag Team Championship Match – True Gritt (Hodd Hogg and Jesse James, champions) Vs Bad Dude Tito and Che-Cabrera
WINNER: True Gritt won with a double powerbomb.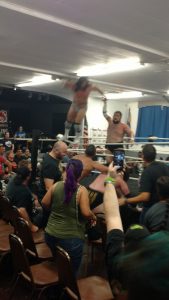 NOTES:
I was initially disappointed when I saw True Gritt and they weren't the Coen brothers who became an indie tag team 9 years ago to promote their movie True Grit and liked wrestling so much they just kept at it, but Hodd Hogg and Jesse James were pretty cool too. They were a great classic throwback hoss heel team.
Before the match, Che-Cabrera announced this might be his last match in SoCal.
Bad Dude Tito likes to "clap those cheeks", and the crowd chanted that at the beginning and end of the match.
This was a very hard hitting match and these four guys might have the hardest chops in all of pro wrestling.
Funny spot where Tito climbed to the top rope then hopped right down to do an eyepoke.
After the match Cabrera noted that he got his foot on the rope during the 3 count but that Hogg pushed it off, noting "there's rope residue" on his boot.
Replying to a "hit the showers" comment, Cabrera said they would if they had any in the back.
Cabrera said he was kidding about being signed and would be back again. Then due to the controversial finish a rematch was set for the next show.
Match Five: Katarina Leigh Vs Vipress
WINNER: Vipress won via outside interference from Ruby Raze.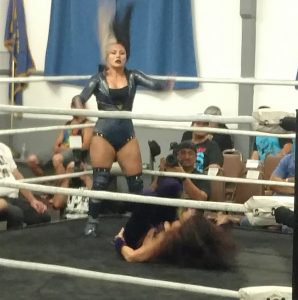 NOTES:
Katarina Leigh is the former Katie Lee Burchill from WWE and wrestled at Impact Wrestling as Winter, and is currently The Temptress over at WOW as well as kicking ass all across the indie circuit.
This is my second time seeing Rouge Wrestling Tag Team Champion Vipress live and she was even more awesome the second time around!
The villainous Vipress used multi levels of heeling to get the victory. First her friend/AWS Women's Champion Ruby Raze came out, which got the attention of Katarina. Next, Vipress pulled out a foreign object, which distracted the referee. With the referee trying to take Vipress's foreign object, Raze then hit Katarina with the belt. For good measure, Vipress hit a cool looking flatliner-esque move for the win.
Match Six: The Lucha Homies (Cholo and Mariachi Loco) Vs Jake Atlas and "Dirty" Dom Kubrick
WINNER(S): The Lucha Homies won with a stunner-top rope leg drop combo.

NOTES:
Cholo and Loco argued about who would start the match. Loco eventually got angry and left Cholo by himself.
Everyone was super over this match, further evidenced when Cholo shook hands with Atlas at the start of the bout.
Loco casually made his way back to the ring a few minutes later and hit Atlas and Kubrick with a double dropkick.
Loco hit a hard chop on Kubrick, which Kubrick was into. This frustrated Loco and he tagged out.
Great teamwork headstand dive by Atlas and Kubrick.
This match was equal parts high flying and hard hitting.
After the match Kubrick and Loco danced, with Cholo saying "not too close."
Cholo put Atlas over after the match, saying he's the future of wrestling.
Match Seven: AWS Women's Championship Match – Ruby Raze (champion) Vs Nurse Ratchet
WINNER: Ruby Raze won with a spear following a distraction from Vipress.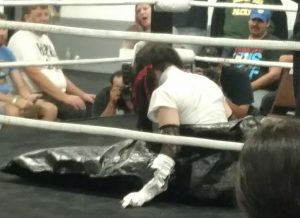 NOTES:
Nurse Ratchet was carried to the ring in a body bag by two referees.
Ruby Raze is the "Equal Opportunity Ass Kicker", which apparently includes "dead or alive" as well.
A disoriented Ratchet went after the referee to start the match.
A cool toss from the electric chair position to the turnbuckle by Raze.
Ratchet shoved a severed finger from her bag into Ruby's eye, then swallowed it (the finger, not Raze's eye).
Ratchet did "old school" around 2/3 of the ring.
Ratchet put on a latex glove and things weren't looking good for Raze until Vipress came out and pulled Raze from the ring.
Since she already had the glove on, Ratchet gave the referee his yearly physical.
Vipress later made her way into the ring and attacked Ratchet.
After turning the tables on Vipress, Ratchet shoved her gloved hand into Vipress's mouth (Raze would hit the spear moments later).
After the match, Raze and Vipress beatdown Ratchet. Buggy Nova came to Ratchet's aid and the two fought off Raze and Vipress.
Ratchet then gave Nova a human heart, like you do.
I hope the pictures have been okay so far! I took a lot of during the show, but only so many were usable, this match I got some decent pics so here's some bonus photos.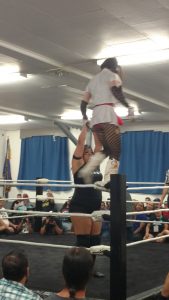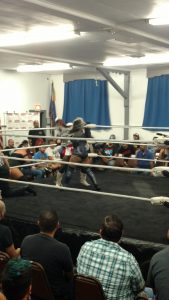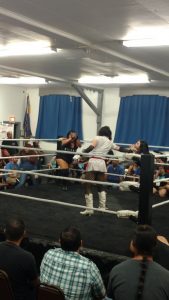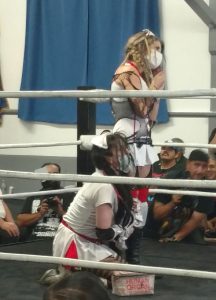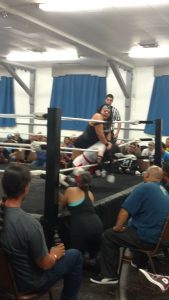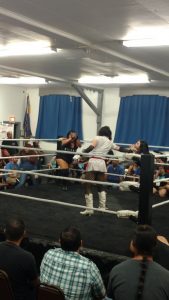 Match Eight: AWS Lightweight Championship Match – Douglas James (champion) Vs "Uptown" Andy Brown
WINNER AND NEW CHAMPION: Andy Brown won with two spinning underhook piledrivers.

NOTES:
All of the referees on the night (Justin Borden – who got a lot of heat from the audience stemming from past shows – Jeremy Marcus, and Izyk Haze) were great, but AEW referee Rick Knox came out as a surprise for the main event and got a huge pop from the crowd.
The match started with a handshake.
Brown opened with a huge flurry of offense, nearly winning right off the bat with a springboard stunner.
James came back with his own fast paced offense to get his own near fall.
Very nice midair 180 frog splash from James for an almost 3 count.
Dudes WRECKED each other outside the ring.
James survived a piledriver on the apron as well as one underhook piledriver before the second one finally took him down and got Brown the win.
Amazing main event!
Thank you for reading! Let me know what you thought of the show and how you liked the photos in the comments. Also make sure you follow AWS and check out their show on November 30, hopefully it won't be their final one ever!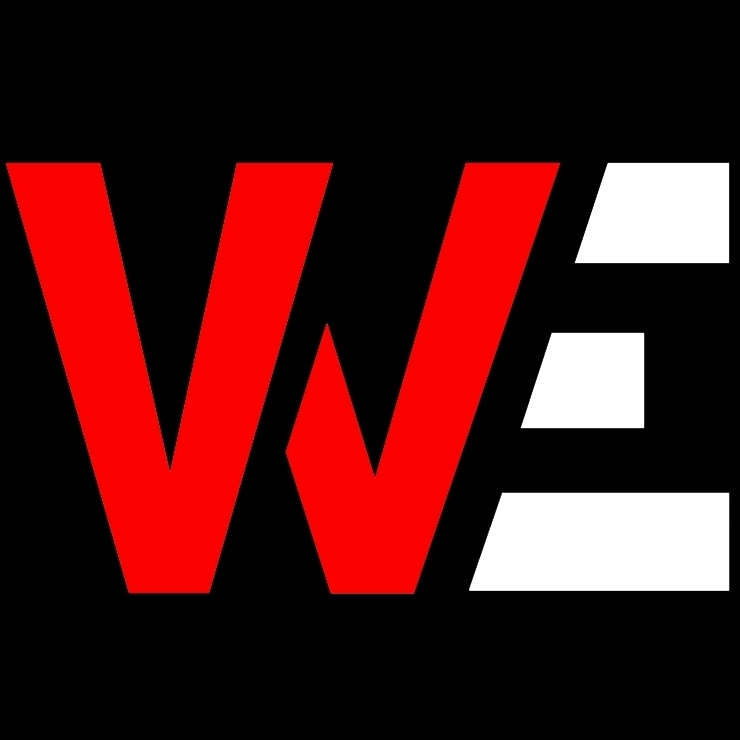 I write comedy & comics! Currently writing for CBR.com. Also, check out Comicprov, where I co-create live improvised comics, & The Episode One Podcast, the TV podcast I co-host! Find me on Twitter and Instagram – @stevewaldinger