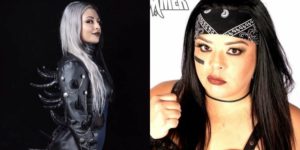 Welcome back to The Kayfabe Journal! If you missed the inaugural edition you can check it out here. As a lifelong pro wrestling fan, one of my absolute favorite things about wrestling is the gimmicks, more specifically the characters. A great character makes a great wrestler shine that much brighter. Growing up, my favorite wrestler was Mr. Perfect. Mr. Perfect claimed he was "perfect in every way," and because of his stellar promo work doing everything absolutely perfect – from hitting home runs to perfect hockey goaltending– when he got in the ring I 100% believed he was the perfect wrestler.  With that as background, I wanted to do a recurring feature where I interview in character wrestlers to highlight all the amazing character work that's happening right now in the wrestling world. This time around it's a twofer as I interviewed Vipress and Ruby Raze!
Vipress is currently one half of the Rogue Tournament Wrestling Tag Team Champions with Priscilla Kelly. This year saw her make her first appearance on Impact Wrestling as well as debut at Evolve Wrestling. She also represented AWS along with Shotzi Blackheart in a feature match at the 2019 Expo Lucha. In addition to AWS Vipress has wrestled at Rise Wrestling, Phoenix Championship Wrestling, GLAM, EWF, RWW and many more. She's also from the Blackest Pits of the Blackest Pits and is the Serpent of Evil! Follow her on social media here and here – or else!
Ruby Raze is the Equal Opportunity Ass Kicker, holding both the AWS Women's Championship as well as one of the three Rogue Tournament Wrestling Championship titles (along with PJ Black and Johnny Rogue). Raze has wrestled at Impact Wrestling, Shimmer, Bar Wrestling, Rise Wrestling, EWF, Championship Wrestling (Hollywood and Arizona), and will be appearing on the next season of WOW. Follow her on social media here and here, lest you get your ass equally kicked.
Thank you both for doing this interview. Vipress I wanted to start with you and the incredible bravery you recently showed. Do you have healing powers? Because you recently suffered a leg injury the day before you were scheduled to have two matches but still ended up competing in both at a high level.
RAZE: Bitch what? What is this?
VIPRESS: I'm not going to say that was an excuse, but I can do whatever I want, whether I'm hurt or not. It's not going to stop me from winning and retaining titles.
Now I've noticed you tend to use a folding chair in a lot of your matches, whether it's allowed by the rules or not. I imagine rule breaking is in your nature but do you feel any obligation to give mortals a fighting chance against you?
VIPRESS: A fighting chance against me for what?
To win matches.
VIPRESS: No, they're not going to get a fighting chance against me and yes I like to use folding chairs, they're fun. I don't need them, I can win regardless, but…they're fun.
Moving on to you Ruby, I want to take a moment on behalf of everyone to thank you for kicking all asses equally.
TEDDY BEAR VOICED BY RAZE: Yay!
How did you get into the ass kicking game?
RAZE: I got into the ass kicking business from Santino Bros Wrestling Academy because that is where I trained and that is what they put out is ass kickers. And being a female I will be the equal opportunity ass kicker and kick all asses equally.
Also thanks @socaluncensored for the gif of my cartwheel powerbomb 🖤🖤🖤 pic.twitter.com/V5y19B60zD

— RAZE (Ruby Raze) (@Razerpops) April 10, 2019
Are you limited to just kicking human asses?
RAZE: No, I mean why would I be? In my opinion it doesn't matter if your man woman child or freaking dog…
VIPRESS: Demon, immortal…
RAZE: Demon, immortal, bear – there's bears out there.
Would you fight a lion? A shark?
RAZE: Lion. Lions tigers bears oh my. Sharks! Definitely.
Serpents of evil?
RAZE: I mean I've definitely kicked her ass (Vipress) a couple of times.
VIPRESS: Wow…
Moving on to the two of you, is frenemies an apt way to describe your working relationship? For every one match I've seen you two team up it seems like there's two matches where you're trying to murder each other.
RAZE: I wouldn't say frenemies, I'd say…
VIPRESS: Friends that like beating each other up.
RAZE: Friends that will give no quarter because we want to push each other to the limits.
VIPRESS: Yes.
What are some of your favorite moments teaming up together?
RAZE: I think tonight.
VIPRESS: Kong too. Awesome Kong.
RAZE: Oh Awesome Kong.
VIPRESS: We took her.
RAZE: Me and Vipress teamed up together to take on this little tiny girl (Zaida) and Awesome Kong and we basically…that's where we first teamed.
VIPRESS: That was the first time we teamed up.
RAZE: And that's where we fell in tag love because we realized that we really wrestled well together and for everything that we can do I can pick up Vipress and throw her into someone else and help stop them.
VIPRESS: Use me as a weapon.
RAZE: Which is what we did with Kong.
What are some of your favorite moments from going against each other?
RAZE: Anytime I'm whipping her ass!
VIPRESS: That street fight was fun, that was a lot of fun.
RAZE: We did, we did do a street fight for Empire Wrestling Federation…
VIPRESS: Very first time we did a crazy fight.
RAZE: We had a female on female street fight where we came up in clothes and we beat the living bejeezus out of each other. We were doing suplexes on the floor, throwing each other into walls, it didn't matter.
VIPRESS: I did a whole moonsault.
RAZE: She did, shd did a whole moonsault, I don't think I've ever seen her do it since then.
VIPRESS: Nope.
RAZE: But it didn't matter because we were just taking out aggression on one and other and I think that's what makes us a great tag team, is the fact that we will beat the crap out of each other and then we'll realize that we can stand up to each other so we'll beat the crap out of everybody else.
VIPRESS: Exactly.
Now before the interview I reached out to the two of you individually and asked you to come up with a question to ask the other. Vipress what was your question for Ruby?
VIPRESS: If you could change anything with any performer ever what would it be and who would it be?
RAZE: If I could change anything with any performer I would probably say that I would wrestle Tyler Bateman a lot more than I actually have gotten to considering that he was the man that trained me for the first five years that I was in the wrestling business and then we went on and we stayed together as a unit and as a team for a total of eleven years. I would probably wrestle him a lot more than I actually got to because I think he is one of the smartest and best wrestlers to come out of – he's from Oklahoma but I would say he came out of –
VIPRESS: Most talented…
RAZE: Yeah I would say he's one of the most talented out of there but not only out of there like out of Southern California in general. So I would say I would want to wrestle him a shit ton more than I ever got to.
And Ruby you wanted to ask Vipress?
RAZE: Bitch why do you even like tag teaming with me?
VIPRESS: (laughs) Why do I like tag teaming with you? Hmm. I think I definitely like fighting with you more but, BUT, I like tagging with you because I care about you, because I love watching you toss bitches around.
RAZE: Tossing a bitches…
VIPRESS: Toss mean bitches. I love actually getting thrown at bitches too and being used as a weapon. And I just know that with you I could – most likely – be victorious.
RAZE: Bitch we could take over the goddamn world!
VIPRESS: (laughs)
RAZE: We can, we can take over the goddamn world.
Awesome, I'm glad you two made up after your recent battle the day before Thanksgiving.
VIPRESS: Rogue…
Happy thanksgiving to everyone except Ruby Raze. 🦃

— Vipress (@_vipress) November 28, 2019
RAZE: Always, the thing people don't realize when it comes to us wrestling each other it's more about checking each other, to make sure that we understand each other and make sure that the other person isn't acting up, right?
VIPRESS: True, yeah.
RAZE: Whatever. (laughs)
VIPRESS: Whatever.
RAZE: Whatever, she'll smack me in the face I'll club her down, doesn't matter.
VIPRESS: (laughs)
RAZE: It's us checking each other and making sure that we're going to stay tough with each other. So when you see us wrestling each other that's what it is. But when we tag with each other it don't matter, everything – no holds barred. We'll toss – if you could toss me into someone I will be tossed into someone too.
VIPRESS: Have each other's backs.
RAZE: Always.
VIPRESS: And always make sure we win. Get the win. That's all that matters.
Excellent, any closing thoughts?
RAZE: If there is anybody from out of state that wants to come to California and wrestle us by all means bring it bitches. Guy or girl.
VIPRESS: We will be waiting.
RAZE: We will be waiting here for you. Intergender, same sex, it don't matter.
Fantastic, thank you both very much.
VIPRESS/RAZE: Thank you.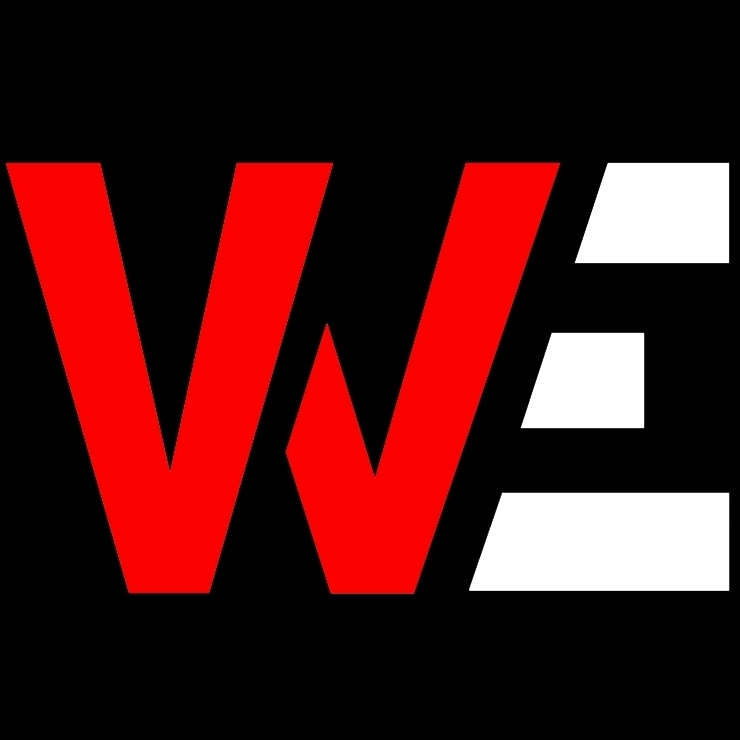 I write comedy & comics! Currently writing for CBR.com. Also, check out Comicprov, where I co-create live improvised comics, & The Episode One Podcast, the TV podcast I co-host! Find me on Twitter and Instagram – @stevewaldinger