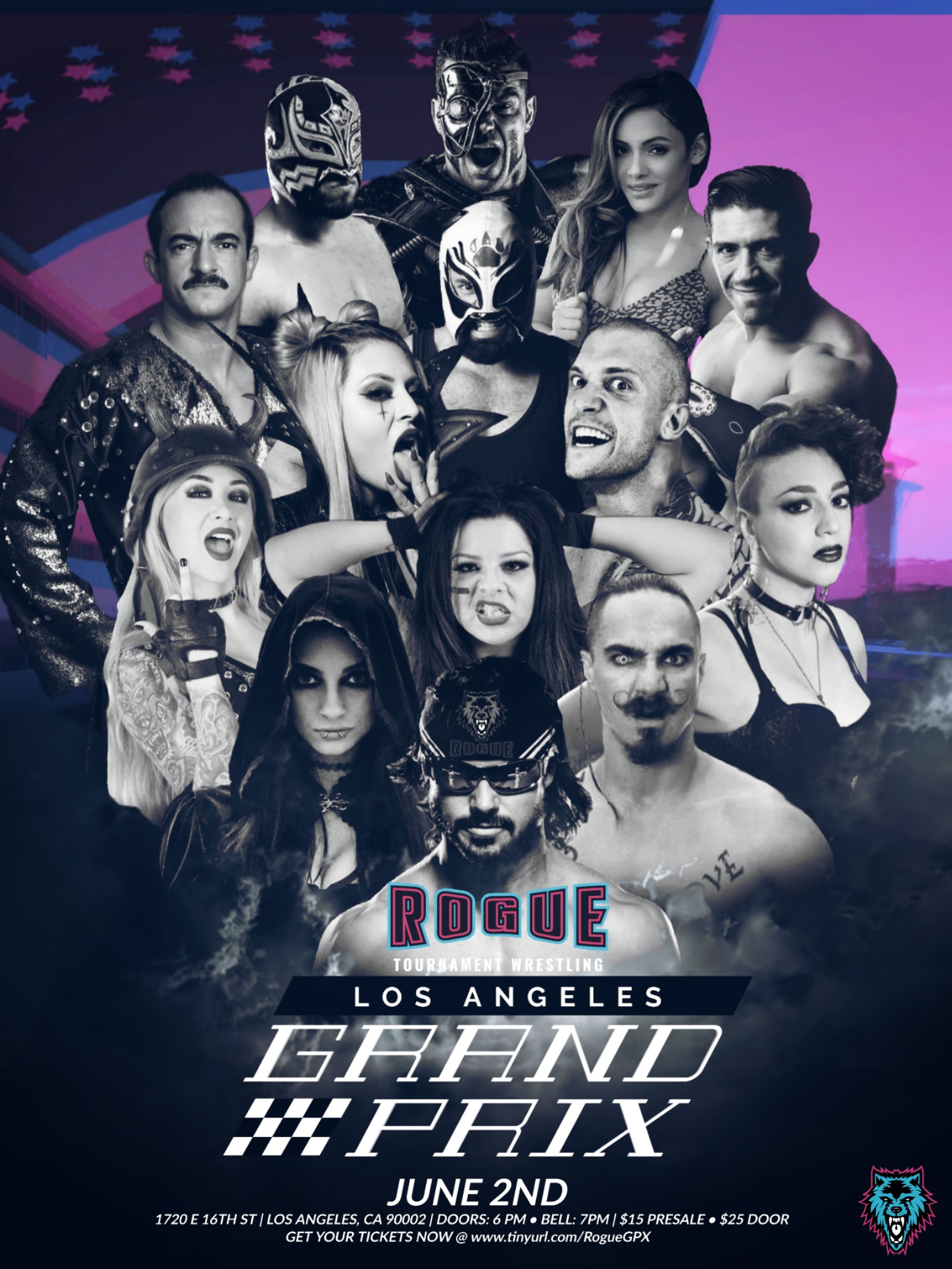 Rogue Wrestling is relatively new to the Los Angeles wrestling scene, with this being just their second event. Below are the results of the show along with some miscellaneous notes along the way.

PRE-SHOW NOTES:
The tournament for their second championship consisted of three singles bouts, Bateman vs Simon Grimm, Rey Horus vs Brian Cage, and Johnny Rogue vs Peter Avalon. The winners of each match would then face off in a triple threat match for the title.

The first tournament winner was PJ Black. It was announced before the show that once four champions have been crowned, there will be a new tournament to determine the one final champion.
The tag team match between Priscilla Kelly/Vipress and Ruby Raze/Shotzi Blackheart was to determine the inaugural Rogue Wrestling Tag Team Champions.

The always awesome Melissa Santos was the ring announcer for the event!
Match One: Bateman (with Sarah Wolfe) vs Simon Grimm
-WINNER: Simon Grimm won via roll-up armbar.
NOTES:
Being the top notch wrestling journalist I am, I instantly recognized Simon Grimm as the former Vaudevillain Simon Gotch and totally didn't just figure it out the day after while writing this recap.
Grimm came out wearing this super dope mask that I naturally forgot to take a picture of. If you look it up yourself the one he was wearing looks basically the same as what you'll find, except it was white and looked similar to the mask from V for Vendetta.
Grimm was announced as the "Genius of Armbars" and now all I want in life is for there to be a "Genius" stable consisting of Grimm, Io Shirai, and Lanny Poffo.
Bateman has been in every recap I've done so far (see here and here for reference) and is consistently fantastic.

Bateman and Grimm put on a great technical match, a perfect way to start off the night.

Though both men were over, Bateman was the de facto heel, evidenced by his manager Sarah Wolfe helping him gain an unfair advantage partway through.
Shout out to Sarah Wofe BTW for putting on a great managing clinic outside the ring.  

I never gave a "rollup armbar outta knowhere" much thought prior to tonight but Grimm pulled off an incredible looking one to win the match.
Match Two: Rey Horus vs Brian Cage
-WINNER: Rey Horus won via rollup.
NOTES:
So much awesomeness going on this match! Besides the David vs Goliath aspect, there was also a Lucha vs Power angle in play.

My first time seeing Rey Horus and I want to see more, he's incredible!
My first time seeing Cage in person and if he were to fight a tank my money would be on Cage.


Horus launched into an offensive flurry before the bell rang to gain an early advantage over Cage, nearly flying over the guardrail at one point flipping out of the ring.

Cage's offense was great to see live, in particular he did two great suplex spots, one from the middle turnbuckle and then a German suplex spot where he got all the air on Horus. ALL THE AIR! Shoutout to Horus too for flying as high and as far as he did in the German suplex.

Crowd chants for Cage included "Get your sh*t in" as well as clapping to The Terminator theme.

There was a low hanging light over the ring, and Cage inadvertently bumped Horus into it.

Great storytelling in the match, as the scrappy underdog Horus took everything Cage had and managed to sneak away with the roll-up win.
Match Three: "Professional" Peter Avalon vs Johnny Rogue
-WINNER: Johnny Rogue won via Starship Pain
NOTES:
Johnny Rogue is the latest ring name for John Morrison AKA Johnny Nitro AKA Johnny Mundo, etc.
Phenomenal heel work by Peter Avalon, as he chided Rogue for his 57 names and also pronounced the name of the event as Grand Pricks (instead of Prix), then proceeded to call the crowd pricks. The crowd then started chanting "Grand Pricks."
Peter Avalon has also been in every recap I've written so far, though this is my first time seeing him live in singles action.


Rogue took the microphone from Avalon and proceeded to wrestle with mic in hand for a few minutes, talking to the crowd while beating up The Professional One.

While with the mic Rogue called himself Johnny Champion, Johnny Bag Of Tricks, and Johnny Hairflips.


This was the first match of the night to fight all the way into the bar in the back of the house! A preview of things to come later in the evening.

Super fun match where I wanted both guys to win!

This final match of the first round set up a triple threat main event of Johnny Rogue vs Rey Horus vs Simon Grimm.
Match Four: Strap Match – Killer Kross vs Super Panda
-WINNER: Killer Kross
A typical Sunday night at the office.@_RogueWrestling

— 🕳🐇Killer Kross ⏳💀❌ (@realKILLERkross) June 3, 2019
NOTES:
Quick note of the rules of the strap match – the competitors each have one end of a long strap tied to their wrist. To win the match one wrestler has to tag all four turnbuckles in succession. If they're knocked down before tagging all four then the count starts over.

Killer Kross does sadistic VERY well.
Super Panda is a DDT master! He's also great at countering any move into a DDT – I think he could counter a root canal into a DDT.

This match had a bit of similarity to to the Cage-Horus match, but differed in that the bigger Kross opted to inflict extra punishment on Panda instead of ending the match, whereas the underdog Panda just wouldn't stay down.

Kross "hung" Panda from the ropes with the strap at one point and the crowd chanted "He's endangered!"

Panda tagged 3 of the 4 turnbuckles but couldn't reach the fourth, and made a valiant last stand to prevent Kross from reaching the final turnbuckle, but ultimately wasn't able to stop him.

My first time seeing either of these two guys and I'm looking forward to seeing them again, they put on a hell of a match!

Despite bleeding from the mouth and barley being able to stand, Panda (after spitting blood on his hand) extended his hand to Kross after the match and Kross shook it out of mutual respect.
Match Five: Tag Team Title Match – Priscilla Kelly and Vipress vs Ruby Raze and Shotzi Blackheart
-WINNERS AND NEW CHAMPIONS: Priscilla Kelly and Vipress won with a chair shot after the referee got bumped.
NOTES:
I was so torn this match as I'm big fans of both Priscilla Kelly and Shotzi Blackheart but only one could win. Ultimately I marked out for Priscilla – sorry Shotzi! This was my first time seeing them both live and they both ROCKED! Would LOVE it if they could team up sometime down the road!

I actually remembered to take a picture in this match (you guys, it's hard holding a notebook, a pen AND a phone)! This was my first time seeing Vipress and her character is so awesome! During her intro she looked a little like Rita Repulsa in her full outfit (which I didn't take a picture of), but after taking off her spiked garment I thought she looked like Sindel from Mortal Kombat, so I finally took a picture so I could do a side-by-side comparison. I'm hoping Glacier developing freeze breath over at AEW means that more wrestler's super powers are emerging and that Vipress will eventually get a sonic scream.


My first time seeing Ruby Raze and she is super badass! She didn't do it this match, but when I was looking her up afterwards I saw she has an incredible looking cartwheel powerbomb in her arsenal, you can check it out in GIF form below.
Also thanks @socaluncensored for the gif of my cartwheel powerbomb 🖤🖤🖤 pic.twitter.com/V5y19B60zD

— RAZE (Ruby Raze) (@Razerpops) April 10, 2019
Ruby Raze and Priscilla Kelly opened the match. After being shoved to the mat twice by Raze, Kelly stuffed her hands down her trunks and challenged Raze to a test of strength. Raze accepted, and after they locked up proceeded to lick both of their hands. This all got a "You sick f**k" chant from the crowd.
Vipress wanted no part of Ruby Raze. When Raze finally got a hold of her she electric chair-ed Vipress onto Kelly.
After several near falls, Vipress "accidentally" took out the referee, then followed that up with a chair shot to Raze, and Kelly made the cover for the win.
Excellent tag team action here, and everyone got time to shine during the match – well done!
After the match Rogue Tournament Wrestling President Cory DeMeyers came out and announced that Kelly and Vipress would be defending the titles at their third show against Crime Time! He also announced that Blackheart would be getting one of her dream matches against Brian Cage and that Vipress was also going to be in the next championship tournament – against Ruby Raze!
Match Six: Triple Threat Championship Match – Johnny Rogue vs Simon Grimm vs Rey Horus

-WINNER AND NEW CHAMPION: Johnny Rogue won via Starship Pain

NOTES:
Like most championship matches, the bout opened with a dance contest!
The pop of the night might just have been when referee Rick Knox swiveled his hips ala "Ravishing" Rick Rude.
This match was full of carnage and went LITERALLY all around the arena. Knox's reaction to all the mayhem added an extra element to an already electric match.
It wouldn't surprise me if it's been done before, but this was my first time seeing someone get waterboarded in a match as Grimm waterboarded Rogue. Naturally this got a "Waterboard" chant from the crowd.
The spot of the night was Horus's Hurricanrana off the top of the bar in the back of the arena.
Johnny Rogue got yet another name, as he pulled out a baseball bat and started whacking everyone in sight, leading the crowd to chant "Johnny Baseball."
So many unique three person moves in the match, my personal favorite was when each man had the other in a brutal submission hold.
I don't know what the line on the match was but Johnny Rogue had to be the odds on favorite since he's named after the company.
Speaking of, if you track down the show and watch it (HIGHLY RECOMMEND by the way) look for me when Rogue goes and celebrates with the fans! I'll be the guy holding a notebook!
That's it everyone, thanks for reading! Give Rogue Wrestling a social medial follow so you can stay up to date with them (here's their
Instagram
 and 
Twitter
) and let me know in the comments if I painted a good picture of the show!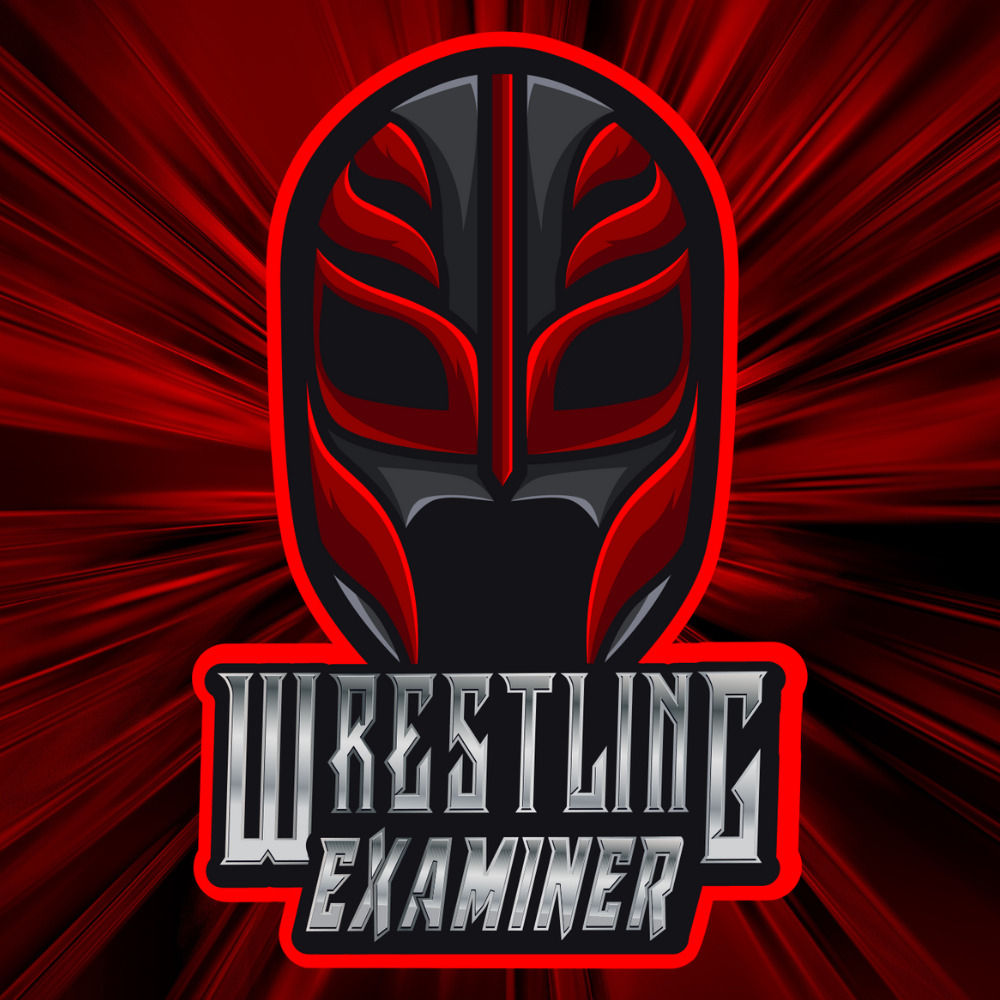 I write comedy & comics! Currently writing for CBR.com. Also, check out Comicprov, where I co-create live improvised comics, & The Episode One Podcast, the TV podcast I co-host! Find me on Twitter and Instagram – @stevewaldinger