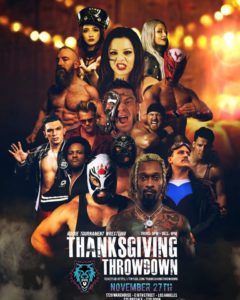 Happy Belated Thanksgiving, hope you had a fantastic holiday! My Thanksgiving got kicked off in glorious style at Rogue Wrestling's Thanksgiving Throwdown. I covered Rogue Wrestling's previous show back in June, and that show as well as their first show are now available in their entirety on Rogue Wrestling's YouTube channel. Subscribe to their channel now so you can watch this show when it's available, and if you just can't wait to find out what happened I got you covered with a recap and some miscellaneous notes of all the incredible action!
PRE-SHOW NOTES:
The tournament for their third championship consisted of three singles bouts, Chris Bey vs Matt Cross, Brian Cage vs Alex Hammerstone, and Vipress vs Ruby Raze. The winners of each match would then face off in a triple threat match for the title.
It was announced before the show that once four champions have been crowned, there will be a new tournament to determine the one final champion.
Previous tournament winners PJ Black and Johnny Rogue (AKA John Morrison AKA Johnny Mundo AKA Johnny Nitro, etc.) were in attendance for the event, along with Rogue's wife Taya Valkyrie (remember that for later).
Melissa Santos was the ring announcer for the last one I was at and was for this one as well.
Match One: Yuma, Watts, and Adrian Quest vs Koto Hiro, Super Panda, and El Mariachi Loco

WINNER: Hiro, Panda, and Loco won via a roll-up from El Mariachi Loco.
First time at @_RogueWrestling. Digging it. Shouts to @yumabooma x @DarthWatts. pic.twitter.com/XoSjtVTCq3

— Anthony Valadez (@anthonyvaladez) November 28, 2019
NOTES:
After all six men brawled at the onset Quest and Hiro were the first two to square off in the ring one on one.
They eventually brawled to outside and Yuma and Mariachi fought in the ring.
When they made their way to the outside Panda and Watts fought in the ring.
Watts ran through a double clothesline attempt. He was going to do a double chokeslam but Mariachi broke it up with a top rope dropkick.
Watts's power advantage led to his team gaining control.
Yuma is a karate master (watch the show on YouTube to see his intergalactic karate on display).
Good teamwork by Quest, Yuma and Watts led to Watts having the match won, but he pulled Hiro up for added torment.
Hiro fought off all three opponents and took out Yuma and Quest to make the tag to Mariachi.
Hiro hurricanrana-d Watts to the outside.
Quest took everyone except Loco out with an outside moonsault.
Loco took everyone out with a top rope corkscrew splash.
Mariachi turned a Yuma cobra clutch into a roll-up to get the win.
Mariachi and Santos danced post match.
Great opening bout, everyone got a moment to shine and it set the perfect tempo for the rest of the show.
Match Two: Tag Team Championship Match: Vipress and Priscilla Kelly (champions) Vs Hawx Aerie (Luke and PJ Hawx)
WINNERS: Vipress and Priscilla Kelly won via a Kelly sunset flip bomb (preceded by Vipress using a headscissors takedown to throw Luke Hawx into a chair propped up in the turnbuckles).
@priscillakelly_ is here at @_RogueWrestling ready to defend the tag team titles with @_vipress! pic.twitter.com/Jb1vcZOetJ

— Make Me A Fan (@MakeMeAFan316) November 28, 2019
NOTES:
This was my second time seeing Hawx Aerie live, AKA "the ONLY father/son tag team in all of wrestling."
PJ Hawx (the younger Hawx) and Kelly broke out some amateur wrestling to start the contest, with the advantage going to PJ.
Kelly challenged PJ to a test of strength, but before they locked up she put her hands down her trunks, which rattled PJ. The crowd then chanted "he's too young."
Vipress took on Luke Hawx and was overpowered early, but later gained control with her speed advantage.
Neither Vipress or Kelly had an answer for PJ's amateur wrestling background, which led to Hawx Aerie gaining control in the bout.
Kelly hit a missile dropkick on Luke to turn the tide of the match for her team.
Vipress took out the father and son duo with a top rope dive to the outside.
Vipress initially brought the chair that led to her team's victory into the ring. She tried to hit Luke with it but missed and he knocked it away. Kelly then grabbed the chair and propped it into their corner.
Vipress then tried to whip Luke into the chair, but he reversed the whip. Vipress was able to avoid impact with the chair, then hit the charging Luke with a headscissors takedown into the chair. Kelly then tagged in and sunset powerbombed Luke for the win.
Super fun match, it was great seeing both teams again and they worked really well together.
Match Three: Chris Bey Vs Matt Cross
WINNER: Chris Bey won with a jumping high kick.
NOTES:
Matt Cross = Son of Havoc from Lucha Underground. Hadn't seen him wrestle since then so it was cool to see him live and now I miss Lucha Underground again.
The match started off with a handshake between the two competitors.
Great exchange where neither guy could land anything on the other.
Bey jumped ahead with a disaster kick.
Great selling by both guys throughout the match.
Cross gave Bey a tour of the turnbuckles, ramming him into 3 of the 4 corners. Bey initially blocked the 4th attempt but Cross eventually connected.
Cross climbed the top rope, then grabbed a wooden beam above his head and swung off it to land a double stomp onto Bey's back.
There was a "Chris-Cross" chant during a Bey-Cross punch exchange.
Nice cutter by Cross but Bey was able to kick out.
They shook hands again after the match and Cross raised Bey's hand.
Match Four: Brian Cage Vs Alex Hammerstone
WINNER: Brian Cage won with a Michinoku Driver.
One more from the @MrGMSI_BCage and @alexhammerstone match. This was a phenomenal back and forth match and if you weren't lucky enough to be there you have to watch it whenever @_RogueWrestling makes it available! pic.twitter.com/57q2jyObQb

— Make Me A Fan (@MakeMeAFan316) November 28, 2019
NOTES:
These were two big dudes! Neither could take the other down early on until Hammerstone brought punches to a shoulder block fight.
Hammerstone held Cage in a vertical suplex for a long time, but when Hammerstone finally dropped him Cage bounced right back up.
Cage then returned the favor, holding Hammerstone up for a 20+ count.
Hammerstone kicked the middle rope while Cage was entering the ring to get back in the match.
Hammerstone does a nice big man dropkick.
The crowd chanted "Single H" at Hammerstone throughout the match. Hammerstone would later hit a pedigree on Cage for a 2 count.
This was a very cool agile big man match.
Match Five: Ruby Raze Vs Vipress
WINNER: Ruby Raze won with a reverse Kudo Driver.
NOTES:
These two have wrestled each other at all three Rogue shows so far (the above video is their super intense match from Rogue Tournament Wrestling 1).
This match was set up at Rogue Tournament Wrestling 2 when Vipress hit Raze with a chair en route to winning the tag team titles.
Vipress loves her chairs, as she assaulted Raze with a chair out of nowhere before Raze could enter the ring.
Raze blocked a 2nd chair shot and brought Vipress into the ring the hard way to start the match.
Raze controlled early and often in the match.
Raze unzipped Vipress's top to get extra chest slap impact.
Vipress attempted to take out Raze's legs during the match but couldn't sustain the momentum for more than a few moments.
Match Six: Triple Threat Championship Match: Chris Bey Vs Brian Cage Vs Ruby Raze
WINNER AND NEW CHAMPION: Ruby Raze pinned Chris Bey after spearing Bey through a table.
It was utter chaos in the main event last night at @_RogueWrestling with @DashingChrisBey vs. @Razerpops vs. @MrGMSI_BCage going at it for the championship! Check out this action! pic.twitter.com/OqRGTHStuD

— Make Me A Fan (@MakeMeAFan316) November 28, 2019
NOTES:
Cage jumped out to an early advantage but it came to a stop when Raze and Bey managed to chop him down.
Cage caught a Bey headscissors takedown attempt.
Armdrag backbreaker by Cage to Bey.
Raze took down Cage and had him pinned but Bey broke it up.
Nice rope mounted cutter by Raze to Bey.
Bey took out both Cage and Raze with a double dropkick then again with a double 2nd rope stunner.
Cage bucklebombed Bey into Raze.
Cage is the one who brought the table into the ring and set it up in the corner.
Bey senton onto Raze followed by Cage.
Cage went to the outside to get a second table. Taya Valkyrie (in the crowd along with Johnny Rogue, PJ Black and the rest of the fans) took Cage out of the match by breaking a bottle over his head.
After the match, Valkyrie entered the ring and got in Raze's face.
Melissa Santos tried to interview them but they both refused the mic, saying this was between them.
Referees and Rogue Tournament Wrestling President Corey DeMeyers came out to separate the two.
Cage stared down Valkyrie after her and Raze were separated.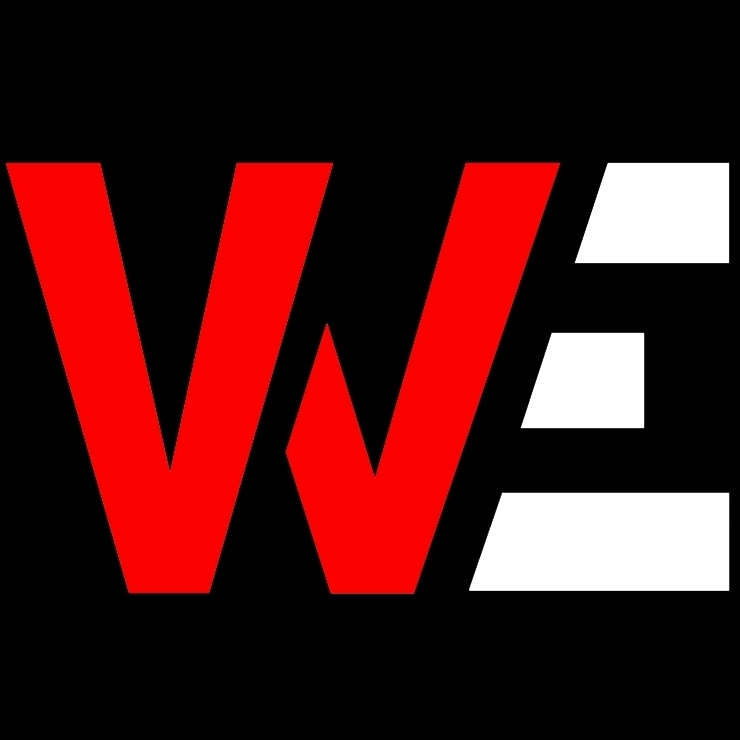 I write comedy & comics! Currently writing for CBR.com. Also, check out Comicprov, where I co-create live improvised comics, & The Episode One Podcast, the TV podcast I co-host! Find me on Twitter and Instagram – @stevewaldinger