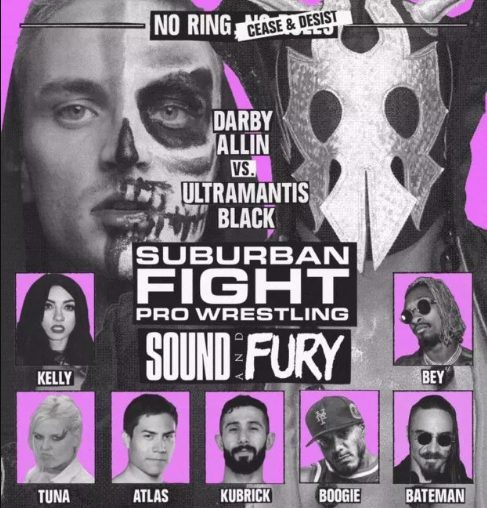 Extreme rules? Pfft! How about NO rules? And NO ring? That's how Suburban Fight Pro Wrestling does it at The Hi Hat in Los Angeles! If Suburban Fight sounds familiar, this was where Priscilla Kelly did the thing you heard about at.  Below are the results from their most recent show along with some miscellaneous notes along the way.
The layout of the bar is that in the back there's a stage and a few small rows of bleacher type seats, with a wide floor in between. In the front, there's the bar, which is a big long bar, and a billiards area with a couple of pool tables.

Bars usually have a 20 foot ladder just chilling in the corner, right? I'm sure it won't come into play on a card featuring Darby Allin and Ultramantis Black.

There was a very punk feeling before the show, which only intensified once the action started.

Two referees worked all the matches and helped get the crowd out of the way when needed.

Suburban Fight is arguably the most interactive show you'll ever go to – more on that in a bit.

Match One: "Dashing" Chris Bey Vs Bateman
WINNER: Chris Bey won with a diamond cutter through a wood plank.
NOTES:
Being the first match of the night, it was the only "contained" match on the card, IE the action took place on the floor between the stage and the seats. Both men worked very well within the area and used their surroundings to their advantage.

Bateman arm-dragged Bey onto the stage.

Bey drank a fan's beer, then proceeded to get chopped down by Bateman.

Bey did a very nice wall assisted Superman punch.

Both men are very hard strikers, their chops and kicks sounded insanely vicious.

Bey did a moonsault from the seating area and got a "holy shit" chant.

Bateman tried to break Bey's fingers earlier in the match, then later he pulled a pen from his trunks and stabbed it into Bey's fingers, getting a "you sick [email protected]*k" chant from the crowd.

I had to quickly move as Bey attempted to look for two chairs under the stage (they ended up being over by the bar). Once he found the chairs, he set up a wood plank on them.

Bateman attempted to suplex Bey through the plank, but Bey jumped over the plank and caught Bateman with the diamond cutter through the plank for the win.

Outstanding match, great way to start the show!
Match Two: Slice Boogie Vs Dom Kubrick Vs Jake Atlas
WINNER: Jake Atlas won with the LGB-DDT
NOTES:
Slice Boogie came out drinking a bottle of Hennessy. He gave a fan a drink, then got mad at the fan for drinking too much of it.

When Dom Kubrick came out, Boogie offered Kubrick the Hennessy. After Kubrick took a drink, Boogie kicked him in the face and waited for Atlas to come out.

The second Atlas came out, he jumped down the entrance stairs and hit Boogie with double knees.

Kubrick reversed an Atlas bulldog attempt into a hurricanrana onto Boogie.

Unable to find a table, Atlas screamed "Where's the f*@%ing tables Nick?" at referee Nick Bonanno, then proceeded to grab one of the bar tables and powerbomb Kubrick onto it, getting a "holy shit" chant from the audience.

Kubrick did not one but two moonsaults off the top of a DJ tower onto Atlas and Boogie.

Slice Boogie got massive heat for yelling "f*@k LA."

The action moved all around the bar, and when it does you can't see what's going on unless you move so I lost some portions of this match.

Kubrick hit Atlas with a beer then kissed him.

Boogie and Atlas were the first to fight on the bar.

Atlas hit a Canadian Destroyer on Kubrick on the stage.

Later, Boogie hit a neutralizer onto Kubrick on the stage.

After Atlas won, he celebrated with the fans and got beer poured all over him.

Amazing match! All three men were on fire from start to finish!
Match Three: Priscilla Kelly Vs Tuna
WINNER: Priscilla Kelly won via tapout from a microphone chord choke.
NOTES:
This was a rematch stemming from "the tampon" incident.

My first time seeing Tuna and she rocks! Her outfit for this match looked straight out of GLOW.

There were dueling "Tuna/PK" chants before the action started, so noting the divide, Kelly got on the mic and had the Tuna fans go to the left and her fans go to the right so they could do a Roll of Death (

like I mentioned previously, 

I'm a big Priscilla Kelly fan so I went to the right).

Gaining an early advantage in the Roll of Death, Kelly had one of the fans hold Tuna while she chopped her.

When Tuna got control, she returned the favor and had a fan hold Kelly and chopped the crap out of her.

They fought on the bar and when Kelly got on the bar she took a shot per the fan's request.

Continuing their bar skirmish, Kelly threw paper cups at Tuna.

They made their way to the stage and Tuna found a kendo stick and whacked Kelly with it.

Tuna then hit Kelly with a Randy Orton style DDT from the stage to the floor.

As Tuna was about to hit Kelly with something nasty (possibly a table, my view was momentarily obstructed), Kelly grabbed the mic and hit Tuna with hit, then choked her with the chord until she tapped out.

Kelly wouldn't let go of the choke after the match, her husband Darby Allin and Jake Atlas had to come out and pull her off.

Atlas helped Tuna to the back.

Super awesome match that left it open for an even more brutal third chapter down the line.
Match Four*: Darby Allin Vs Ultramantis Black
*It was announced that this match was going to be a 2 out of 3 falls match.
Fall One: Doorway To Hell Fall*
*Whoever puts their opponent through a doorway first wins.
WINNER: Darby Allin
NOTES:
Ultramantis Black was in Godzilla: King of the Monsters right? If not he should have been, he's awesome!

Darby Allin still had his ribs taped from the AEW show.

Allin won by smashing Ultramantis through an unhinged door that was propped against a wall at an angle.
Fall Two: First Blood Match
Whoever was able to make their opponent watch Rambo: First Blood  wins. *checks notes* Ooops, sorry, whoever draws blood first wins, but you probably knew that anyway.
WINNER: Ultramantis Black
NOTES:
I lost parts of this match to the shifting crowd, so I didn't see how Ultramantis Black drew blood, but he did so he won.
Fall Three: Ladder Match
There was a pinata up in the ceiling, whoever pulled it down first was the winner.
WINNER: Darby Allin pulled the pinata down with his mouth to take 2 of the 3 falls.
NOTES:
As I mentioned, I lost parts of this match to the shifting crowd, which is why I have minimal notes. Sometime after the ladder was introduced, Allin got his hands duct taped together, which is why he had to grab the pinata with his mouth.

Ultramantis Black did a moonsault off the ladder onto Allin.

Allin was still able to get in his offense even with his hands taped together.

Even though I wasn't able to catch everything, everything I did see was absolutely incredible! This was my first time seeing Allin in person and my first ever time seeing Ultramantis Black and I hope to catch both again soon!
After the match it was announced Suburban Fight Pro Wrestling would be taking on GCW on Friday August 9, and the Wrestling Examiner isn't going to miss that so hopefully we'll see you there if you're in the Los Angeles area! Let us know your thoughts on ring-less wrestling down in the comments and we'll catch you again soon!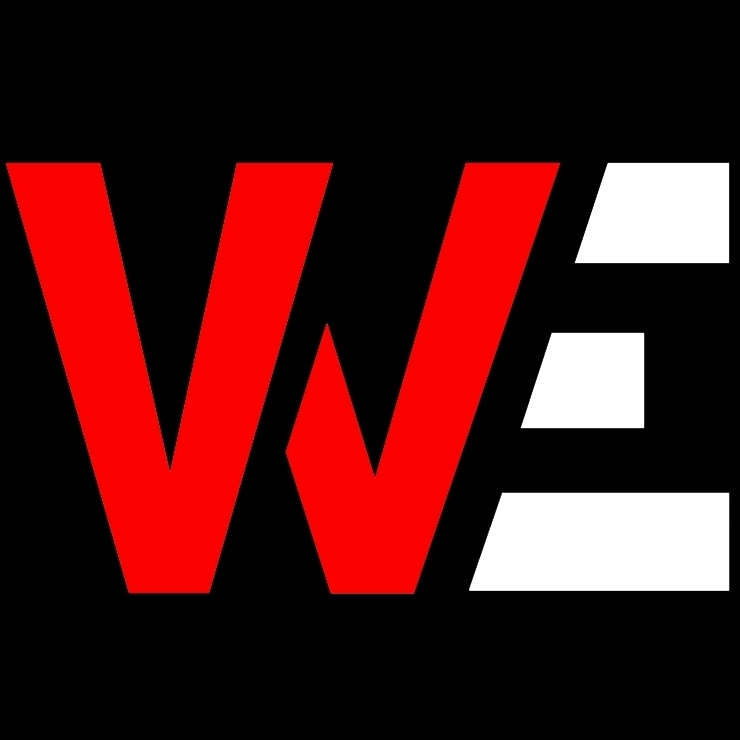 I write comedy & comics! Currently writing for CBR.com. Also, check out Comicprov, where I co-create live improvised comics, & The Episode One Podcast, the TV podcast I co-host! Find me on Twitter and Instagram – @stevewaldinger