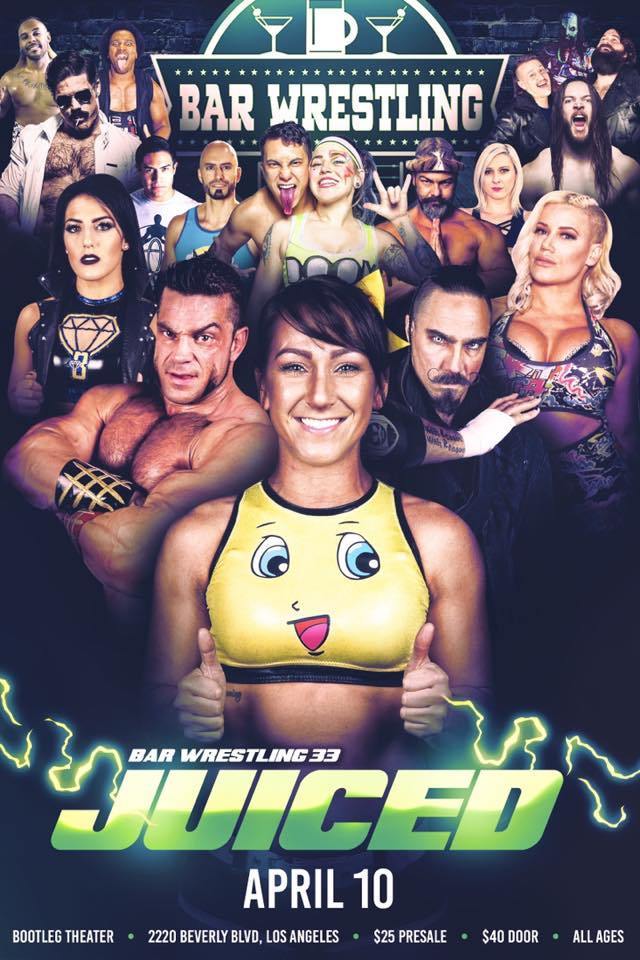 Hello, this is my first article for the Wrestling Examiner and coincidentally my first time at Bar Wrestling, clearly making me the most qualified person to do this write-up as long as you don't think about the math for too long.  If you've never heard of Bar Wrestling before, it is NOT a new company run by Sheamus and Cesaro, rather it is exactly what it sounds like – wrestling in a bar. The Los Angeles based promotion created by Joey Ryan has been around since 2017, gaining mainstream attention on numerous occasions, including when Macaulay Culkin used Home Alone tactics to save Christmas.
Also earlier this year when AEW (All Elite Wrestling) made a surprise appearance.
Below are the results from the 33rd edition of Bar Wrestling, along with some miscellaneous notes along the way.
PRE-SHOW NOTES:
Bar Wrestling has two venues, Wednesday's show was at The Bootleg Theater in LA, a venue I can now officially state is both great for musical performances and pro wrestling. The other one is located in Baldwin Park, CA.
As it says on Bar Wrestling's Pro Wrestling Tees page, it is "a standing room only concert type atmosphere with a full bar." The fans surrounding the ring made it look like it was the world's largest lumberjack match. My initial thoughts of "well, I guess they won't be doing any moves outside of the ring" were quickly proven to be wrong. The venue does have seating, but there was practically no one actually sitting during the entirety of the event.
The first chant of the night was "Where's Melissa?" when ring announcer Louden Noxious came to the ring, referring to beloved ring announcer Melissa Santos of Lucha Underground and IMPACT Wrestling fame. That chant was followed by "Who are you?"

The crowd "Too Sweet's" virtually all referee two counts, followed by a "Whoop whoop." Think about that for a moment and make your own judgment. I can safely say it was fun at first, no further comment.
Match One: PJ Black (with Spider Monkey) Vs "Uptown" Andy Brown
-WINNER: PJ Black won via interference from Spider Monkey following a ref bump.
NOTES:
Upon leading the masked Spider Monkey to the ring on a collar and leash, PJ Black (rightly) felt he owed the crowd an explanation. He went on to say that on a recent retreat in the Jungle he came across a primitive tribe with a very unique fighting style, and bonded with the man the tribe called Mono. They are each teaching the other their ways, and PJ renamed him Spider Monkey. See PJ's Instagram for more info. 
The crowd loved the charismatic Andy Brown, chanting "Uptown Andy Brown" at various points before, during, and after the match.
I'd seen a few Andy Brown matches but this was my first time seeing PJ Black and he impressed. Also, Spider Monkey is extremely athletic.

Perfect opening match, set a great tone for the rest of the show.
Match Two: Tyler Bateman and Ryan Taylor (Out Of The Furnace) Vs Brandon Cutler and LuchaSaurus (A Father And His Dinosaur)
-WINNER(S): Tyler Bateman and Ryan Taylor won after Brandon Cutler accidentally took out LuchaSaurus.
NOTES:
I'd seen Taylor wrestle primarily doing a face yoga gimmick, he impressed as a heel. He pulled off an impressive spot where he pulled off a backdrop while simultaneously keeping an ankle lock applied.

Bateman is good at redirecting opponents offense, and is a great heel that the crowd loves.

My first time seeing Cutler and LuchaSaurus and I liked what I saw.
LuchaSaurus is "Half Luchador, Half Dinosaur" and this is such an awesome gimmick! Someone please turn this into a movie or TV show and attach me as a producer for suggesting it here! If Fighting With My Family doesn't win an Oscar, A Father And His Dinosaur definitely will.


Excellent match that allowed everyone to shine and get their spots in.
Match Three: Heather Monroe Vs Eli Everfly
-WINNER: Heather Monroe won with an impressive Superplex-Michinoku Driver combo.
NOTES:
The lone intergender match on the card.

I'd only previously seen Monroe work as a heel. She is a top notch heel, but she came across as a very natural babyface in this match so I wanted to give her kudos for her face work.

Just to reiterate, Monroe's match winning combo was insanely dope.

My first time seeing Eli Everfly and he was fantastic. 
Everfly's tongue is so long Gene Simmons would have tongue envy.
Match Four: Jake Atlas vs Daga
-WINNER: Daga
NOTES:
The end of this match caught me off guard. With the way my brain is wired to watch wrestling, the end of this match didn't seem like it should have been the end. Since I didn't think the match was ending, I didn't make a note of how it ended and am regretfully unable to recall what the exact end was.

Don't let my lack of recall take anything away from the match, this match was AMAZING. Just watching it, it felt like there was still a bit more story to tell in this bout before the end occurred. Daga was a last minute replacement for Tessa Blanchard, so potentially that had something to do with it, or maybe they wanted to set up a rematch down the line since they had such great chemistry (it did end with the mutual respect handshake). This very well could be just be my take, if you were at the show let me know what you thought of the match.

My first time seeing both men and I want to see more.

Jake Atlas went for a walk-the-rope handstand stunner (awesome looking move) that Daga thwarted. I really wanted to see that connect.
Match Five: PPRay (Peter Avalon and Ray Rosas) and Joey Ryan Vs The RockNES Monsters (BHK and YUMA) and Watts
-WINNER(S): PPRay and Joey Ryan won with a Triple Penis Flip (if you've never seen a Joey Ryan match, hope you enjoy the lack of further context!)

NOTES:
Everyone on the entire card was over, but PPRay was arguably the most over.
Joey Ryan has an infinite number of Blow Pops in his trunks. 


Like the previous tag match on the card, everyone got their spots in here.

So many lewd chants this match. SO MANY!

Poor Watts got peer pressured into giving Joey Ryan an atomic drop, one of several moves Ryan is invulnerable to, as opposed to delivering a flapjack that would have caused Ryan actual damage.

The RockNES Monsters "Let's cheat!" yell was heeling at it's best, though I question the effectiveness of yelling it so the referee can hear and then see.

With no disrespect meant to the main event, this felt like it should have been the main event from how much fun everyone involved had, to how long the faces celebrated post match.
Match Six: Taya Valkyrie vs Kylie Rae
-WINNER: Taya Valkyrie won with the Road To Valahalla.
NOTES:
The main event of the show.
This match was not hurt one bit by the massive energy from the previous match, which is a testament to the workers involved.
My first time seeing a Kylie Rae match. She's awesome and I'm convinced she's the time displaced daughter of Bayley and Gentleman Jervis.
I've seen Taya Valkyrie matches on TV and online before but she is even more impressive in person.
If you were at the show let me know your thoughts on it in the comments and how close you were to the ring. If you weren't at the show let me know what you think of my recap. Thanks for reading!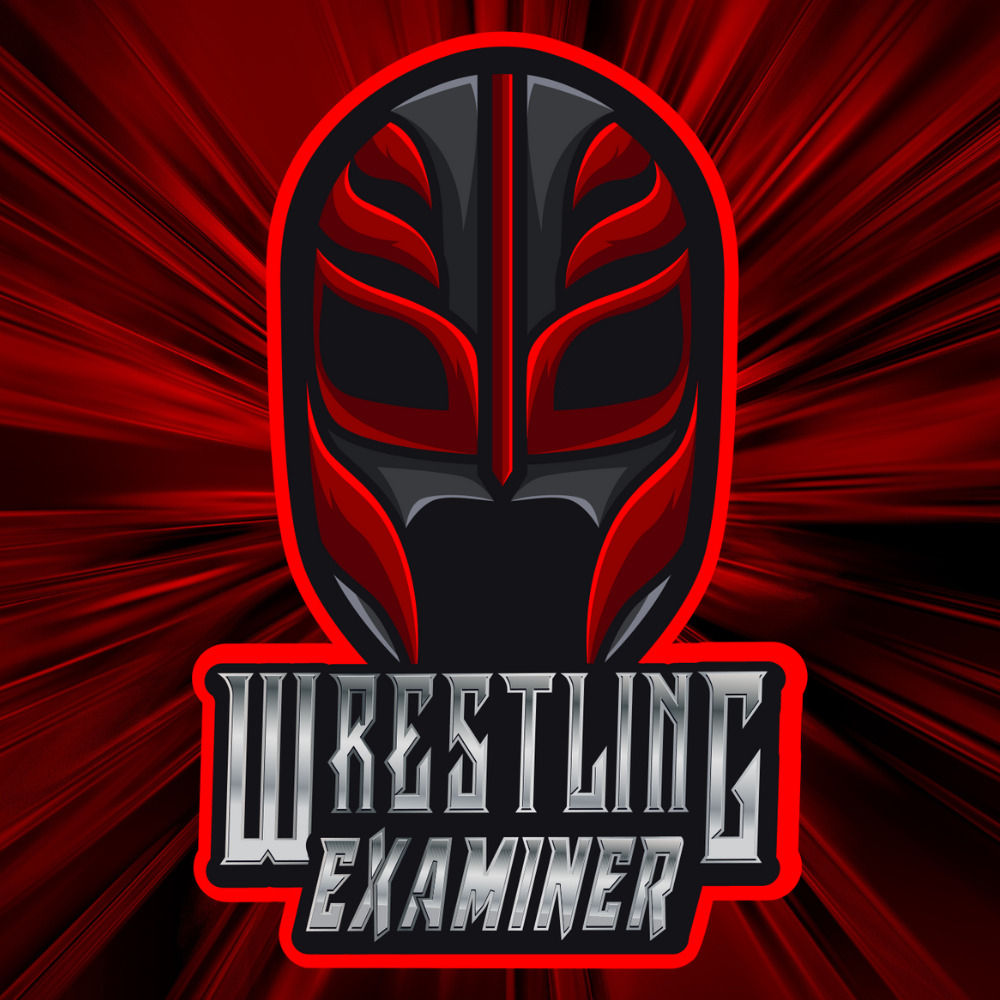 I write comedy & comics! Currently writing for CBR.com. Also, check out Comicprov, where I co-create live improvised comics, & The Episode One Podcast, the TV podcast I co-host! Find me on Twitter and Instagram – @stevewaldinger