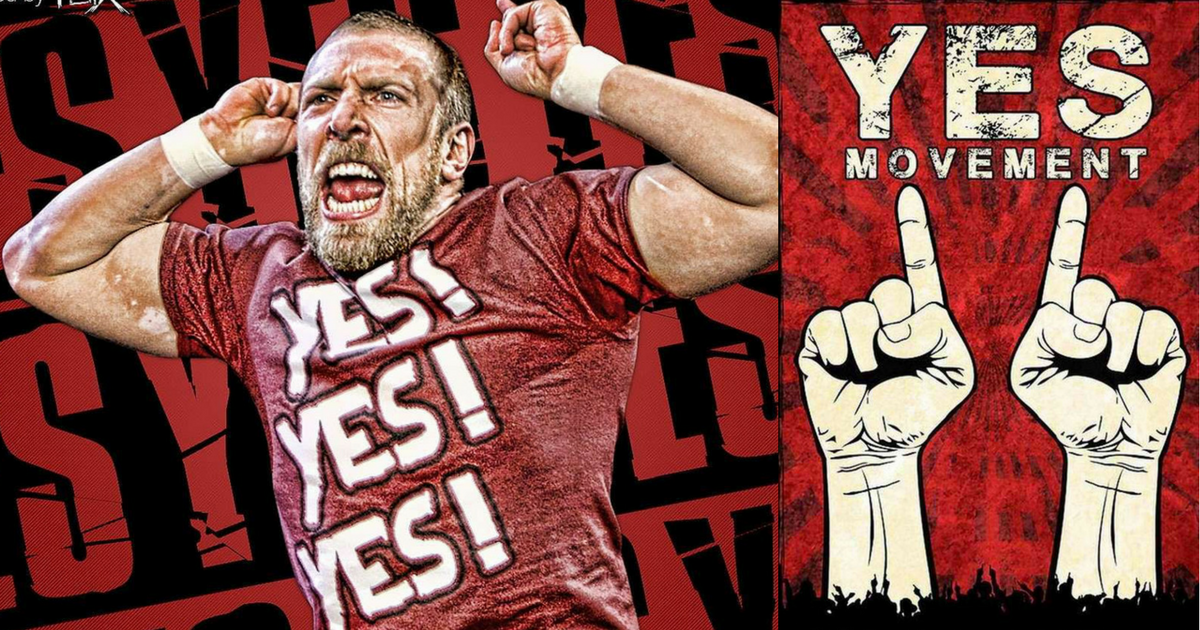 "YES! YES! YES!" It seems like just yesterday when 75,167 wrestling fans inside the Mercedes-Benz Superdome, erupted into cheers as their unlikely hero stood tall holding the WWE World Heavyweight Championship. Daniel Bryan was never supposed to be the mega star that he became, don't ever let anyone try to convince you otherwise. That's why WrestleMania XXX's main event will always hold a special place in hardcore wrestling fan's hearts. Because the fans rallied behind someone that WWE had no interest in making their top guy, and helped propel him to the top spot in the business. Not that Daniel Bryan wasn't talented enough to deserve one of wrestling's top spots on his own. On the contrary, Bryan is one of the most gifted technical wrestlers to ever step foot in a ring. That was the problem. WWE has always favored their last initial over their middle one. In other words, WWE values entertainment more than actual wrestling ability. Thus, Bryan was never seriously considered to be World Champion material by some of the company's higher ups. Boy were some people proved wrong. By the time he was forced to retire in 2015, Daniel Bryan was a Former WWE Champion, World Champion, Intercontinental Champion, United States Champion, and Tag Team Champion. Not to mention, the absolute hottest entity in all of professional wrestling. Not bad for a"boring," "goat faced," indie wrestler huh?
The wrestling world outside of Vince McMahon's company was in a weird place in the early 2000's. Both WCW and ECW were on the verge of closing down, and the independent circuit was nowhere near as prevalent as it is today. Young performers trying to break into the business either had to jump on what they knew was a sinking ship, or hope to be offered a deal by the top promotion on the planet. Apparently a young Daniel Bryan liked his chances. He attended the Texas Wrestling Academy, and was trained by Shawn Michaels and Rudy Gonzalez. WWE always loved referring to Shawn Michaels and Daniel Bryan as "Student and Teacher," but in reality, HBK wasn't as crucial to his career as WWE would like us to believe. A man who was extremely influential in Bryan's career however, is WWE legend William Regal. The soon to be WWE Hall of Famer has been described by Daniel Bryan himself as being "instrumental" in his career, and Bryan's burgundy ring attire was a homage to his real teacher. Bryan was offered a developmental deal by WWE in 2000, and was sent to Memphis Championship Wrestling for training. There he adopted the moniker that would stick with him throughout his entire career, "The American Dragon." Despite showing early signs of potential, Bryan was released from WWE in July of 2001. He would land on his feet though, and eventually help build one of the most popular wrestling promotions in America today.
After being released by WWE, Bryan would make the move to Japan. He wrestled for New Japan Pro Wrestling as The American Dragon, and during his time there, he won the IWGP Jr. Heavyweight Tag Team Championships with his partner, Curry Man (Christopher Daniels). While enjoying success in Japan, Bryan also signed on as part of a new independent American promotion. In 2002, the world was introduced to a company that has pumped out some of the biggest stars in pro wrestling today, Ring Of Honor (ROH). Guys like CM Punk, Seth Rollins, Dean Ambrose, Samoa Joe, Sami Zayn, and Kevin Owens all helped build the mystique that surrounds ROH now a days, but it all started with 3 key guys. Bryan Danielson (Daniel Bryan), Low-Ki, and Christopher Daniels are all considered to be "Founding Fathers" for Ring Of Honor. They were the first 3 legitimate stars the company had, and they competed in the main event of ROH's first show, The Era of Honor Begins. During his time in ROH, Bryan laid down the groundwork that eventually made him pro wrestling's most beloved performer. He squared off in absolute classic matches with the likes of Homicide, Kenta (Hideo Itami), Colt Cabana, Samoa Joe, and Nigel McGuinness. Not to mention a cult classic 80 minute match with "A Double" Austin Aires. Bryan is perhaps the most honored (no pun intended) ROH Heavyweight Champion in the history of the promotion. That's saying a lot when you consider the names that have held that championship. On September 26th 2009, Bryan wrestled his final match for Ring Of Honor against Nigel McGuinness, who was also leaving the promotion. It's crazy to think just how far Ring Of Honor has come since 2002. They're currently the 2nd most popular promotion in America, and their working relationships with Mexico's CMLL, and Japan's NJPW, has extended their global reach substantially. It's a promotion on the rise, and a lot of it has to do with all the early work Bryan, and the other "Founding Fathers," put in.
In August of 2009, Bryan re-signed with WWE, and began working dark matches for them before being sent down to developmental for further training. On January 14th 2010, he made his Florida Championship Wrestling (FCW) debut, losing to his fellow ROH Founding Father, Low-Ki, who had been renamed, Kaval. Bryan himself would get a name change. He would no longer be allowed to use his real name, Bryan Danielson. Instead, on the February 11th taping of FCW, Danielson would be re-christened, Daniel Bryan. Shortly after that, on February 23rd 2009, Bryan appeared on the first episode of NXT, where he lost by submission to World Champion Chris Jericho. Wade Barrett would go on to be the winner of NXT season one, but the stand out of the entire show was Daniel Bryan. After NXT, Bryan would be part of an invading group of rookies known as The Nexus. Their initial debut on Monday Night Raw still remains one of the most shocking and impactful ever. The Nexus interrupted the main event between John Cena and CM Punk, laying waste to everything and everyone in their path. It was an impressive way to kick off their main roster run. Unfortunately for Bryan though, or fortunately if you consider how things ended for The Nexus, he wouldn't remain a part of the group. He was fired by WWE for going "too far" during the attack. At one point, Bryan choked ring announcer, Justin Roberts, with his own tie, and apparently that was unacceptable, and he was released.
Thankfully, Bryan was re-hired a couple of months later, and was the surprise 7th memeber of team WWE when they faced The Nexus at SummerSlam 2010. After SummerSlam, Bryan would enter a feud with The Miz, who had been Bryan's pro while on NXT. At Night Of Champions 2010, Daniel Bryan defeated The Miz to win the United States Championship, his first championship in WWE. He held the belt for 176 days before losing it to Sheamus. They had a rematch scheduled for WrestleMania XXVII, but it was bumped to the pre-show, given a lame Lumberjack stipulation, and wasn't even allotted a finish. The disappointment of being bumped off the main card at WrestleMania didn't discourage Bryan. He continued to prove all his skeptics wrong. First by winning the 2011 SmackDown Money in the Bank ladder match. Then, by successfully cashing it in to become the World Champion. Many folks backstage probably thought that would be the peak for Bryan, but his career was barely starting to heat up.
After becoming World Champion, Bryan slowly started to turn heel. He began resorting to sneaky tactics to hold on to the World Championship, and he was becoming more and more abusive towards his on-screen girlfriend, and fellow fan favorite, AJ Lee. As has been the case with some of wrestling's biggest stars, turning heel really catapulted Bryan's career. As a babyface, he was solid, but turning heel gave him the chance to add more intricacies and nuance to his character. Case and point, the "YES!" chant. It's become the premiere chant at WWE live events, rivaled only by chants of "CM Punk." The truth is though, had Bryan not turned heel, it probably wouldn't have caught on the same way it did. Sure, he started using the chant before that, but when he turned heel and began using the "NO!" chant, causing fans to respond with the "YES!" chant, a phenomenon was born. Bryan would inexplicably be booked to lose his World Championship to Sheamus at WrestleMania XXVIII in an 18 second squash. Normally, being made to look so weak on such a big stage would be a death sentence for a wrestler's character, but even that couldn't stop what was about to happen. In fact, many people actually consider the 18 second loss at WrestleMania as the launching pad for Bryan's career.
After the WrestleMania loss, Bryan's fan reaction began to increase more and more. The more he chanted "NO!" the more fans would chant "YES!" It was so simple, yet fans ate it up. After an extremely well received feud with CM Punk over the WWE Championship, Kane was also inserted into the program, and one of the oddest pairings in WWE history would eventually be formed. Comedy in professional wrestling has always been a slippery slope. Sometimes it's a nice change of pace and a good way to fill a little air time, but some segments can go way too long, and others can miss the boat completely and not be funny at all. In 2012, we got perhaps the best comedic segments WWE has ever produced, the Daniel Bryan/Kane "Anger Management" skits. On paper, it shouldn't have worked. Neither Kane, nor Daniel Bryan had a history of being "funny," and the backdrop to the skits is rather silly, but somehow it got over huge. In storyline, Kane and Daniel had been at odds for months, and new Raw GM, AJ Lee decided to send them to anger management together. They were to be treated by a the reputable Dr. Shelby, and were to keep attending meetings until they were "cured." What we got was some of the best and unique promo work either performer has ever done. At one point, Bryan and Kane were even encouraged by Dr. Shelby, and the live crowd to "Hug it out." They did, and the crowd went wild. Sometimes it's hard to explain why certain gimmicks get over with fans, and this is definitely one of those instances. Bryan and Kane would begin tagging together from that point on, and would be WWE's hottest tag team for over a year, "Team Hell No."
After the creation of Team Hell No, Bryan was more popular than ever. Fans simply couldn't get enough of the bickering between the 7 foot tall "Big Red Machine," and his "Goat faced" counterpart. When the duo won the WWE Tag Team Championships at Night of Champions 2012, we got even more comedic gold, as both Bryan and Kane continuously argued over which ONE of them was the "Tag Team Champions." It was some of the funniest content WWE has ever produced, and somehow it helped Bryan connect even more with the fans. Sadly though, like every other great tag team in WWE history, Team Hell No would eventually go their separate ways. After losing the Tag Team Championships to The Shield, Bryan became obsessed with proving he wasn't the "weak link" in the team. It lead to the team's eventual break up, but it also coincided with Bryan becoming more visibly aggressive inside the ring. It was a move that endeared him to fans even more, but in hindsight it probably sped up his untimely retirement even more. One famous incident of Bryan's aggressive style getting the better of him was in a match versus Randy Orton on Monday Night Raw. Bryan had suffered a stinger at some point during the match, and had lost the ability to lift his right arm at all. In typical Daniel Bryan fashion, that tough S.O.B. just kept on wrestling with one arm just dangling there. The match was eventually stopped by the referee. It was later revealed that Triple H had been the one who made the call to stop the match from the backstage area. Bryan has said that when he got backstage after the match he confronted Triple H, and things reportedly got heated. Instances like that are why fans will never let go of the tiny sliver of hope that he'll wrestle again, because performers like him don't come around very often.
The "weak link" angle gave Daniel Bryan new found momentum. Momentum he rode all the way to the main event of SummerSlam 2013 against John Cena. Full disclosure, I was in attendance at SummerSlam 2013, so I'm probably bias towards it, but in my opinion, Bryan vs. Cena for the WWE Championship is one of the best SummerSlam main events ever. You had "Big Match John" going up against his complete polar opposite. The build up to the match was great too. It featured the first time Bryan got called a "B+ player," and it basically set up the whole Daniel Bryan vs. The Authority feud. Perhaps the best part of the build up happened during a face to face confrontation between Bryan and Cena. Cena had taken offense to Daniel Bryan wearing a shirt that read " The Beard is Hear!" It was a knock at Cena and one of his favorite catchphrases, "The Champ is Here!" Bryan responded with one of the best insults ever hurled at Cena. He said "Do you see this shirt? This shirt, is a parody of you, because I think you are a parody of wrestling." Millions of wrestling marks simultaneously lost their minds. When the big night finally came, not too many people were expecting a new WWE Champion, but after hitting his flying knee finisher for the first time in WWE, Daniel Bryan pinned John Cena to win his first WWE Championship. Randy Orton would immediately come out and cash in his Money in the Bank contract. After a pedigree by Triple H, who had been special guest referee for the Bryan/Cena match, Randy Orton pinned Bryan to become the new WWE Champion. It was a tough break for Bryan, but again, it only made fans like him more.
After SummerSlam, Bryan became the undisputed #1 babyface in WWE, even surpassing John Cena and CM Punk in popularity. The result was an almost year long run at the top of the card. Daniel Bryan, and his conflict with The Authority, was pretty much the main storyline in WWE for the second half of 2013 and the first quarter of 2014. That's what made it so shocking when plans for WrestleMania XXX started to leak out, and Bryan was nowhere near the main event. WWE officials have denied it up and down, some of them claiming the way WrestleMania XXX played out, was the way it was originally planned. That's a lie. Both Daniel Bryan and Chris Jericho have gone on record saying that the original plan for WrestleMania XXX was for Batista to wrestle Randy Orton in the main even for the WWE Championship, and for Daniel Bryan to wrestle Sheamus somewhere in the middle of the card. With all due respect to Sheamus, that wasn't going to fly this time. Fans pushed back in a way WWE hadn't seen before. They rejected Batista, a guy they used to love, because he was standing between Bryan and the WrestleMania main event that rightfully belonged to him. After failing to get fans on board for a Daniel Bryan-less WrestleMania main event, WWE had no choice but to finally give in to their audience. On the March 10th 2014 episode of Monday Night Raw, fans "occupied" the ring in protest of Bryan not being in the WrestleMania main event. Triple H came out and eventually agree to face Daniel Bryan one-on-one at WrestleMania. If Bryan beat the "King of Kings," then he'd move on to the main event and face Batista and Randy Orton for the WWE Championship. Finally, the fans got what they wanted, and Bryan was in the spot he deserved to be in.
At WrestleMania XXX, Daniel Bryan and Triple H put on the best match to open a WrestleMania since Bret Hart vs. Owen Hart at WrestleMania X. Also, the pre-match video package is one of the best that WWE's production team has ever put together. It showed Daniel Bryan's transformation throughout the years, with Imagine Dragon's "Monster" playing in the background. It really set the tone for what that night was going to be. Bryan would beat Triple H, and move on to the main event to face Batista and Randy Orton. With the odds stacked against him, Daniel Bryan got Batista to tap out to the "Yes Lock," finally capping off the ultimate underdog story. The live crowd in New Orleans celebrated with Bryan as if they had all just won the WWE World Championship. Hall of Fame announcer Jerry "The King Lawler couldn't have put it any better when he referred to WrestleMania as "YEStleMania" at the end of the show. It seemed almost too good to be true, and sadly it was. Unfortunately for Bryan, he only got one opportunity to defend his championship, against Kane at Extreme Rules 2014. Around that time, Bryan lost all the strength in his right arm, and it was announced on the May 12 edition of Monday Night Raw that he would require neck surgery to correct the issue. He was stripped of the WWE World Championship when it became obvious that he wouldn't be able to defend it at Money in the Bank 2014. A few months passed, and Bryan still hadn't regained the strength in his arm. Doctors suggested a follow up procedure. However, Bryan elected to pass. Finally, on December 29th 2014, after 7 long months away, he announced that he would be returning to the ring on an episode of Monday Night Raw.
Bryan's first match back would take place a couple of weeks later on SmackDown against Kane, who had been credited on-screen for Bryan's injury. Fans were ecstatic to have him back. They couldn't wait for him to win the Royal Rumble, which he announced he was entering, and challenge Brock Lesnar for the Championship he never lost. Unfortunately for everyone, WWE had already made up their mind on who would be winning the Royal Rumble, and it wasn't Daniel Bryan. Roman Reigns had already been handpicked to succeed John Cena as the new face of WWE. There was only one problem. Fans didn't want him. They wanted Daniel Bryan. They didn't want to see the rise of the "Roman Empire," they wanted to see the ultimate comeback story be told. This time though, WWE didn't budge. If anything, they outright trolled their audience by booking Bryan vs. Reigns at Fastlane for the right to main event WrestleMania, knowing well they had no intentions on giving that spot to Bryan. Instead, he was relegated to working a multi-man Ladder Match for the Intercontinental Championship at WrestleMania 31. Bryan won the match and immediately elevated the Intercontinental Championship's value. Sadly though, history would repeat itself. On May 11th 2015, Daniel Bryan would relinquish the Intercontinental Championship due to injury. This time, the nature of his injury wasn't immediately revealed. When it finally was, it wouldn't be good news for Bryan or his millions of fans.
In July of 2015, it was revealed that Daniel Bryan had been suffering from concussions. That was the reason he had been taken off WWE programming. In a weird way, most of us fans heard that news and were relieved.  Truth be told, we all probably thought to ourselves "at least it's not something he can't recover from." None of us understood the severity of the situation. We thought he'd be away for a couple of months, then be back as good as new, but things don't work that way anymore. Recent medical studies have shown the link between concussions and degenerative brain disease, prompting leagues like the NFL, and companies like WWE, to be more cautious with their athletes when it comes to head injuries. After months away, Daniel Bryan had been cleared by his personal physician to return to the ring, but not by WWE's doctors. This led to frustration, both from Bryan and fans. All he wanted to do was get back in the ring, and all fans wanted was to see him perform. Neither would get what they wanted. On February 2nd 2016, on an episode of Monday Night Raw, millions of pro wrestling fans got their hearts broken when Daniel Bryan officially announced his retirement in his home state of Washington. The whole segment was really surreal. I remember watching it and thinking "okay, any minute now he's going to say he's just kidding, and announce that he's coming back." It didn't happen though. Instead, Daniel Bryan gave one of the most heart felt speeches to ever be delivered inside a wrestling ring. He said goodbye to the sport that had consumed his life for so long, and the fans who had supported him every step of the way. Some fans cheered, others cried, but in the end, they all serenaded their hero one last time together. First, with the "YES!" chant that he had made so famous. Then, with a thunderous chant of "Thank You Daniel!."
The next night, Daniel Bryan appeared on ESPN's SportsCenter to speak with Jonathan Coachman about his retirement. During the interview, he stated that recent tests had revealed a small lesion on his brain, and that he'd been hiding post concussion seizures "for a long time." It seems as if Bryan's "reckless" in-ring style cost him at the end of his career. He was billed at 5'10 210 lbs, but in reality he was closer to 5'8 180 lbs. That's tiny in the world of pro wrestling, yet Daniel Bryan was absolutely fearless. He hurled his body around the ring with little regard for his own well being, and delivered every single move with precise intensity. While that made him one of the most respected wrestlers on the planet, it can also be attributed to his early retirement. When Daniel Bryan called it a career, the possibility of so many WWE dream matches went away with him. Matches like Bryan vs. Hideo Itami, Bryan vs. Kevin Owens, and Bryan vs. AJ Styles. Oh yeah, and the ultimate WWE dream match, Daniel Bryan vs. Shinsuke Nakamura. Man, would that match have been off the freaking charts or what? The possibility of "The American Dragon" vs. "The King of Strong Style," was one of the main reasons Nakamura decided to make the jump from NJPW to WWE. Unfortunately Bryan announced his retirement just shortly after Nakamura signed. What could've been… Bryan made his return to WWE programming in July, in a non-contact role as GM of SmackDown Live.
There's an old saying in the wrestling business, "Never say 'Never'." So many things have happened in pro wrestling which nobody saw coming, that nothing can ever be absolutely ruled out. Hulk Hogan was the face of the WWF during the 80's and many thought he'd "never" join WCW. How'd that end up? Shawn Michaels was forced to retire in 1998 due to a back injury, and he was told he'd "never" be able to return to the ring. He was back 4 years later. It was common knowledge that Bret Hart and Ultimate Warrior's relationships with WWE were so damaged that they would "never" make a mends and return to the company. Both men were inducted into the WWE Hall of Fame, and both men returned to WWE. The point is, anything can happen in professional wrestling. Time, and Vince McMahon's money has proven to heal a lot of wounds. So as long as Daniel Bryan is able to be medically cleared one day, the hope still exists. Almost immediately after Bryan's retirement was announced, rumors began to circulate that he'd wrestle again, just not for WWE. Bryan didn't do much to quiet the rumblings. Actually, he kind of fanned the flames a bit when he and The Miz began having heated shoot style promos on WWE Network's Talking Smack. During one promo The Miz called Daniel Bryan a liar, saying he had lied to all the fans when he told them he'd come back. He also called Bryan a coward for choosing to retire. Then in another promo, The Miz began taunting and belittling Bryan again for not being able to wrestle, saying " You want to be a wrestler, but you can't because of your head. That's ok." Bryan responded with "I can't? Or they won't let me? We'll see in a year and a half and see what happens." With those words Bryan set the Internet Wrestling community on fire. Speculation began to run rampant about when he'd be leaving WWE, and where he would wrestle. Of course all those questions are a bit premature. For now, Daniel Bryan is still under contract with WWE, but if the possibility of him wrestling again does exist, they should definitely explore it before letting him walk away. They already have the perfect storyline and the perfect opponent for him, The Miz. The seeds for a return and a feud with The Miz, have already been planted. All WWE  has to do now is allow it to grow. Whether we ever see Daniel Bryan wrestle again or not, those of us who were there to experience his rise will never forget it. We were all a part of making him the top star in pro wrestling. He never claimed to do it alone, he took us with him every step of the way. Together, we weren't just a wrestler and his fans, we were a movement. A movement that will forever be remembered and defined by one word…"YES!"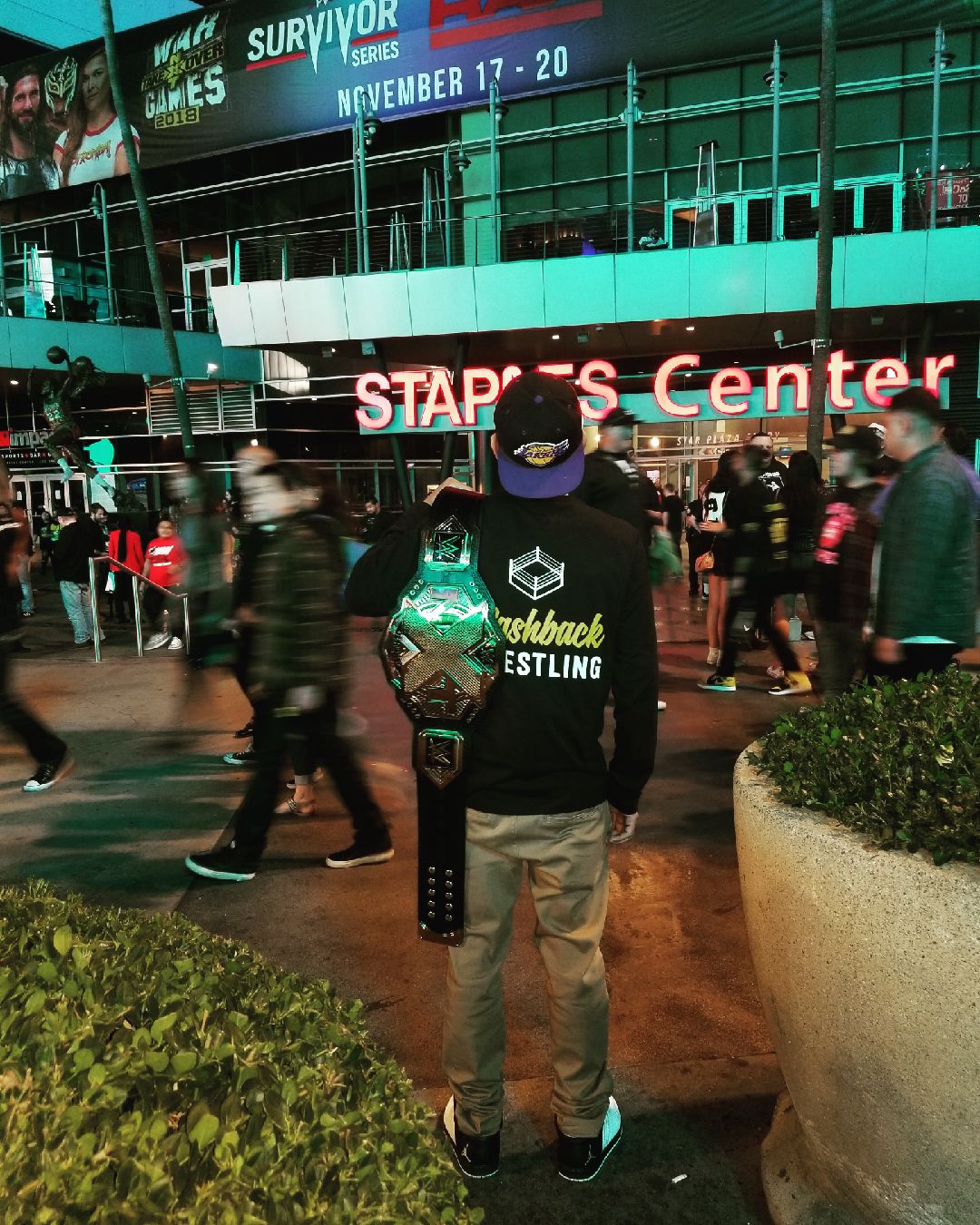 I'm Wesly Avendano. Life long wrestling fan from a small town in Southern California. Writing and wrestling are two of my passions so why not combine them and see what happens. I'm currently the host of Flashback Wrestling Podcast. Favorite all time wrestler is a tie Bret Hart. Favorite current wrestler is AJ Styles. Don't forget to follow me, and the Flashback Wrestling Podcast on Twitter @fbwpodcast and Instagram @flashbackwrestling.