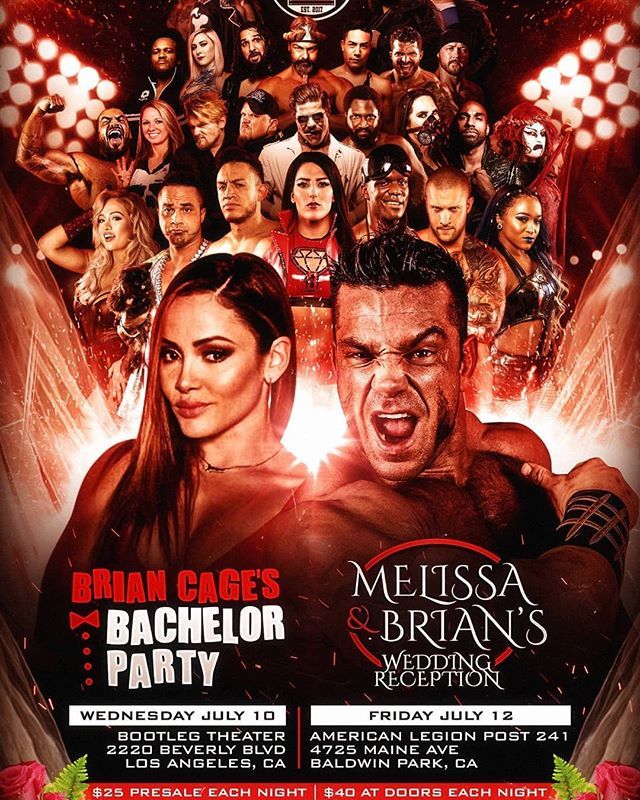 Hey everyone, it was Brian Cage's Bachelor Party at Wednesday's Bar Wrestling and you're invited courtesy of this recap! Historically, Pro Wrestling bachelor parties have always gone off without a hitch, so read on to see if the streak continues here.
PRE-SHOW NOTES:
Since this was Brian Cage's Bachelor Party, Melissa Santos was not at the show so Louden Noxious handled the ring announcing duties. Noxious also draws customized wrestler portraits before and after the show as well as during intermission. I got one for my friend of her as a hybrid of Charlotte Flair, Ronda Rousey, and Triple H and it came out so cool!
The biggest show I've been to so far, with seven matches on the card.
Match One: Reno Scum (Adam Thornstowe and Luster the Legend) Vs Hawx Aerie (Luke Hawx and PJ Hawx)
WINNER(S): Reno Scum won with a double team top turnbuckle stomp.
NOTES:
Hawx Aerie are "the ONLY father/son tag team in ALL of wrestling!"
PJ Hawx and Luster opened the match, and when Hawx wanted to grapple, Luster said "I'm not going to do that amateur shit, this is pro wrestling!"
After losing control early in the match, the crowd chanted "Tag your daddy" at PJ, who then tagged in his father Luke.
Reno Scum busted out the Nasty Boys armpit spot.
Luster shouted "Roman Reigns bitch!" when attempting a Superman punch (Hawx Aerie dodged the punch).
Great match to kickoff the show, and both teams got a "Please come back" chant from the crowd.
Match Two: The Killer Death Machines (Nevaeh and Jessicka Havok) Vs Heather Monroe and Jake Atlas
WINNER(S): Monroe and Atlas won with a top rope splash/backstabber combo and double pin on Havok.
NOTES:
I believe the team name for Atlas and Monroe was The Bomb-Baes.
Nevaeh and Havok attacked Monroe and Atlas the nanosecond the bell rung, and for several minutes there were concurrent fights going on, Monroe and Nevaeh in the ring and Atlas and Havok on the outside.
In a shocking turn of events, the team called The Killer Death Machines had a BRUTAL hard hitting style.
Monroe was the face in peril for most of the match and was great in the role, mounting several near comebacks before eventually making the hot tag to Atlas.
Atlas's offense is so dope, highlights included a backflip into a diamond cutter and his top rope cartwheel DDT he used to win the last match of his I saw.
They all beat the crap out of each other so much this match there was a quadruple simultaneous collapse spot.
Excellent contest, these teams really complemented each other well.
Killer Death Machines got the "please come back" chant from the crowd, and I recommend checking them out anywhere you can.
Match Three: Four Way Match – Eli Everfly Vs Jake Crist Vs Daga Vs Teddy Hart
WINNER: Daga won with a double underhook into double knees facebuster.
NOTES:
I have minimal notes for this match because there was so much action I couldn't keep up, if I were wearing a hat I would tip it to everyone involved.
Post match a very well deserved "All these guys" chant broke out.
Spot of the night might have been Teddy Hart's top rope moonsault to the outside (with a balance assist from referee Mike Knox). I'm still in awe of how much air he got on it!
Match Four: PPRay (Peter Avalon and Ray Rosas) Vs Willie Mack and Rich Swann
WINNER(S): PPRay won with consecutive lionsaults.
NOTES:
Everyone in this match was super over, with Willie Mack arguably getting the biggest pop along with a "Return of the Mack" chant.
Rich Swann crowdsurfed his way to the ring and it looked very shaky at times.
The match opened with a dance off between Swann and Avalon. Avalon lost and tagged out out of frustration.
When Ray Rosas came in, he took off his shirt and Swann couldn't take it so he tagged in Mack.
Willie Mack did the worm, and followed that up with a reverse worm, which rightfully got a "Holy shit" chant from the crowd.
There was definitely a "This is awesome" chant and it may have broken out before there was any actual wrestling.
Impressive over the top rope somersault to the outside by Mack.
Besides their in synch dance moves, PPRay do excellent double team wrestling work as well.
Great spot by Mack and Swann where they did consecutive stunners. Swann's was of the springboard variety.
Match Five: Eli Drake, Chris Dickinson, and Mike Verna Vs Scorpio Sky, Luchasaurus, and Joey Ryan
WINNER(S): Sky, Luchasaurus and Ryan won via a Joey Ryan penis flip.
NOTES:
This impromptu match started when Eli Drake came out, noting how there hasn't been anything at all bachelor party related about this show and demanded strippers.
Mike Verna then came out to strip, mistakenly thinking this was Melissa Santos's bachelorette party.
"The Dirty Daddy" Chris Dickinson was the next out, followed by Luchasaurus, followed by Scorpio Sky.
When Drake noted he was now surrounded by a bunch of dicks, that brought out Joey Ryan to a huge pop.
There were dueling "Sausage party" "We want strippers" chants.
A "Please don't die" chant broke out regarding Eli Drake touching Joey Ryan's penis. He eventually did fall on to Ryan's penis and I'm pleased to report he survived.
Joey Ryan's first blowpop attack was successful, but Dickinson reversed a second attempt into Sky, which knocked him out of the ring.
Match Six: Sami Callihan Vs Killer Kross
WINNER: Sami Callihan won by reversing a choke submission into a pin.
NOTES:
This was the only singles match on the card.
This was the most intense, hard hitting match of the night by far.
Callihan threw a real garbage can with tons of glass bottles in it at Kross and I'm pretty sure a few of them broke.
This was the first time since I've been going to Bar Wrestling that the action went into the seats, as Callihan went to the top of the stair case and charged at Kross, only for him to dodge the attack.
Kross caught a chop attempt by Callihan, the first time I've ever seen that before and it looked really cool.
Even though it wasn't a death match it sure felt like one, kudos to both guys here.
Match Seven: Lap Dance Match* – Brian Cage Vs Scarlett Bordeaux, Kiera Hogan, Su Young and Tessa Blachard
*Whoever lost the match had to give the winner a lap dance.
WINNER(S): Bordeaux, Hogan, Young and Blanchard won with a "Wassup" and a quadruple pin.
NOTES:
This was Brian Cage's last match as a bachelor.
I'm hoping Melissa Santos is using the Undead Bridesmaids as her bridesmaids.
Before the match started, Cage's Flippin' Machines partner Flip Gordon came out and offered to help out Cage. Cage declined, telling Gordon not to dip into his Kool-Aid.
Gordon asked Cage where his WSW tag team championship belt was at and Cage said he left it on the merch table.
As well as Su Young does unstable on TV she's 800 times more unhinged in person.
Cage curled Hogan eleven times before throwing her all the way over his head. Kudos to Hogan for all the flying she did this match, her frequent flyer miles must be off the charts.
This was my first time seeing Bordeaux wrestle and she was very impressive, pulling off a great looking crucifix bomb as well as an excellent Canadian Destroyer.
Tessa Blanchard's intensity is top notch and it gives every match she's in an extra level of credibility.
Cage momentarily carried all four women at the same time.
Post match, Cage tried to get out of the lap dances but stuck to the stipulation, giving Blanchard, Hogan and Bordeaux lap dances.
While doing the lap dances, the crowd busted out Cage's "Get your shit in" chant.
When Cage got to Su Young, he took off a garter belt she was wearing on her leg. Young responded by spitting red mist in his face.
After recovering from the misting, Cage said he was a good sport and asked where his lap dance was.
The women then left, PPRay came out to a huge pop and Brian Cage finally got his lap dance.
After the dance, Cage asked everyone to not tell Melissa, so sorry if you read this Melissa Santos.
Demanding his own lap dance, @MrGMSI_BCage gets a surprise from from the naughty boys of @BarWrestling @PAvalon and @RayRosas pic.twitter.com/YoFOMc8I4G

— Robert Collard (@RobertCollard) July 11, 2019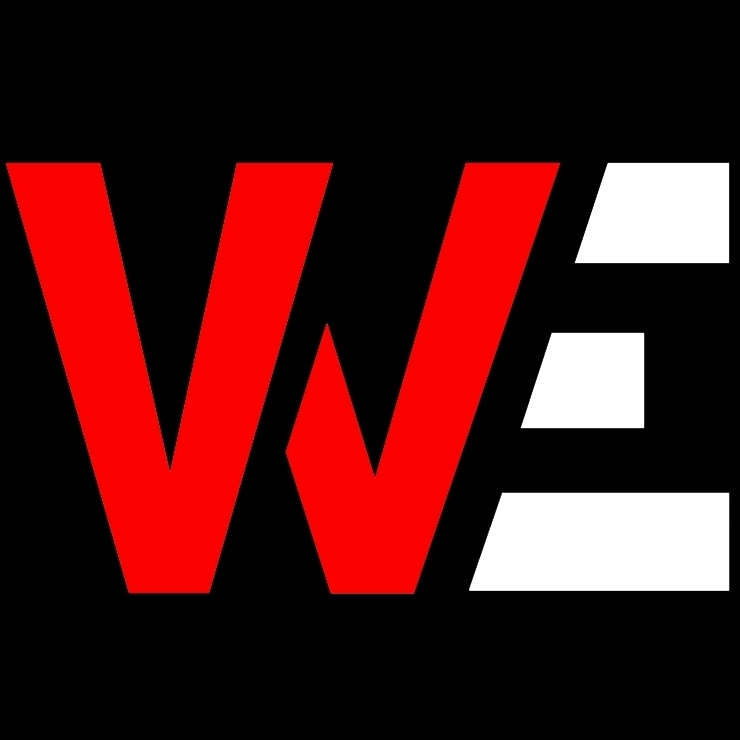 I write comedy & comics! Currently writing for CBR.com. Also, check out Comicprov, where I co-create live improvised comics, & The Episode One Podcast, the TV podcast I co-host! Find me on Twitter and Instagram – @stevewaldinger