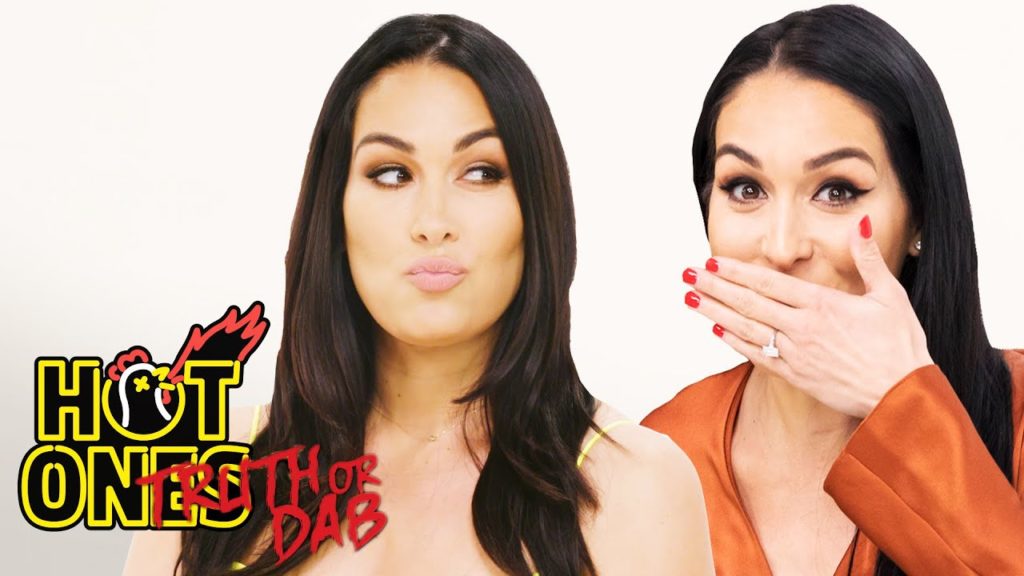 The Bella Twins are all set to play a game of "Truth Or Dab" on the latest episode of "Hot Ones."
Brie and Nikki must tell the truth about a question from host Sean Evans or eat a spicy wing. The sisters reveal they made a trip to Palm Springs shortly after Nikki's breakup with John Cena, but it never aired on their reality show because it wasn't "good TV".
Brie: "I actually have to say one that was really raw, and they had to cut it so I was really bummed, but right after my sister's breakup [with John Cena] we made this trip to Palm Springs and I thought it was a great sister trip. I think we got too deep on that trip, too many tears."

Nikki: "Too many tears, not enough drinks."

Brie: "I think that's what it was. We had one drink and cried the whole time."

Nikki: "We didn't go all 'Housewives' on them."

Brie: "That Palm Springs trip has never been shown and I was pretty sad about that."
Evans brought up rumors and urban legends about Vince McMahon's traits, including how he doesn't like people that sneeze in front of him. Nikki was asked how to avoid Vince McMahon's wrath and she said honesty is key and appreciate his feedback—and don't sneeze.
"I'd actually tell them to be extremely honest because my experiences with Vince—be honest and you'll get the best version of Vince," Nikki said. "Appreciate his ideas and do them. I had to say 'die in the womb' [to Brie] and I didn't want to, but I did. And don't sneeze."
The Bellas are also put to the test when they rank wrestlers mostly likely to make the WWE Hall Of Fame and more; check out the full episode below:
I have been a pro wrestling fan for the past 20+ years and now I am taking my passion for wrestling to the next level by writing the latest news and rumours that are going on within the crazy world that is professional wrestling.