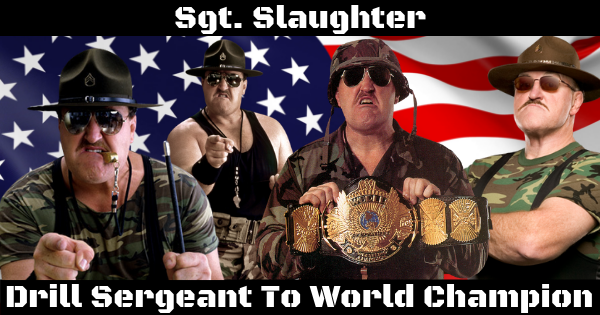 "Atten Hut!" For almost 40 years, those words have sent a collective chill down the spines of pro wrestling heels, and babyfaces alike. The words themselves aren't necessarily menacing, but the man uttering those words, now that's a different story. Sgt. Slaughter didn't just play the gimmick, he lived it. Slaughter successfully translated his career as a U.S. Marine Drill Sergeant, into a long, and fruitful, run as one of professional wrestling's most imposing figures. Throughout the 80's and 90's, legend after legend fell victim to Slaughter, and his iconic "Cobra Clutch." He's a former NWA World Tag Team Champion, NWA United States Champion, WWF Champion, and a member of the 2004 WWE Hall of Fame Class. At the peak of his popularity, Slaughter's appeal was so big, that he couldn't be contained to just the wrestling world. He's one of the few pro wrestler's of his era to transcend pop culture. First, by receiving his very own action figure in the insanely successful G.I. Joe toy line. Then, by becoming a character in the G.I. Joe animated series. Sarge was larger than life inside, and outside the ring. No "Puke" or "Maggot" could ever argue that.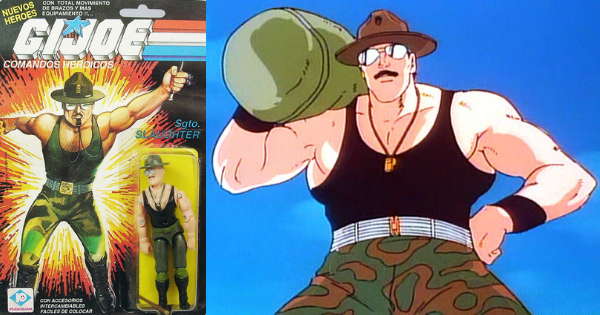 Like most pro wrestlers, Slaughter's success didn't come overnight. Before finding the character that would one day propel him into the WWE Hall of Fame, Slaughter would pay his dues in the American Wrestling Association (AWA) under the Super Destroyer Mark II gimmick. He was managed first, by Lord Alfred Hayes, then by a young Bobby Heenan. Hayes and Heenan would go on to feud over who got to represent him. After some moderate success in the AWA, which included working with AWA legend Nick Bockwinkle, Slaughter left for the greener pastures of the World Wrestling Federation.
In 1980, Slaughter arrived in the WWF, and adopted the character that would eventually make him a World Champion, Sgt. Slaughter. The character change would prove to be the right move. Almost immediately after arriving in the WWF, Slaughter found himself feuding with WWF Champion, Bob Backlund. Despite never successfully defeating Backlund for the WWF Championship, Slaughter held the distinction of being the only WWF performer not to lose to Backlund at Madison Square Garden. After his feud with Backlund, Slaughter surprisingly moved on to an even hotter feud against former WWF Intercontinental Champion, Pat Patterson. The two engaged in one of the "kayfabe era's" most intense feuds, culminating in April of 1981 in an "Alley Fight" at Madison Square Garden. The match was awarded Wrestling Observer Newsletter's "Match of the Year" honors. It's widely considered the greatest hardcore match of that era. Slaughter would quit while he was ahead in the WWF, leaving for the National Wrestling Alliance (NWA) not too long after.
In September 1981, Slaughter made his way to the NWA's Mid Atlantic territory, where it didn't take him long to make an impact. Slaughter would go on to win a tournament for the vacant NWA United States Championship. He Defeated Johnny Weaver, Jay Youngblood, and Ricky Steamboat on his way to the gold. He would hold on to the prestigious championship for 7 months before dropping it to Wahoo McDaniel! Slaughter would once again scoop up championship gold in September of 1982 when he, and tag team partner Don Kernodle won the NWA World Tag Team Championships from Antonio Inoki and Giant Baba in Tokyo. Slaughter, and Kernodle would hold the titles until March 1983 when they lost them to long time rivals, Jay Youngblood and Ricky Steamboat in a Steel Cage Match. Slaughter would leave the NWA soon after this, and once again head to the WWF.
Sgt. Slaughter returned to the WWF in March 1983, and jumped right back into a feud with WWF Champion Bob Backlund. He'd once again fail to wrestle the WWF Championship away from Backlund, but he was about to experience quite the career boom during his next feud. In early 1984, Sarge's character would do a complete 180° turn. He'd no longer be the mean nasty Drill Sergeant heel. Instead, he'd become more of a "Veteran Patriot," defending America's honor against The Iron Sheik. The face turn took Slaughter's career to the next level. He, and Sheik, sold out arena after arena, delivering intense hard hitting matches at every stop. Much like his feud with Pat Patterson 3 years prior, Slaughter's feud with The Iron Sheik culminated in an intense brawl at Madison Square Garden. This time, in a Boot Camp Match. Sarge was seemingly on top of the wrestling world, but it wouldn't last very long.
Slaughter's face turn, and spike in popularity, coincided with the emergence of "Hulkamania." Had it not been for Hogan's rise, Slaughter could've arguably had a longer, and more fruitful, 2nd run in the WWF. Slaughter parted ways with the WWF after a dispute with Vince McMahon over his relationship with G.I. Joe. The dispute never made any sense to me, and I hate to turn this around and make it about Hulk Hogan, but I'm going to anyway. In my opinion, the only reason the pop culture obsessed Vince McMahon would have a problem with one of his stars receiving an endorsement opportunity from a household name like G.I. Joe, is if it wasn't the star McMahon wanted. I have absolutely no proof of this, but I'm almost certain McMahon didn't want Slaughter to overshadow his new mega star. It wouldn't surprise me one bit if at some point McMahon got on the phone with Hasbro, and tried pitching them the same deal, but with Hogan in Slaughter's place. Again, I have n0 evidence of this, but it's not a stretch when you consider McMahon, and Hogan's reputation for politicking. Regardless, Slaughter would carry on his partnership with G.I. Joe, and leave the WWF for the AWA in 1985.
The G.I. Joe endorsement did wonders for Sgt. Slaughter's exposure, but the move to the AWA was definitely a step down. With all due respect to the AWA, when Slaughter arrived, he was a big fish in a significantly smaller pond. He was easily the AWA's biggest, and most recognizable star, but being the top guy in the number 3 wrestling promotion in the country isn't necessarily something to brag about. Furthermore, for some inexplicable reason, Slaughter never won the AWA World Heavyweight Championship during his 5 year stint in the company. He won the AWA America's Heavyweight Championship, and was involved in high profile feuds with the likes of Kamala, Borris Zukhov, Larry Zbyszko, Nick Bockwinkle, Sheik Adnan Al-Kaissey, and even AWA World Heavyweight Champion, Stan Hansen. Yet, he never won the company's top prize. In hindsight, it was clearly a mistake on the AWA's part. Whether a heel, or a babyface, Slaughter would've elevated that Championship. Sarge would leave the AWA in 1990, and start down the path that would finally lead him to his well deserved Word Championship.
In 1990, Sgt. Slaughter made his way back to the World Wrestling Federation. Allegedly Slaughter was impressed with the company's creative direction after WrestleMania VI, and personally wrote a letter to Vince McMahon asking to come back. Whether that's true or not, Sarge would crash the WWF party. Although, this time, his character would shift dramatically. Slaughter returned to the WWF as an Iraqi sympathizer. He was managed by longtime AWA rival Sheik Adnan Al-Kaissey, who was now know simply as General Adnan. On top of that, Slaughter now brought the Iraqi flag to the ring, adopted the Camel Clutch as one of his finishers, and even sported a traditional headdress. The change brought Slaughter immediate, and unprecedented amounts of heat. After a warm up feud against long time rival Nikolai Volkoff, Slaughter set his sights on the top prize in the wrestling business.
Sgt. Slaughter would begin pursuing the Ultimate Warrior's WWF Championship in early 1991. The two clashed at the 1991 Royal Rumble, with Slaughter taking advantage of outside interference by The Macho King, to defeat Ultimate Warrior, and finally claim that elusive World Championship. As exhilarating as winning the WWF Championship must've been for Sarge, things started getting kind of messy after that. First, it was abundantly obvious that Slaughter was a transitional Champion, simply  holding the belt for Hulk Hogan until WrestleMania. Second, the creative direction of the feud was questionable at best. Tensions were already high with such a controversial angle, yet Vince McMahon looked to throw gasoline on that fire by suggesting Sarge burn a U.S. Flag on television. Slaughter refused, and a compromise was made where he'd burn a Hulkamania t-shirt instead. The WWF would still go on to imply that Slaughter had burned a U.S. Flag off camera. I know a little controversy is good for drawing attention, but the level of bad press the WWF got for this storyline seemed to work against them. Lastly, WrestleMania VII was having a hard time selling out the Los Angeles Memorial Coliseum, forcing them to move the event to the Los Angeles Memorial Sports Arena. It wasn't a good look for the company, their top star Hulk Hogan, or their reigning Champion, Sgt. Slaughter. The WWF would initially claim the move was strictly for security reasons, but it was later reported that the ticket sales weren't up to par for 100,000 seat arena. To no one's shock, Hulk Hogan defeated Sgt. Slaughter at WrestleMania VII to regain the WWF Championship. I honestly hated the entirety of Slaughter's 1991 run. I hate that that version of him was the one that finally won a World Championship. I hate that his reign was so short. Above all, I hate that we couldn't just get Hulk Hogan vs. Sgt. Slaughter, "American Hero vs. American Hero."
After WrestleMania Sgt. Slaughter aligned himself with another one of his long time rivals, The Iron Sheik, who was now called Colonel Mustafa. Slaughter, General Adnan, and Colonel Mustafa would square off against Hulk Hogan and Ultimate Warrior at SummerSlam 1991, with Hogan and Warrior picking up the win. After SummerSlam, it would be decided that the Iraqi sympathizer gimmick was drawing too much heat, and the decision was made to turn Slaughter babyface once again. He enjoyed a short lived partnership with "Hacksaw" Jim Duggan in 1992, but would begin to appear less and less on WWF programming as the year went by. His final regular appearance in the WWF came in October 1992 against Nailz. Sarge was attacked before the match, and it was ruled a "no contest." A pretty unceremonious end to his full time in ring career. Despite his in ring career winding down, Sarge would stick around the WWF in a backstage capacity. He'd eventually step back in front of the camera, and back inside the ring.
In 1997, after years away from the spotlight, Sgt. Slaughter was named the WWF Commissioner by Gorilla Monsoon. Sarge would be reintroduced to a new generation of wrestling fans, including myself. As Commissioner, Slaughter attempted to reel in the antics of Degeneration-X, but was unsuccessful. Shawn Michaels, Triple H, and Chyna would constantly get the best of 'Ol Sarge. The storyline even went as far as having Triple H face Slaughter in a Boot Camp match in December of 1997. Triple H would pick up a decisive victory. At WrestleMania XIV, Slaughter would handcuff himself to Chyna in order to keep her from interfering in the European Championship match between Triple H, and Owen Hart, but was again unsuccessful in his efforts. In 1998, Sarge would align himself with the villainous Mr. McMahon, and once again turn heel. He, Pat Patterson, and Gerald Brisco would be known as "The Stooges." In late 1998 Slaughter relinquished the role of Commissioner, and the position was given to Shawn Michaels. He would disappear from tv after this.
Sgt. Slaughter hasn't been back as a regular character on WWE television since 1998, but his sporadic appearance always garner great fan reactions. He participated in the Legends Battle Royal at WrestleMania XVII. He put over a young Randy Orton during the start of his "Legend Killer" persona in 2003. He even teamed with fellow legends Ron Simmons, Dusty Rhodes, and Ric Flair to take on The Spirit Squad at Survivor Series 2006. If called to action right now, i'm sure Sarge would lace up his boots, get in the ring, and mix it up. From his humble beginnings in the AWA, to being the most hated man in professional wrestling, all the way to his 2004 WWE Hall of Fame induction, Sgt. Slaughter remained a class act the whole way. He always kept his convictions, he stood for what he believed in, and he managed to reach heights that very few have reached in pro wrestling. He's a true living legend. I salute Sgt. Slaughter for all his hard work, and contributions over the years. Next time you're sitting around discussing some of pro wrestling's greats, don't forget to mention Sgt. Slaughter. "…And that's an order!"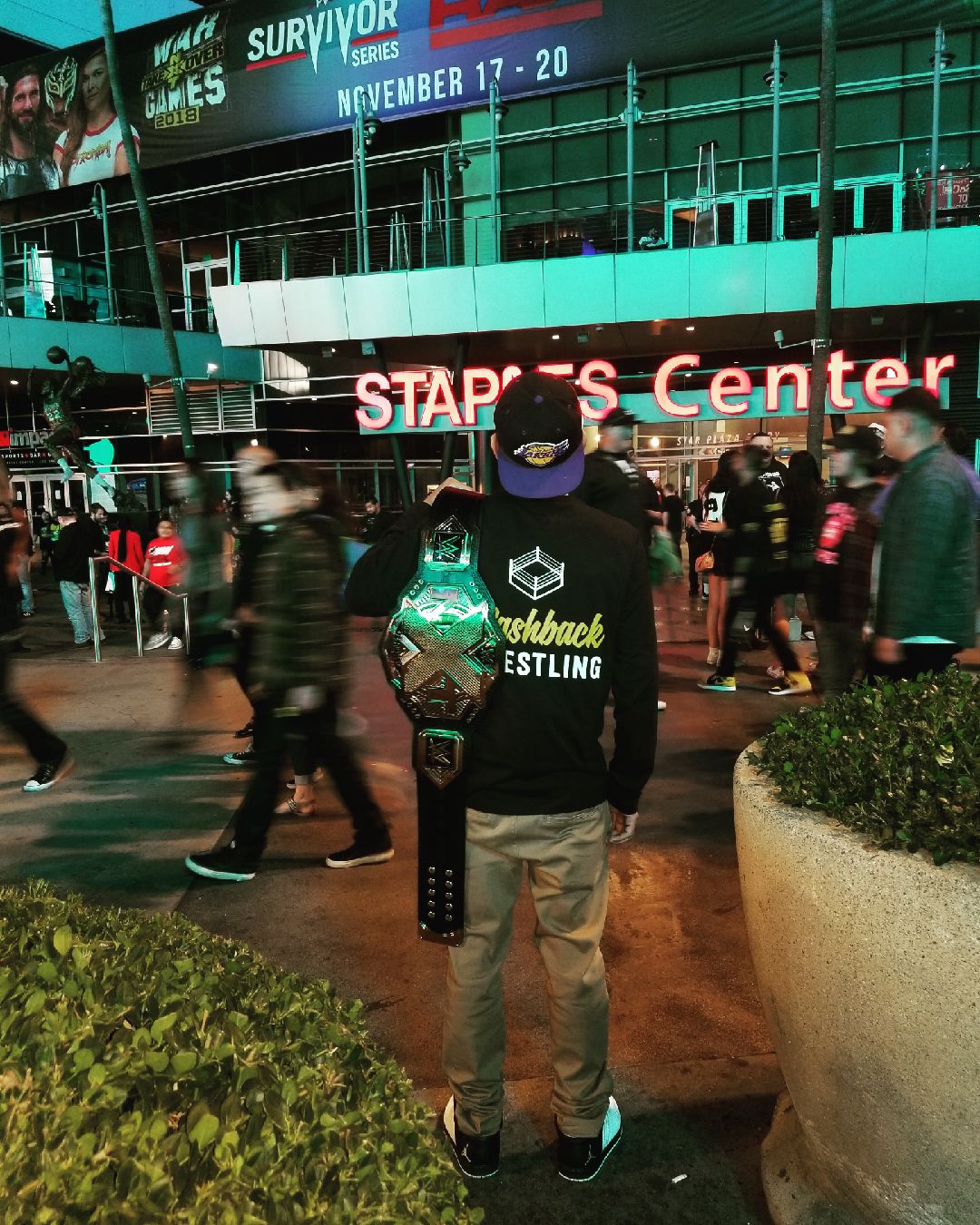 I'm Wesly Avendano. Life long wrestling fan from a small town in Southern California. Writing and wrestling are two of my passions so why not combine them and see what happens. I'm currently the host of Flashback Wrestling Podcast. Favorite all time wrestler is a tie Bret Hart. Favorite current wrestler is AJ Styles. Don't forget to follow me, and the Flashback Wrestling Podcast on Twitter @fbwpodcast and Instagram @flashbackwrestling.