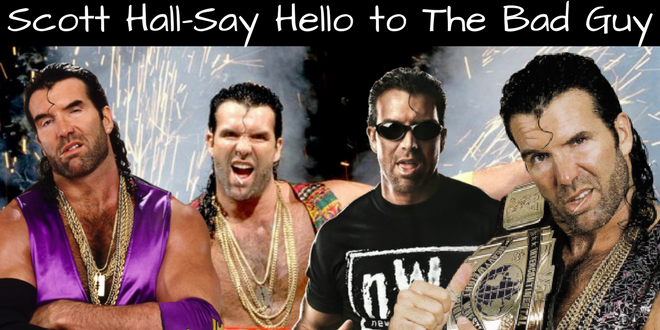 Throughout it's history, professional wrestling has shone a spotlight on some pretty infamous "bad guys" (heels). We've seen everything from evil foreigners, to cocky playboys, to corporate sell outs. However, there's a huge difference between simply being "a bad guy," and being "The Bad Guy." "The Bad Guy" is a gold chain wearing, toothpick throwing Cuban, who oozes machismo, and starts sentences with "Hey yo!" Razor Ramon is one of the most memorable wrestlers of the 1990's, and despite his "Bad Guy" moniker, he was one of the most popular too. In the WWF he was one of the most iconic Intercontinental Champions ever, winning the title a total of 4 times. In WCW, as Scott Hall, he set in motion a chain of events that led to the formation of the NWO, and forever changed the sport of professional wrestling. He's also a former WCW U.S. Champion, WCW Tag Team Champion, and WCW World Television Champion. I guess you could say "The Bad Guy" had a pretty "good" run.
Scott Hall started his wrestling career in 1984 as a part of NWA affiliate, Championship Wrestling from Florida. His run was highlighted by an early feud with Dusty Rhodes, but Hall would soon be on his way to the AWA. His AWA run was a moderate success. He won the AWA World Tag Team Championships with Curt Henning in 1986, but in 1989 he left the AWA for WCW. Hall's first WCW run wasn't what he'd expected. He found himself jobbing more than he liked, and eventually left. Hall went to work for the World Wrestling Council (WWC), and the Catch Wrestling Alliance (CWA), before returning to WCW in 1991. His second stint in WCW went a bit better. He was paired with Diamond Dallas Paige, and called "The Diamond Stud," but in May of 1992, Hall made the jump to the WWF. He'd eventually make his way back to WCW down the line, but not before becoming one of the most beloved characters of the WWF's "New Generation."
The story behind the Razor Ramon character is that Scott Hall pitched it to Pat Paterson, and Vince McMahon as a joke. He did it in a Cuban accent, and suggested scenes from the movie Scarface, as vignettes ideas. To Hall's surprise, neither Patterson, nor McMahon, had ever seen Scarface. Both men took Hall's suggestions seriously, and the character was born. Sometimes the best things in life happen by accident, and that was definitely the case here. Razor Ramon would debut in a dark match on the May 18, 1992 edition of The Wrestling Challenge. By September of '92, Razor was interfering in a match on Ric Flair's behalf, and costing "The Macho Man" Randy Savage his WWF Championship. Come Survivor Series, Razor was booked in his first marquee match. He was scheduled to team with Ric Flair to face "The Macho Man" Randy Savage, and Ultimate Warrior. Warrior would eventually get fired, and be replaced by Mr. Perfect. The change had little effect, and just being in the ring with all those established stars was huge for legitimizing a new character like Razor. It wouldn't be long before he was a heavy hitter in the WWF himself.
When Ultimate Warrior got fired, not only was he booked for Survivor Series, but he'd also been penciled in to face Bret Hart for the WWF Championship at the 1993 Royal Rumble. Warrior's loss would turn out to be Razor's gain, as he was chosen to replace Warrior in the championship match. Razor would go on to lose to Bret Hart, but main eventing a pay-per-view for the WWF Championship so early on helped establish him as a legitimate threat. Razor left the Royal Rumble with some pretty good heat. The character was over as a heel, and in May of 1993 his star power was used to make a new star. In the early days of Monday Night Raw, most of the matches were squashes. When the mighty Razor Ramon came out to face The Kid, no one was expecting anything different. Then, somehow The Kid pulled off the upset. Razor was in a full rage when The Manhattan Center crowd started chanting "1,2,3,…1,2,3," and just like that, a star was born. It remains one of the most memorable moments in Monday Night Raw history, and it helped set up the next phase in Razor's career.
Despite initially feuding with The 123 Kid, Razor would eventually turn babyface, and align with "The Kid" to feud with Money Inc. He would defeat "The Million Dollar Man" Ted DiBiase at SummerSlam 1993, in what would turn out to be DiBiase's last WWF match ever. In October of '93, the WWF Intercontinental Championship was vacated. When Razor, and "The Model" Rick Martel,  both won a battle royal, they advanced to a championship match. The winner would be crowned the new Intercontinental Champion. After a hard fought match, it was Razor hitting The Razor's Edge, and becoming champion. When former Intercontinental Champion, Shawn Michaels returned, and began claiming to be the true champion , it set up one of the top matches to ever take place at a WrestleMania. WrestleMania X was supposed to be Bret Hart's coronation as the top guy in the wrestling business. Unfortunately for Bret, WrestleMania X will always be remembered for the legendary Intercontinental Championship Ladder Match between Shawn Michaels and Razor Ramon. The match is a classic, and Shawn Michaels rightfully gets most of the credit for it, but the story couldn't have been told the same way without Razor Ramon. In the end, it's the image of Razor standing on top of a ladder posing with both Intercontinental Championship belts that most fans remember.
In hindsight, WrestleMania X was probably the peak of Razor's WWF career. Sure, he still had two solid years with the company after that, but nothing ever equaled that match, or that moment. Razor had memorable Intercontinental Championship feuds with Diesel, Jeff Jarrett, and Goldust. He was even the first 3 time Intercontinental Champion in WWF history, but despite his eminence popularity, he never got a run as the WWF Champion. So in 1996, after having reached his creative, and financial ceiling in the WWF, Razor made the decision to jump ship to WCW for more money, and less work dates. The WWF took another big blow when Diesel (Kevin Nash) decided to leave with him. Before leaving though, Razor, Shawn Michaels, Diesel, and Hunter Hearst Helmsley, decided to break character, and embrace in the middle of the ring. The incident is known as "The Curtain Call," and whether you hate it or love it, there's no denying it gave fans a peek into the wrestling business, and changed it forever. Razor Ramon, and Diesel would cease to exist after "The Curtain Call," but Scott Hall, and Kevin Nash, were just about to set the wrestling world ablaze.
It might not be fair, but the perception of WCW prior to 1996 was a Southern hick "wrasslin" promotion. Even Hulk Hogan's arrival in 1994 couldn't completely shake the stereotype. Then, on May 27, 1996, Scott Hall jumped a security rail, and changed everything. He stepped into the ring, stopped the ongoing match, grabbed a mic, and in classic Razor Ramon dialect said "You know who I am, but you don't know why I'm here." That's all it took to have the entire wrestling world completely captivated. When Kevin Nash joined him a couple of weeks later, the intrigue only doubled. Nobody knew why they were there. Did they work for WCW now? Did the WWF send them to invade WCW? Are there more WWF guys on the way? So many questions, and only one wrestling show had the answers, Monday Nitro. Hall and Nash would soon begin to tease a third outsider, and speculation on who it could be ran rampant. It was a genius move, and it all culminated at Bash at the Beach 1996, when Hulk Hogan was revealed to be the third man. The NWO was formed, and wrestling has felt it's effects ever since. Don't believe me? Just ask The Bullet Club! Too Sweet!!!
As much as it pains me to say it, the rest of Hall's WCW run was pretty much a waste of money. Aside from taking the Diamond Cutter in New Orleans, which helped get Diamond Dallas Paige over, and shocking Goldberg with a cattle prod, which helped Nash end Goldberg's undefeated streak, he didn't do much else of importance. Sure he won more championships in WCW than he did in the WWF, but none of those reigns meant anything. As a matter of fact, one specific instance of Hall as WCW World Television Champion always stuck with me. At one point Hall was simultaneously the WCW T.V. Champion, and the WCW U.S. Champion. You would think that's something to be proud of, but instead I remember being shocked to see Hall throw the World Television Championship in a trash can. That was Hall, and Nash, in a nutshell. THEY got their money, THEY were taken care of, so THEY didn't care what ultimately happened to WCW. It was that kind of mentality that led to WCW's closure in 2001. Despite their hand in WCW's demise though, Hall, Nash, and Hogan would all get another run in the WWF, as the NWO.
Vince McMahon shocked the wrestling world in 2001 with his acquisition of WCW. Unfortunately for fans though, the acquisition didn't come with the immediate dream matches we all had hoped for. The NWO, Goldberg, Sting, and Ric Flair were all getting paid to sit at home, and wait out their contracts. Meanwhile, secondary WCW stars like Booker T, and Diamond Dallas Paige were unsuccessfully attempting to invade the WWF. The whole storyline fell flat. Oddly enough, the Invasion angle was one of my favorites as a kid, but as an adult I can see how much fans were truly robbed of. Regardless of all that, Hall, Nash, and Hogan would all eventually show up in the WWF. At No Way Out 2002, the NWO returned and immediately caused havoc. Despite having cut a promo earlier in the show asking for a fair shot to prove they'd changed, the NWO cost Steve Austin the WWF Undisputed Championship against Chris Jericho. The next night on Raw, Austin came out to confront the NWO. At the time, most fans would've guessed that the "money match" to set up for WrestleMania X8 was Stone Cold Steve Austin vs. Hulk Hogan. For whatever reason though, that match wasn't booked. Instead, Stone Cold faced Scott Hall in a match, and feud, that can only be described as "uninspired." It was a disappointing return for Hall, but his departure from WWF would be even more disappointing.
After WrestleMania X8, Hall started a feud with Bradshaw, while also still feuding with Steve Austin. His programs were all abruptly ended though when he was released from his WWF contract for his role in the notorious "Plane ride from Hell." Allegedly, Hall, and several other WWF stars, got liquored up on a private plane, and caused quite the ruckus. It was a shocking, and bitter end to what had honestly been a bad run up to that point. I was always sad that Hall couldn't make this last WWF run work. When he, and the rest of the NWO, came back I was so excited to see if he could recapture some of that old "Razor magic," but unfortunately he couldn't. The rest of his "In ring" career took place in TNA, and other Indy promotions, but it's kind of sad to even talk about. It's no secret that Scott Hall has battled substance abuse throughout his whole career, but things got really bad there for a while. Hall's struggles were briefly documented in The Resurrection of Jake The Snake. In the film, we see Hall go from a broken down old timer, to a man with a renewed purpose. He got surgery on his bad hip, got sober, and began helping his son, Cody Hall, chase his own wrestling dream. Now a days, Hall seems to be doing a lot better. He still makes independent appearances, and even pops up on WWE programming once in a while. He, and the NWO, made a surprise run in to help Sting at WrestleMania 31. Then, at Raw 25, Hall, and the rest if the Kliq shared a "Too Sweet" handshake with the Balor Club. It was awesome.
It's been a long, and sometimes scary, ride for Scott Hall in the wrestling business. He's made a lot of money, experienced some extreme highs, and seen some pretty low depths, but he's still here. Without a doubt, one of the proudest moments for Hall, and the rest of he Kliq, came on April 5, 2014, when Razor Ramon was inducted into the WWE Hall of Fame. It had been a long time coming, and some people never thought we'd get to see Hall be honored because of his demons. However, Hall cleaned up his act, and made the cut. He was inducted by his long time friend, and fellow Hall of Famer, Kevin Nash, and was later joined on stage by the entire Kliq. It's a credit to their friendship, which has clearly stood the test of time. It was just as big for them to see Hall inducted. At one point it had seem like it might never happen while he was still alive. To me, it's hard to picture the 90's without Razor Ramon. The image of a tall figure, draped in gold chains, slowly gliding down to the ring will forever be burned into my brain. Even hearing his entrance music gives me goosebumps. With all due respect to Mick Foley, to me, the sound of screeching tires will always mean the arrival of "The Bad Guy," and nothing else. I usually end these articles with some sort of quote that basically summarizes a wrestler's career, but in this case, there's absolutely no better way to end it than with a quote from Hall himself. "Hard work pays off. Dreams come true. Bad times don't last, but Bad Guys do."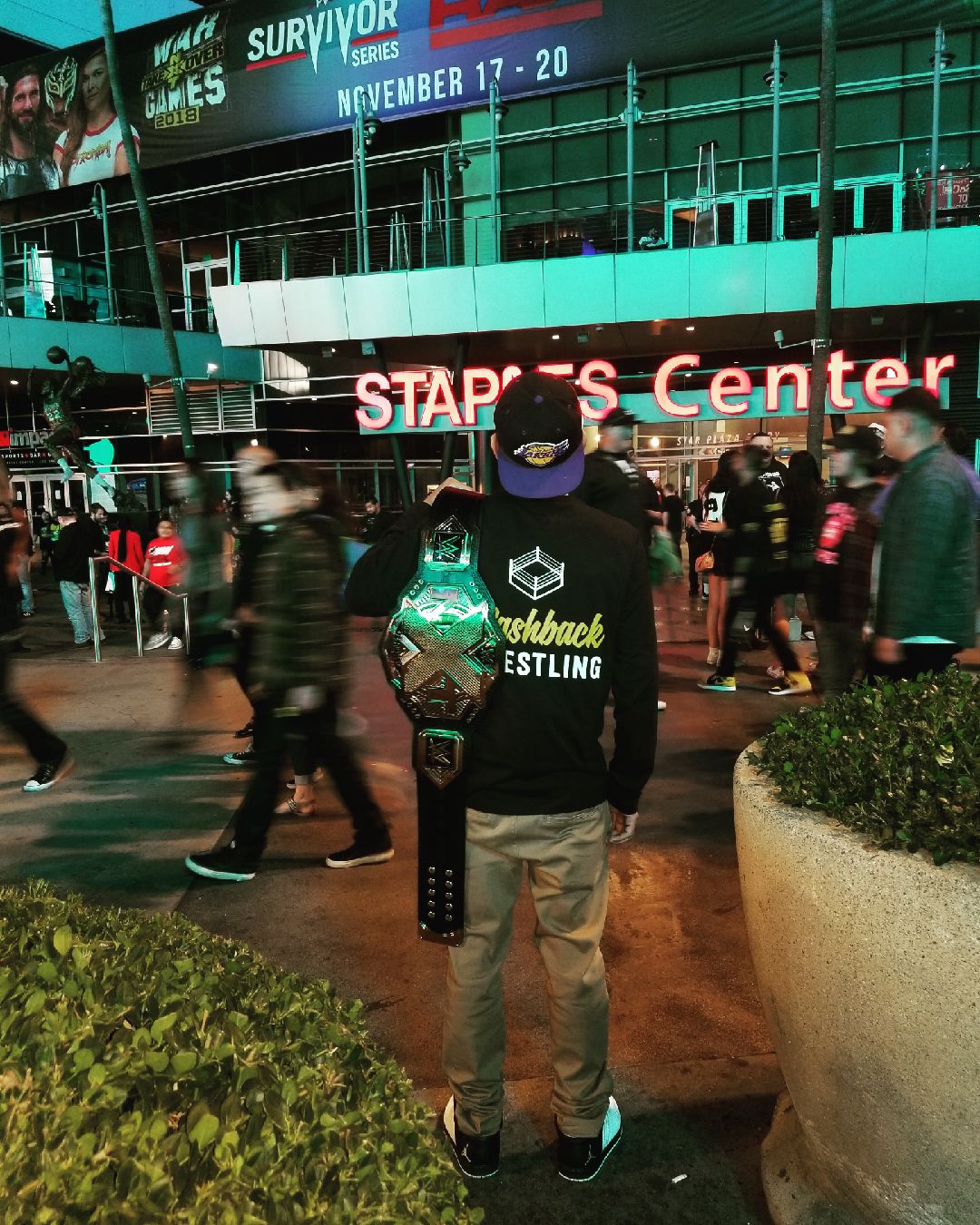 I'm Wesly Avendano. Life long wrestling fan from a small town in Southern California. Writing and wrestling are two of my passions so why not combine them and see what happens. I'm currently the host of Flashback Wrestling Podcast. Favorite all time wrestler is a tie Bret Hart. Favorite current wrestler is AJ Styles. Don't forget to follow me, and the Flashback Wrestling Podcast on Twitter @fbwpodcast and Instagram @flashbackwrestling.