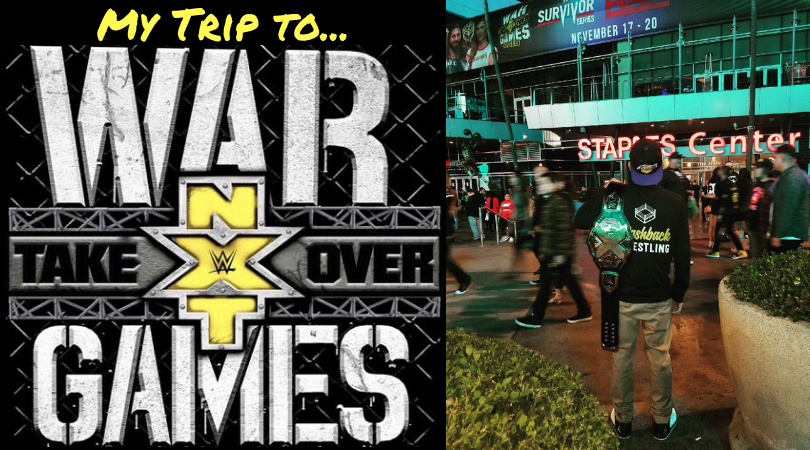 A phoenix rising from the ashes. It's quite the mental picture right? Has anyone ever really seen it happen though? Maybe not literally, but in a metaphoric sense, I've witnessed it with my own two eyes. The ashes? A groundbreaking wrestling promotion that was decades ahead of it's time. The Phoenix? A new wrestling brand that's managed to recapture that exact same magic, while avoiding the downfalls that led to it's predecessor's fiery end. From the smoldering wreckage that was WWE's failed ECW relaunch, came the glorious phoenix we now know as NXT. On Saturday November 17, 2018 I was lucky enough to witness something I thought was lost forever in the wrestling ether, WarGames. It was pro wrestling's past beautifully merging with pro wrestling's present, and future to give all of us inside the Staples Center a night we'll never forget. Here's the story of my trip to NXT TakeOver: WarGames II.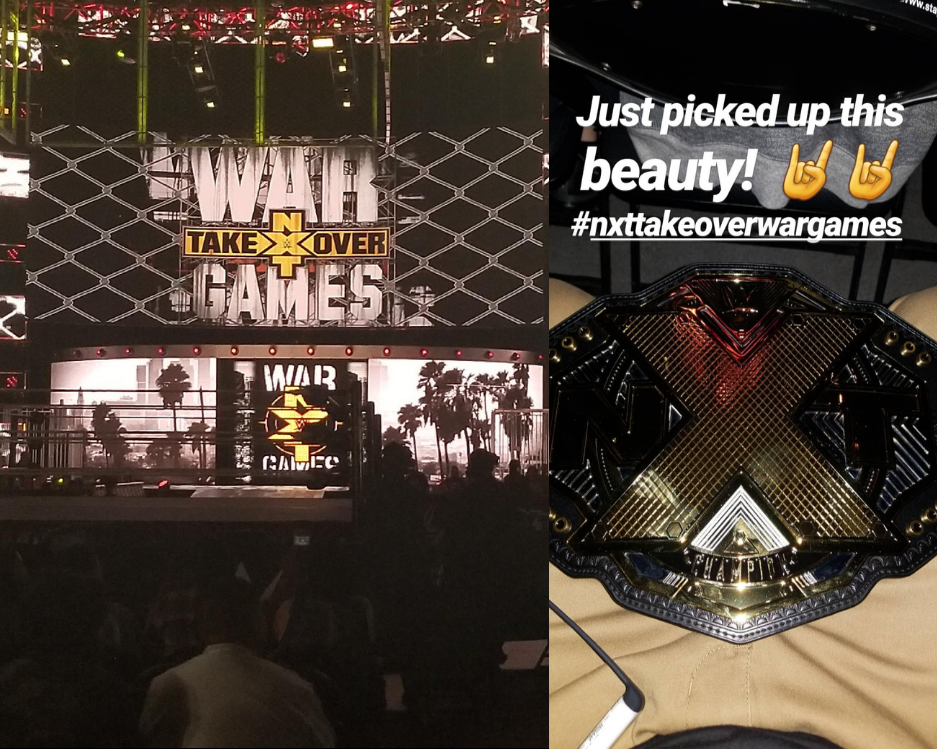 There's an old saying, "sometimes, it's better to be lucky, than to be good." Well, let's just say I'm one lucky bastard. The tickets my wife surprised me with were closer to the action than I've ever been in my life (with the exception of Lucha Underground). Finding our seats was a surreal experience as we just kept getting closer, and closer. When we finally settled in, the view was amazing, and the arena was already buzzing. After getting some food, and purchasing an NXT Championship belt I absolutely did not need, we made it to our seats for the start of the show. I'm not going to break down every match, but I will comment on a few things. Let me start by saying, Matt Riddle is a fucking star in the making. I strongly believe he's a future WWE Champion. Shayna Baszler vs. Kairi Sane was the biggest shock of the night for me, in a good way. I'm one of those people who think the NXT Women's Division has seen better days, but these two ladies left it all out there, and I was genuinely impressed by both of them after the match. In my opinion, Aliester Black vs. Johnny Gargano lived up to the hype. They told a beautiful story that hooked you more and more as the match went on. Gargano is a performer I'm both hopeful, and scared for. His talent is undeniable, but his size makes him a long-shot to ever be taken seriously by the physique obsessed Vince McMahon. I don't want to think that NXT will be the peak of Gargano's career, but when you look at how former NXT heavy hitters Bo Dallas, Tyler Breeze, and sadly Sami Zayn have been used on the main roster, it's hard not to.
I was initially skeptical at Tommaso Ciampa and Valveteen Dream's ability to follow what had been such a hard hitting, and emotionally charged, Black vs. Gargano match, but they quickly erased all my doubts. Velveteen Dream came out once again paying homage to Hulk Hogan, and it immediately hooked the crowd. Dream's presence is something very few performers on the planet have right now. Similar to The Rock in his peak years, when The Dream is around, all eyes are on him. Ciampa absolutely held his own though, and looked every bit worthy of walking in, and walking out, NXT Champion. I'd have to say this was the best match of the night. The crowd was absolutely hot for this. The floor legitimately shook when Valveteen Dream came off the top rope with a gorgeous elbow drop, and almost won the match. Ciampa's eventual victory accomplished everything it was supposed to. It elevated both him, and Velveteen Dream to a higher status. Tommaso Ciampa deserves a lengthy run as NXT Champion, and it's time for The Dream to step into the spotlight on the main roster.
Finally it was time for WarGames. As the cage began to lower around the double rings, I couldn't help but think of Dusty Rhodes. I couldn't help but think of the day WCW went out of business, and the weird thought that ran through my mind. "Well, I guess I'll never get to watch WarGames in person." Yet, here I was. My system was quickly shocked by the arrival of what I consider to be the coolest group in all of pro wrestling right now (yes even cooler than the Bullet Club), The Undisputed Era. Roderick Strong, Bobby Fish, and Kyle O'Reilly, are all absolute studs in the ring, but there's just something about Adam Cole (BAY! BAY!) that oozes coolness, and charisma. I've always seen a young Shawn Michaels when I've looked at Adam Cole. I'm just hopeful the main roster is as fruitful to him as NXT has been. The War Raiders are both impressive, but Hanson's combination of size and incredible athleticism, has me thinking he's eventually going to be set up for a singles run down the line. Ricochet had the high spot of the night, executing a jaw dropping double backflip off the top of the cage onto everyone inside the ring. Pete Dunne was surprisingly unmemorable to me on this night. Aside from being temporarily kept out of the match by The Undisputed Era, and getting the eventual winning pin, "The Bruiserweight" didn't impress me as much as his teammates, or his adversaries.
By the time the show was over I couldn't help but feel grateful. It had truly surpassed every single one of my expectations. The wrestling gods had brought together all three promotions from my youth for one magical night. The spirit of ECW, which will forever exist within NXT. A piece of Dusty Rhodes, and WCW, which will always live on through WarGames. All under the WWE umbrella. I know WWE gets a lot of grief for some of the things they do, but on this night, they gave me, and the rest of the wrestling universe something we really needed. It's something that I can honestly say I feel every time I watch NXT…hope. Hope that the future is bright. Hope that the feeling pro wrestling gave us as children is still out there somewhere, and attainable. For that, I thank WWE, and this movement known by three simple letters…NXT!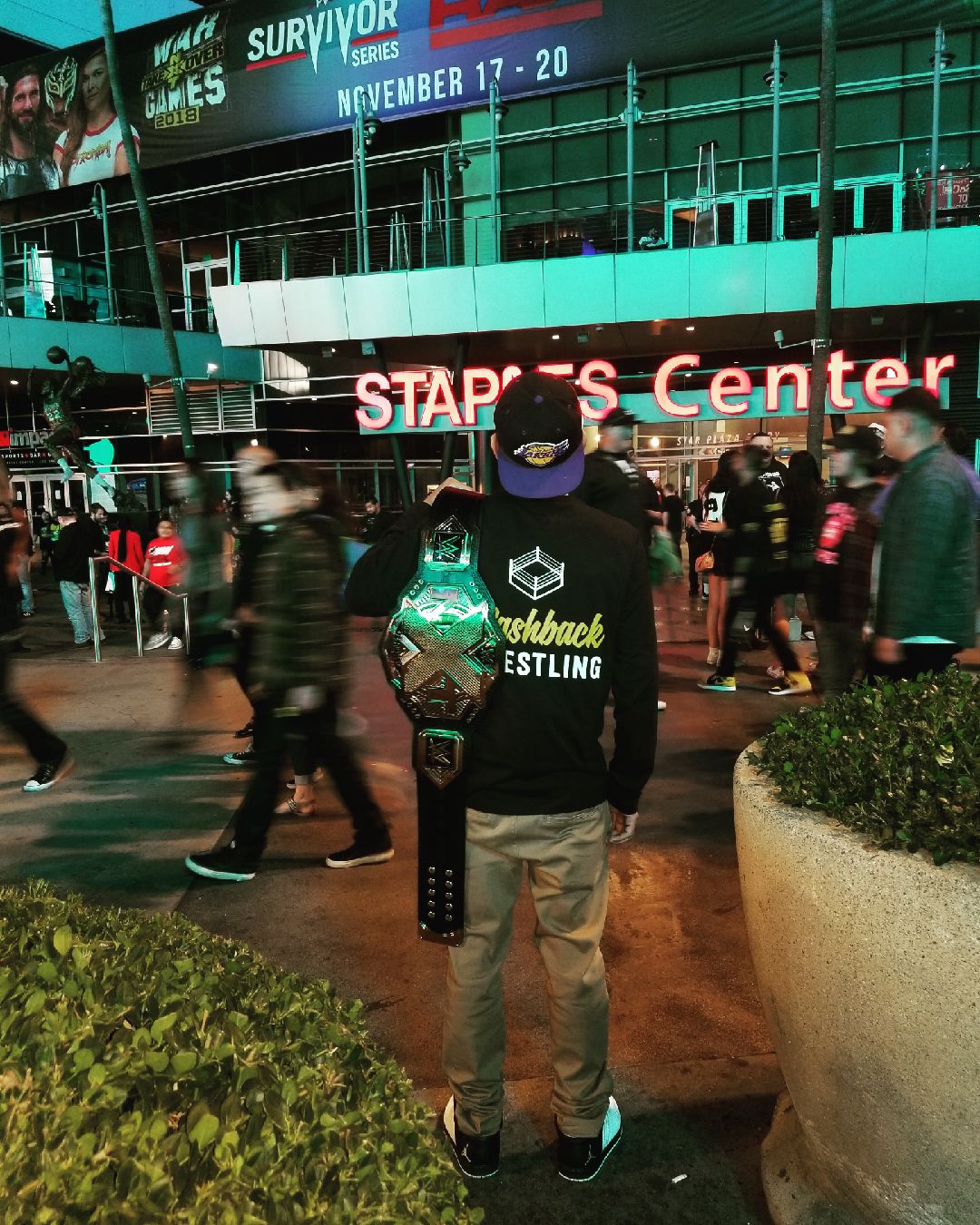 I'm Wesly Avendano. Life long wrestling fan from a small town in Southern California. Writing and wrestling are two of my passions so why not combine them and see what happens. I'm currently the host of Flashback Wrestling Podcast. Favorite all time wrestler is a tie Bret Hart. Favorite current wrestler is AJ Styles. Don't forget to follow me, and the Flashback Wrestling Podcast on Twitter @fbwpodcast and Instagram @flashbackwrestling.