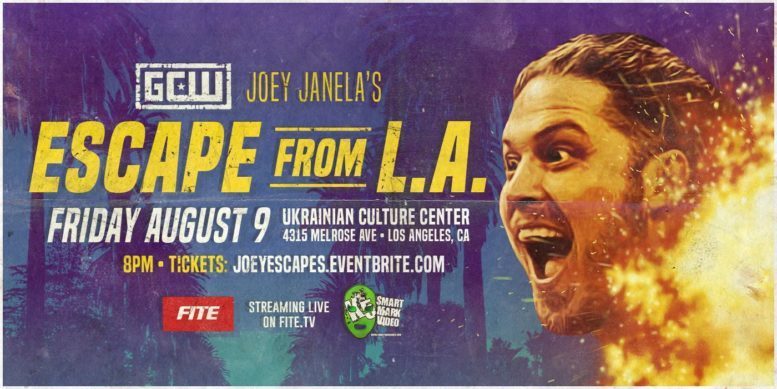 If you've been following All Elite Wrestling you've probably seen Joey Janela in a match or two over there. As AEW's TV deal gets closer some of their superstars are starting to say goodbye to the indie companies they've been working for, and tonight was Joey Janela's final show with GCW…that is, if he can ESCAPE FROM LA! Read on to see if he did and find out what other carnage ensued!
PRE-SHOW NOTES:
It was Wrestling Examiner night at GCW! For the first time ever (in person) I met Wrestling Examiner creator and editor Jaime Michel as well as social media manager Alex Fernandez. Speaking of social media, are you following the Examiner? If not, check us out here and here!
This was my first time at a GCW show, but Jaime's been to a few, I'll let him tell you a little bit about them – " This was the 3rd GCW show that I have been to and they have all been AWESOME! If you are a wrestling fan, and have a GCW show running in your area, don't miss it!!!"
Before the action started there was a ten bell salute in honor of the great Harley Race.
Match One: Jungle Boy Vs Jimmy Lloyd
WINNER: Jungle Boy won via Tilt-a-Whirl crucifix roll-up.
View this post on Instagram
NOTES:
Jungle Boy had counters for everything in the early portion of the match.

Jimmy Lloyd eventually turned the tide with a nice looking corkscrew suplex.

Early contender for spot of the night was Jungle Boy running up a ramp outside of the ring then diving over a barrier onto Lloyd from about ten to fifteen feet high.

Great opening bout that set a great tempo for the rest of the show.
Match Two: Kris Statlander Vs Chris Dickinson
WINNER: Chris Dickinson won with a Razor's Edge through a door propped up against the turnbuckle.
NOTES:
Great chain wrestling to open the match.

My first time seeing Kris Statlander and her offense was incredible! Highlights include a moonsault from the apron to the outside and a handstand leg drop.

Dickinson got control of the match with a nice hurricanrana reversal.

Nice spot where Statlander did a kip-up only to be clotheslined back down by Dickinson.

When Dickinson brought the door into the ring the crowd chanted "door."

This was the part of the show where I realized there are no rules for any of the matches. Also GCW seems to prefer doors to tables. Maybe they'll do a DLC show sometime (Doors/Ladders/Chairs)?

Great door drama upon the initial set up, with Statlander eventually spearing Dickinson through the door.

CLOSE TWO COUNT following a Statlander 450 splash.

Door drama part two was just as good as part one, with Dickinson eventually getting the W.

Dickinson did a great job putting over Statlander after the match, and hats off to both wrestlers for this incredible bout!
Match Three: Kikutaro Vs Mance Warner
WINNER: Mance Warner won with a Brogue Kick after interference from the Invisible Man.
NOTES:
After doing a height comparison with Warner, the smaller Kikutaro didn't want to fight.

Kikutaro momentarily tricked the referee into fighting Warner for him via reverse psychology.

Outside of the ring, Kikutaro VERY SLOWLY ran away from a chair wielding Warner, though he eventually got tired doing so (he should have used a getaway float).
Eventually, Kikutaro got the chair and lightly poked Warner in the head with it, and followed that up by finger poking Warner in the butt.

Following this, Kikutaro's fingers smelled so bad they momentarily took out the referee and himself. Warner would eventually put those same fingers in his own mouth.

Great old school homage spot where Kikutaro did a Ric Flair flop, then would go on to Hulk up and tried to hit a big boot but fell over. Warner then went for the leg drop but missed.

Warner would later bring a door to the ring and set it up outside, propped between the apron and some chairs. The lights went out, which signaled the entrance of the Invisible Man. The Invisible Man pushed Warner through the door.

The lights went out again, and the Invisible Man low-blowed Kikutaro and put the ref through a door. WHOSE SIDE IS HE ON?

After the match we "saw" the Invisible Man's true colors as Warner shook hands with the Invisible Man and raised his hand, then started a chant for him.

This was such a fun match! Kikutaro is hilarious and Warner is devious as hell!

After the match I tried to get an interview with the Invisible Man but I wasn't able to find him.
Match Four: Alex Zayne Vs Blake Christian
WINNER: Alex Zayne won with a middle rope 450 splash.
NOTES:
This may have been the greatest live match I've ever seen.

These two were VERY evenly matched, speed for speed, agility for agility, etc.


This match felt like a Lucha Libre match.

Blake Christian won the spot of the night award (and maybe the spot of the year award) when he went up the ramp, set up a ladder, climbed that ladder to a balcony at least 30 feet up and dove onto Zayne. This was in the section we were standing in and our whole section had to very quickly mass evacuate.

Back in the ring, Christian did a flipping bulldog into the corner.

Zayne did a shooting star press double knee facebuster.

With Zayne hanging from the middle rope, Christian delivered 450 knees.

The crowd chanted "fight forever."

Zayne did a sick I don't even know what kind of driver/slam to Christian out of the ring.

Christian disassembled the top rope and hit Zayne with it.

The 450 splash Zayne won with was extra impressive because of the extra height he had to get delivering it from the middle rope.

After the match the crowd threw money into the ring for both competitors (which Jaime told me was a Lucha Libre tradition).
Match Five: Tyler Bateman Vs Lucas Riley Vs Shane Mercer Vs Egotistico Fantastico Vs Matt Vandagriff Vs Nate Webb
WINNER: Shane Mercer won with a falling fallaway slam from the 2nd rope on Riley onto a ladder on top of Webb.
NOTES:
The only non-singles match on the card.

The perfect match to go after the Christian-Zayne match, it was a symphony of chaos.

Everyone looked absolutely amazing this match and all had several moments to shine.

I couldn't keep up with this match notes wise, but highlights include Riley doing a flipping flatliner and a running top rope bounce stunner, Nate Webb's Terry Funk ladder spot getting a "Terry Funk" chant and him doing a moonsault with the ladder to the outside, Fantastico doing a surfboard slam, and a flipping top rope knee buster from the Tower of Doom position.
Match Six: Tony Deppen Vs Masato Tanaka
WINNER: Tanaka won after punching a chair into Deppen.
NOTES:
Tanaka came to the ring with chair in hand.

Deppen flipped off a Tanaka handshake attempt, so Tanaka flipped off a Deppen test of strength attempt. 

Deppen got hold of a chair, and Tanaka begged him to hit him in the head, Deppen faked a swing then eye-poked Tanaka.

Tanaka's offense is so deliberate that even the simplest moves he does look extra powerful.

Great dueling elbow smash spot, one of the longest and most brutal I've ever seen.

Deppen's facial expressions screamed insanity and were so on point this match.

Tanaka reversed a Deppen suplex attempt onto a door.

Tanaka finally got the chair head shot he wanted and shrugged it off, which led to the two of them trading chair shots, which eventually led to Tanaka punching the chair into Deppen's face for the win.

Amazing hard hitting, back and forth action from both men!
Match Seven: Joey Janela Vs Dustin Thomas
WINNER: Dustin Thomas won via front facelock submission.
NOTES:
Any time you find yourself needing inspiration look no further than Dustin Thomas.
A hand walking spot by Thomas led to a dropkick from Janela and boos from the crowd

Thomas hit a great swanton onto Janela on the outside of the ring. I couldn't see it from my vantage point, but apparently Thomas hit the ground hard. Post match Janela got on the mic to put over Thomas and said Thomas told him he didn't think he could finish after, but Janela encouraged him to continue and the rest of the match went off without a hitch*.

*The bottom rope fell off later on in the match, it didn't appear to be planned but Janela and Thomas made it work.

Thomas hit a great springboard DDT.

Janela thought he avoided a move by getting out of the ring but Thomas hit it anyway.

Janela FU'd Thomas onto the apron.

Thomas countered a potential Janela superplex into a top rope facebuster.

Janela let a "you sold out" chant from the crowd get to him, which allowed Thomas to get him in the front facelock. Janela powerbombed out of it once, but the resilient Thomas reapplied it and eventually got Janela to tap out.
Match Eight: GCW Championship Match – Nick Gage (champion) Vs Jimmy Havoc
WINNER: Nick Gage retained the title with a piledriver on Havoc onto all of the chairs in the arena.
So this was a deathmatch…

As they repaired the bottom rope they also tied light bulbs all along two sets of ropes, and also set up a door wrapped in barbed wire.

Several members of the audience came prepared, putting on ponchos, goggles, and full face visors. Other crowd members – even those further away from the ring – broke out surgical masks and wore those.

Jaime actually got cut around the eye by glass at the last GCW show he was at! Mad props to him too, once the seating section in our area was dissolved permanently during the match Jaime moved up to ringside despite the previous cut.

The match kicked off with Havoc bumping onto a light bulb completely of his own freewill. When he got up, Gage then smashed him with a light bulb. 

Havoc hit a running through the rope DDT onto Gage on the outside of the ring.

Gage staplegunned Havoc in the head, chest and balls. Later he would pull the head staple out of Havoc and give it to a fan.

There was a stage with a seating area that had been previously unscathed the entire show but Havoc and Gage made their way over their and fought.

SO MUCH BROKEN GLASS!

The GCW crew casually pulled bloody chairs off to the side so people wouldn't sit on them.

Gage got backdropped onto a bunch of lights.

I spent a lot of this match moving around so that was about all I wrote down, but this was only a fraction of all the chaos! This was the second live deathmatch I've seen and this one was 800 times more intense than the last one.

Both guys were so incredible! I'd never seen a Gage match before and only saw one or two Havoc matches but these guys put it all on the line and then some and was just absolute mayhem!
That wraps up this show! Were you there? What did you think? Let us know in the comments and we'll catch you at the next one!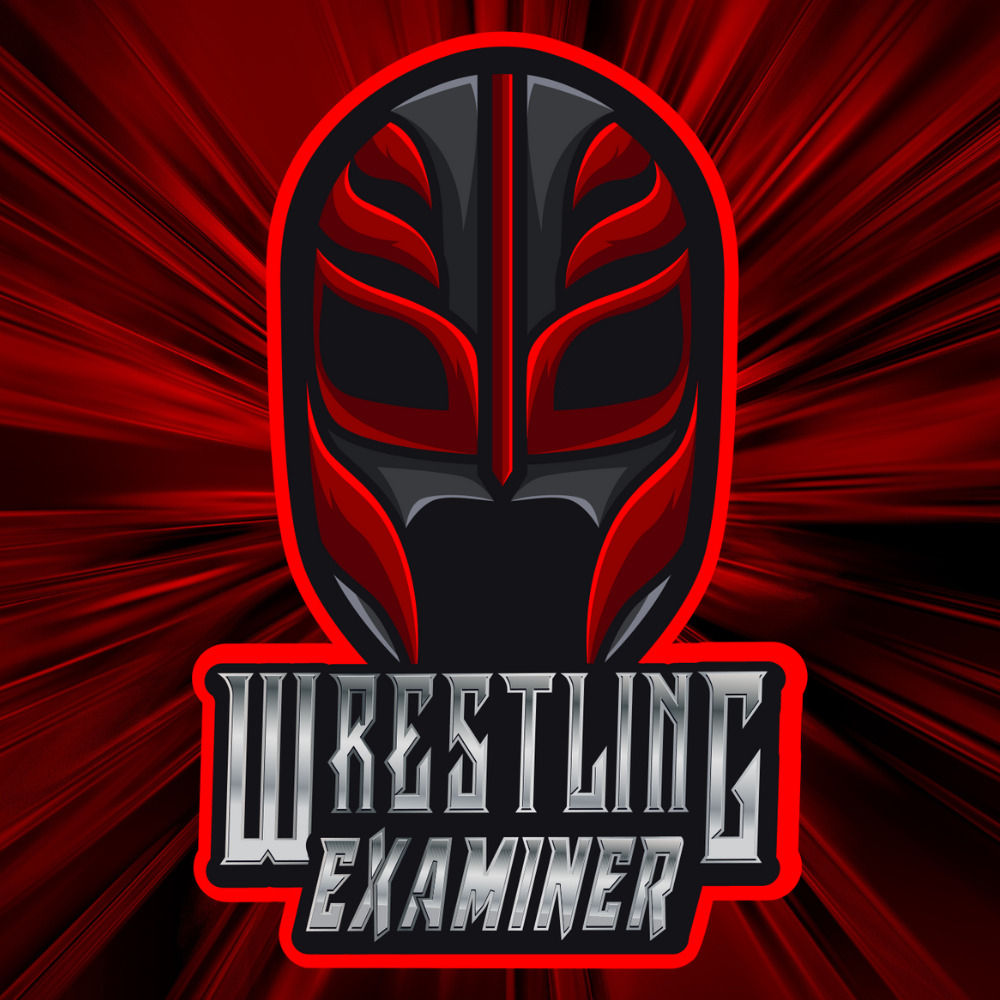 I write comedy & comics! Currently writing for CBR.com. Also, check out Comicprov, where I co-create live improvised comics, & The Episode One Podcast, the TV podcast I co-host! Find me on Twitter and Instagram – @stevewaldinger