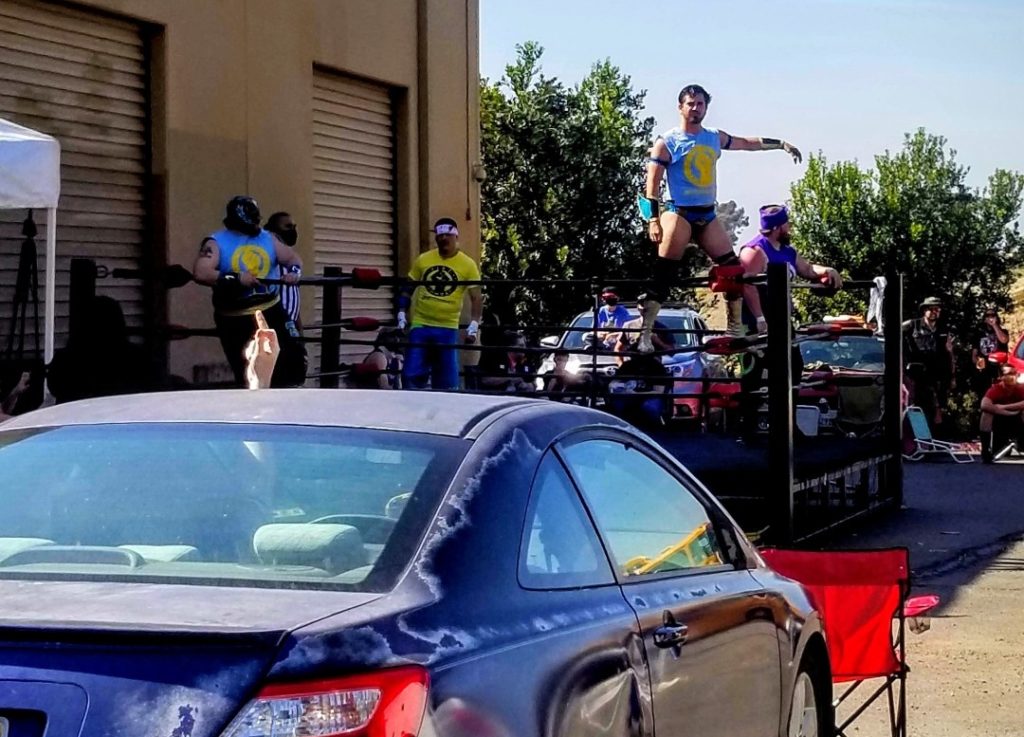 I went to a wresting show this weekend.
Yes. That's right.
While most of the wrestling world is under quarantine, I discovered a wrestling show to attend this past weekend.
And no. I didn't play a video game and pretend that I was at a show. I wasn't at a training center during a filming.
I was at a wrestling show. With a crowd of fans. The first of it's kind that I'm aware of. A socially distant Drive-In wrestling show, put together by the great people of Fist Combat. One of the cool features they had, was commentary being played on FM radio. Fans were able to listen to the hilarious commentary team within their own cars.

At this VERY secret location, I saw names such as Congo Crush, Slice Boogie, Rob Shit, among others! I'll be providing a brief recap of some of the action below:
-Manilla Monsoon and Anthony Idol were present at the announce table at the beginning of the show. Human Tornado was also present nearby with his ribs wrapped up. He may be studying for opponents he'll be facing in the near future.
-Randy Order riled up the fans by attempting to cancel the show, claiming to do so on behalf of Gov. Newsom. Kikutaro himself came out to stop Order. A match was started shortly after the confrontation, that ended in Order winning via pinfall. Order may have been too tired after the match to end the event after all, as it continued on.

-Congo Crush vs Andre the Giant Shit was up next. Congo made quick work of Shit with a big splash. The ring announcer then surprisingly announced that Mr Crush would be facing Trash Panda, who also met a similar fate.

-Fruit of the Doom (Pickle Jim and Hawkamelon) took on Nuclear party (Guy Cool and The Nuclear Warrior Batum) next. Fruit of the doom hit Cool with a Doomsday Device on top of… sunflower seeds (which probably hurts even more than thumbtacts do) to edge out the win.

-The Lucha Daddies (Ryan Kidd and Motros), Mikey O'Shea, and Eddie Islas in a Quarantine T Shirt Match. The object of the match was to remove the shirts of the other participants. The last person with their shirt on would be named the victor. There were a few creative ways to remove a t-shirt shown here, such as a backslide shirt removal by Islas. Kidd gets the win here by tearing the shirt off Islas' back.

-Slice Boogie vs Dylan Kyle Cox (DKC) for the Get Fist'd TV Championship. DKC retained the title after a very athletic bout that showcased a lot of high flying moves. Early into the match, DKC hit Boogie with a Tope Suicida onto the asphalt This match ended with DKC reversing a Brain Buster into a roll-up. Boogie attacked DKC after the match and demanded a rematch.
Main event- Heavy Hitters (Biggie Biggz and Tony Raze) vs Rob Shit and Dirty Ronald McDonald in a hardcore match. Shit entered the ring with a steel chair that had the name Supreme on it, a tribute to the infamous deathmatch wrestler who recently passed away. During this match, I saw a man attacked with a prosthetic leg wrapped in barbed wire. There were chairs, Kendo sticks, doors, step ladders… the best word I can use to describe it is W I L D ! You can watch a video of part of the match below.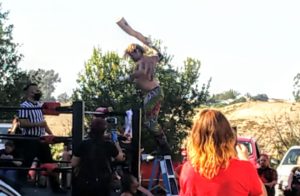 There was so much action happening all at once during this match, both inside and outside the ring. The team of Shit and McDonald took the victory. Afterwards, McDonald addressed the crowd and announced that another similar event is planned for Saturday 5/23.
As mentioned above, Fist Combat will be hosting a similar style event this upcoming Saturday (5/23) which is currently scheduled to begin at 2pm. Follow them on Facebook and Instagram for more information on the event.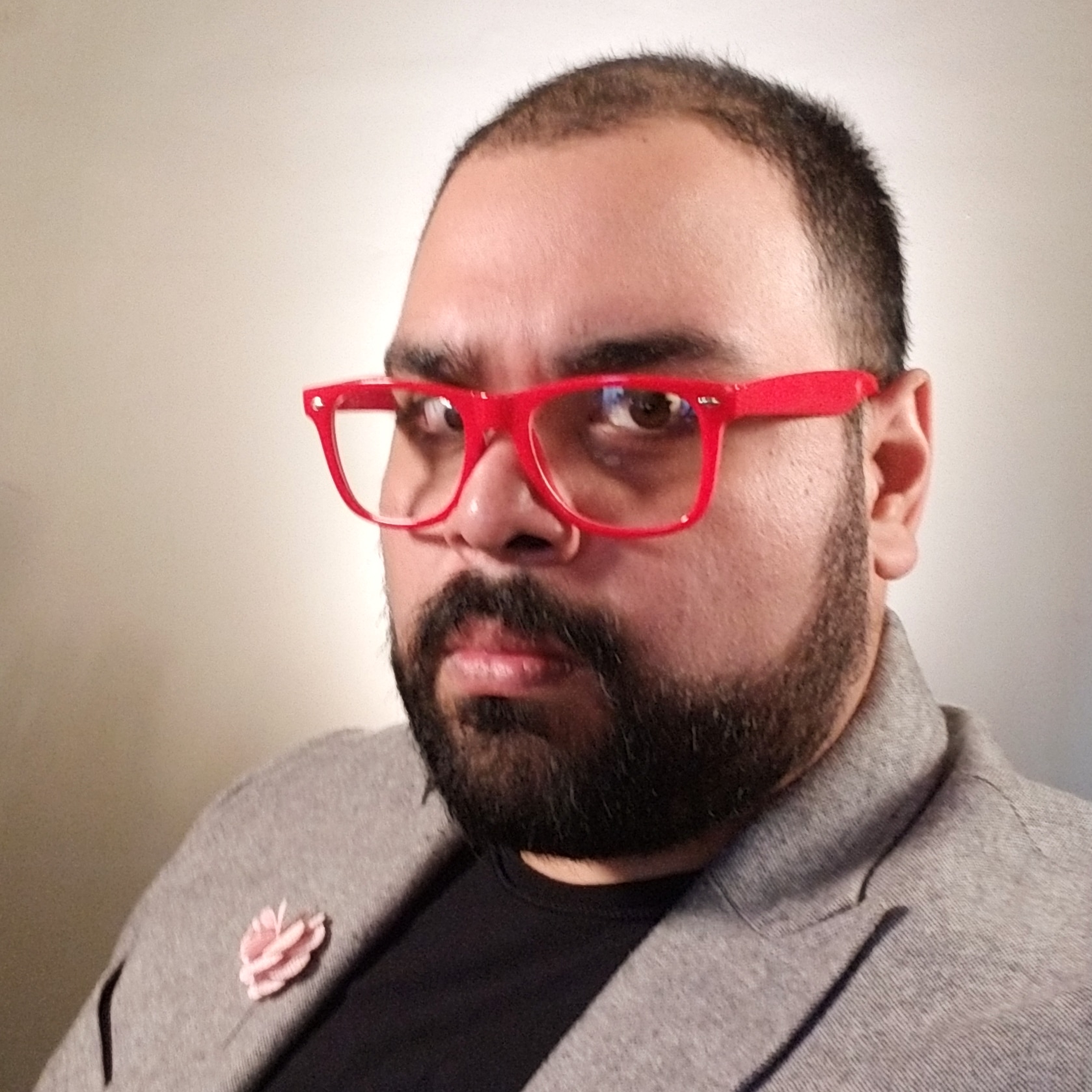 Wrestling nerd since the 80's. Currently based in the greater Los Angeles area.