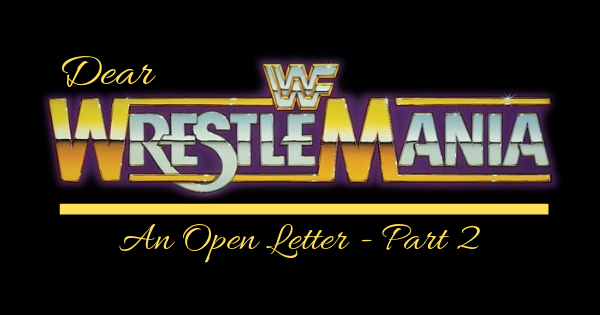 Dear WrestleMania,
It's me again. It feels like such a long time since I've written to you. We've both had an eventful past couple of years, so I really feel like we should catch up. I guess I'll start by telling you that I've kept writing, just not as much as I'd like to. Honestly, that makes me a little sad. It makes me feel like I'm losing touch with a very important piece myself. It scares me to think that one day I might get so caught up with life, and chasing my dreams, that I'll forget to do the one thing that brought me to the dance. I read the last letter I wrote you, and it made me not want to write you this year. I didn't want to disappoint you. I didn't want you to think I lost it. Flashback Wrestling has required so much of my attention over this past year, that I've neglected writing, and I'm scared that I'm not as good at it as I once was. I'm afraid that one day I'll sit down to write, and it just won't be the same. I feel like I'm abandoning the part of me that always wanted to be a writer, for this new part of me that wants to have a successful podcast, and social media clout. Speaking of the podcast, I guess I should fill you in on that huh? Flashback Wrestling started out as just a podcast, but has quickly grown into a relatively popular social media account that supplements the show. I'd be lying if I said I wasn't proud of it's success, but I'd also be lying if I said it wasn't a heavy load to carry. At first I did the show with my brother, but he had his own dreams to chase, and it would've been selfish of me to try and hold him back from that. Transitioning to a solo show was tough, and a little scary at first, but with the support of my beautiful wife, I've managed to make it work, and I'm happy to say the show is thriving now. The Instagram account took on a life of it's own. As of right now, I'm right around 20k followers, and counting. It's been a surreal, and humbling experience. I'm so grateful to pro wrestlers like Lince Dorado, Scott Dawson, Sarah Logan, David Arquette, and especially Homicide from L.A.X. for putting my page over. I never expected their support, but it's meant the world to me. Anytime they show any love, I mark out like a kid. Homicide gave me the greatest opportunity I've ever received when he allowed me to interview him for my show. He'll never understand what he did for me, or how much it meant. I used watch L.A.X. on T.V. as a teen, and I never dreamed that I'd get the chance to interview one of the members. It was a proud moment for the kid inside me. I guess that's what I love so much about doing Flashback Wrestling. The show allows me to relive memories that I hold so near, and dear to my heart. It takes me back to a time when everything was simpler. To a time when all that mattered was what was happening on my little T.V. screen. Back when every road ultimately led me back to you.
Let's talk about you though. I wish I could say I had no complaints, but let's face it, we both know me well enough to know that'll never be the case. I've tried hard to just appreciate you for what you are now, but it's tough. I wasn't too enamored with your last two editions. They failed to live up to the high standards you set a long time ago. You started off 33 pretty well with some solid matches in the form of AJ Styles vs. Shane McMahon, and Kevin Owens vs. Chris Jericho, but you peaked way too early. I'll admit you made me lose my shit when The Hardy Boyz returned, but that was easily the show's highlight, and it happened about a quarter into it. Everything after The Hardys just felt small in comparison. Like most people, I thought 33 was the end for Undertaker. When he left his coat and hat in the center of the ring, I was able to fight back the tears, and not embarrass myself in front of my wife, but it broke my heart. I couldn't help but think back to the first time I saw you, and 'Taker, at Ceaser's Palace. He was such a big part of what hooked me that day, and just thinking that you two would never have another moment together made me really sad. Luckily, "The Deadman" would rise once again at 34! I just wish his match, and the show itself would've been better.
New Orleans threw you quite the bash for 34. I wish I could say the show lived up to all the pomp and circumstance, but you had a few missteps. You started off hot having Seth Rollins "Burn It Down," and win the Intercontinental Championship, but you lost all credibility immediately after by having Asuka's legendary win streak snapped for no apparent reason. I'm not a fan of Ronda Rousey, but it was awesome to see Kurt Angle finally back on the grandest stage. His classic 'Mania matches with Brock Lesnar, Eddie Guerrero, and Shawn Michaels will forever be burned into my mind, so it warmed my heart to see him get another big moment. Undertaker squashing John Cena so quickly put a smile on my face, but I'm self aware enough to know that's just the Cena hater in me. I'm happy that Daniel Bryan got to experience your magic again at 34. He deserved it more than anyone. Doctors told Daniel he'd never be able to have another moment with you, and he wouldn't accept that. He fought hard, day in, and day out for his dream, and I can't tell you how inspirational that is. As great as seeing Daniel back was, you almost immediately nullified that moment by having Braun Strowman, and a child, defeat Sheamus and Cesaro. I didn't appreciate that. Most of us fans anticipated Braun's tag team partner for weeks, and for it to end up being Nicholas felt like a slap in the face. 34 was easily your largest installment, but it left me feeling so unsatisfied. It made me feel like "this is it? This is what I waited all year to see?" It's concerning, and a little crazy to think that in a 7 hour window, you were barely able to create a handful of cool moments, let alone any "WrestleMania Moments."
Please don't take my criticism the wrong way. I only criticize because I expect more from you. I just want you to show the world that you still have it. I want to see the WrestleMania I fell in love with. I want the WrestleMania that was more about the wrestling than the entertainment. I don't need a jaw dropping set design, celebrity cameos, or live musical performances. I need feuds I'm emotionally invested in, matches long enough for performers to tell a compelling story, and a 3 hour or 4 hour run time, tops. You were never broken, so I don't understand why Vince McMahon is so obsessed with "fixing" you. The formula was simple. The magic moments created themselves. Nowadays those moments feel a little forced. You're listening too much to people who don't understand what made you special in the first place, but I still have hope for you. You still posses everything that made you special, it's just buried beneath all the bells and whistles that Vince deems so necessary now. This year is very important for your perception. A 3rd straight mediocre show would be a bad look for you, especially with AEW on the horizon. You managed to stave off any real threat from Wrestle Kingdom, but Cody and The Young Bucks are a whole different creature. They seem to understand what the current fan wants, and they're determined to give it to them. Like I told you last time though, you're WRESTLEMANIA! You're "The Showcase of The Immortals!" Any show would kill to be you! You've cast a shadow that's impossible to escape. I just don't want you to be complacent. I want you to be scared of AEW, because when your back's against the wall, you simplify, and flourish.
You'll always have my support, and admiration, but as far as this year, you're definitely not what I'm most excited for. My wife, and I, have been blessed with our first child, and nothing you can do will ever compare to that excitement. Still, you were my best friend for such a long time. You taught me everything I know about pro wrestling. All I ever wanted to do was make you proud. All I ever wanted was to be worthy of meeting you in person. That hasn't changed. I intend to keep my promise to you. One day, with my family by my side, I'll experience your magic in person, and I'll be fulfilled. You always brought a smile to my face as a child. You were always there for me. Whether it was a bad day, or a good day. You always made me feel like I wasn't alone, even if I was. You gave me something that I've carried with me my entire life, the love of pro wrestling. For that, I can never repay you. The only thing I can do is pass you along. I'm excited to teach my child all about you. It's going to be like falling in love with you all over again. I hope you, and my child can develop the same relationship you, and I had. I hope some day, after a rough day,  he, or she, can put you on, and get lost in your magic, if only for a few hours. I used to think that friendships like ours were few, and far between, but the truth is I share you with the world. I always have, and I'm ok with that now. I've grown up, and I understand that you're there for whoever needs you, and I don't need you the same anymore. But somewhere out in the world there's a kid that's going to fall in love with your magic this year, just like I did in 1993. From boyhood to manhood, you've been with me every single step. You helped me through my lows, and you enhanced every single high. You were my mentor, confidant, and my friend. For that, all I can say is "Thank you," and "I'll see you soon my friend."
Sincerely,
Wes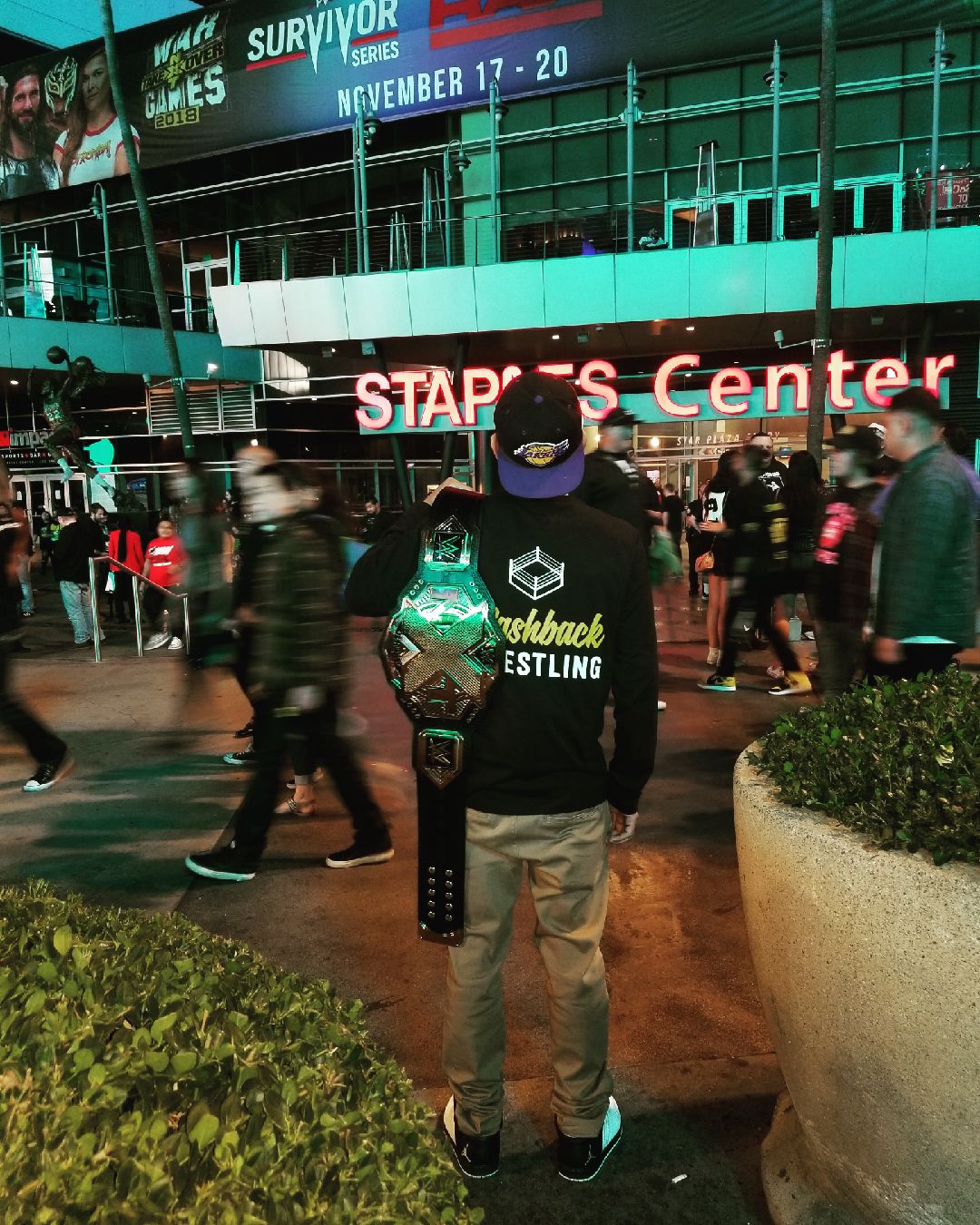 I'm Wesly Avendano. Life long wrestling fan from a small town in Southern California. Writing and wrestling are two of my passions so why not combine them and see what happens. I'm currently the host of Flashback Wrestling Podcast. Favorite all time wrestler is a tie Bret Hart. Favorite current wrestler is AJ Styles. Don't forget to follow me, and the Flashback Wrestling Podcast on Twitter @fbwpodcast and Instagram @flashbackwrestling.