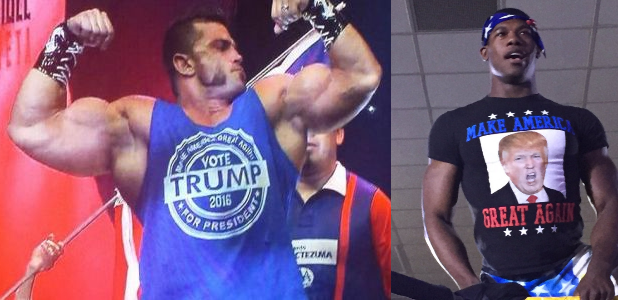 Current NXT superstar and former Tough Enough contestant Patrick Clark recently debuted a new character/persona. At a live event in Jacksonville, Clark wore a Donald Trump t-shirt and proclaimed that "women belong in the kitchen, not in a ring". Although this is a very controversial gimmick, this is not the first time a wrestler shows support for Donald Trump as a gimmick.
Current Lucha Underground superstar Brian Cage wrestled against Alberto El Patron at AAA's biggest event of the year, Triplemania in August of 2015. Alberto (who was World Champ) had a big traditional Mexican entrance at the event. While Cage came down to the ring with a Donald Trump t-shirt and an American Flag. This drew major heat, as 20,000 fans booed Brian Cage.
Patrick Clark claimed that it was his idea and that he was the first wrestler to use this gimmick. The 2 wrestlers took to social media to take shots at each other. Patrick claimed that on August 13, 2015, it was his idea to bring politics into wrestling way before some 'indy' wrestler did. Also saying Cage was just trying to get some press off his name. The only problem is that the date is 4 days after Triplemania, where Brian Cage came down to the ring with his Donald Trump shirt. Cage wrote a lengthy post on Instagram responding and destroying Clarke as you can see below: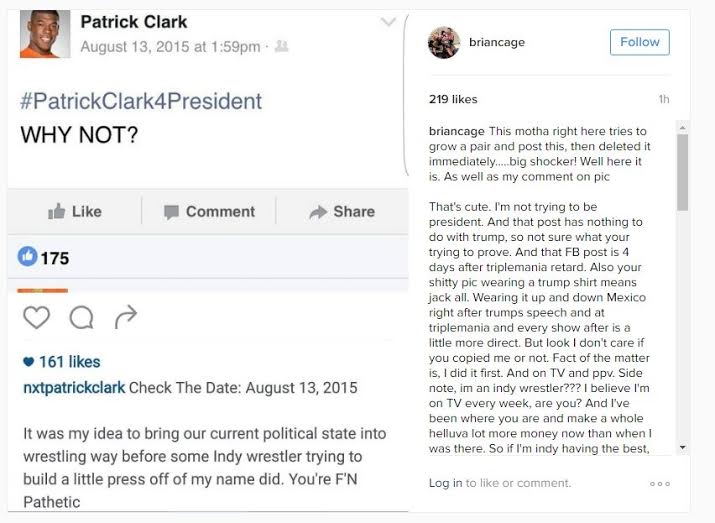 Some fans also started tweeting about this.

@PatrickClarkWWE 😂Stealing Brian Cage's gimmick and having the nerve to call him an Indy wrestler. You're on NXT. He's on TV. #Cluelessidiot

— #ThankYouKB_24 (@mudymba) May 22, 2016